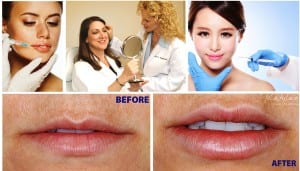 Due to the tremendous worldwide success with Restylane and Restylane Lyft (formerly Perlane), the manufacturer recently introduced a new product – Restylane SILK. Restylane Silk is the first filler designed specifically for your lips and even more, the fine lines and smoker's lines around them. It was approved at the end of 2014 by the FDA for clearance and is now available for use.  We have been using Restylane products in our office for years and with our experience and expertise I sit as one of the company's Key Opinion Leaders and was selected to be one of the first physicians in the Dallas-Fort Worth area to offer Restylane Silk.  Although this product is new, the artistic skill and artistry of injecting has been achieved at Skin MD and Beyond through thousands of filler procedures over the years.
Restylane SILK is made from a unique gel formulation of hyaluronic acid (the same naturally occurring sugar that helps create full and supple skin), which allows for a smooth and subtle result.  In a clinical trial, 98% of participants reported a visible increase in fullness two weeks after treatment. Because of the gel's small, smooth particles, as well as the ultrafine needle designed for precision, results should appear more subtle than with other forms of lip augmentation like implants. You should expect natural looking results, with refined volume and definition.
While Restylane Silk is approved for perioral rejuvenation, it can also be used off-label in in other areas.
Where can Restylane Silk be injected?
Fines lines around the lips
To gently plump the lips for a natural look
Fine, superficial lines on the forehead or cheeks
Fine lines on the neck
Fine lines around the eyes and undereye hollows