What is Belotero?
A truly unique superficial facial filler, BELOTERO can immediately improve and refresh your appearance by smoothing out and softening unwanted fine lines and wrinkles.  BELOTERO is made of hyaluronic acid (HA), a substance naturally found in the body, which blends with the tissues of your skin, providing subtle correction and creating a visible, natural-looking result.
What Is the Difference between BELOTERO and other Facial Fillers?
BELOTERO is a hyaluronic acid (HA) product and, in that sense, is most similar to Restylane or Juvederm but after that the similarity ends.  It is placed very different in the skin, as it can be injected much more superficially into fine lines with less risk of causing discoloration or lumps. For this reason, BELOTERO is an excellent filler for the fine lines that cannot be easily treated with other, previous thicker HA-based fillers.
Is Belotero the same thing as BOTOX?
While BOTOX and Belotero are both effective at reducing wrinkle treatments, how they work differs.  Where Belotero is best suited for textural, superficial and persistent lines around the nose, mouth, and eyes, BOTOX is more appropriate for "expression lines" caused by muscle movements – like horizontal lines across the forehead.
What is BELOTERO commonly used for at Skin MD and Beyond in Plano, Texas?
EYE REJUVENATION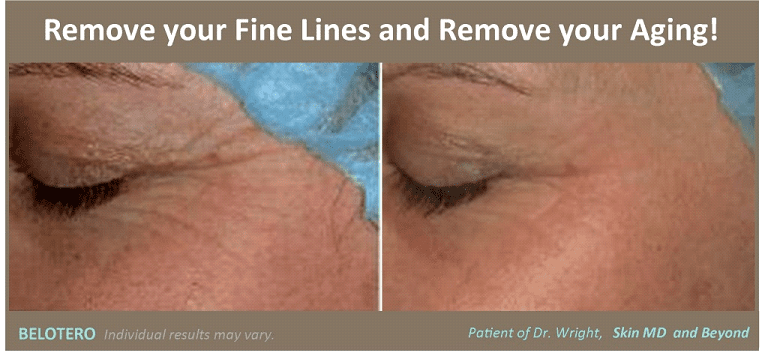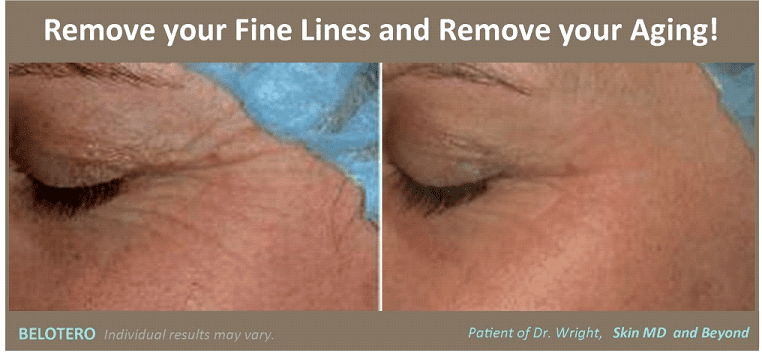 REDUCE FINE LINES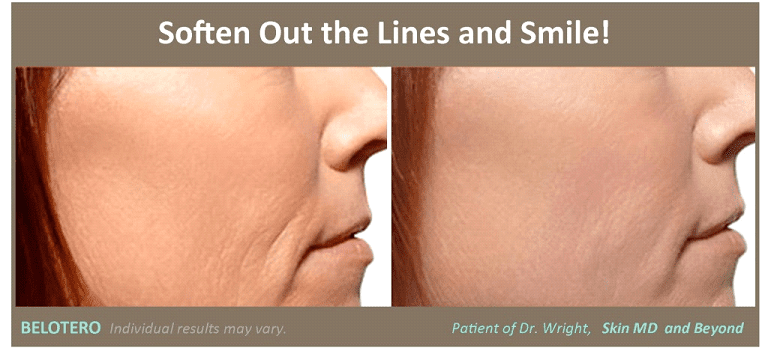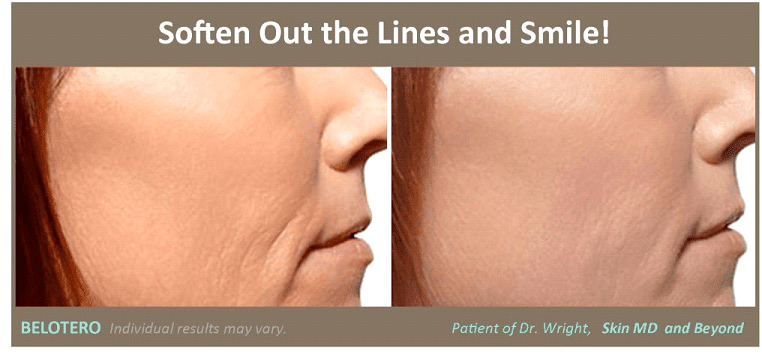 LIP LINES/SMOKER'S LINES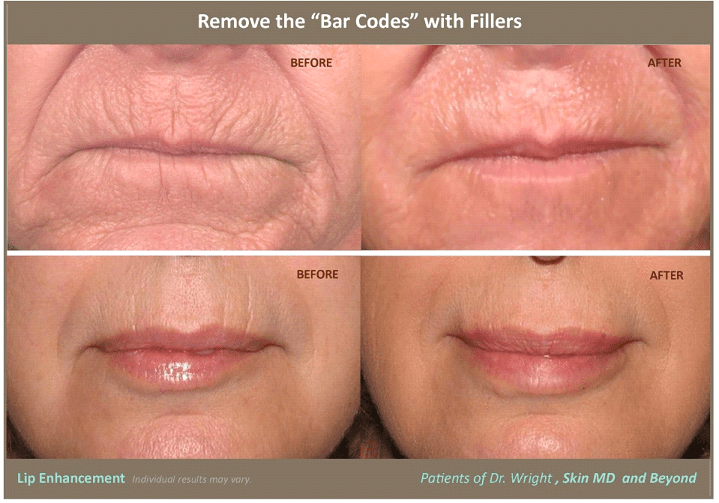 NASAL LINES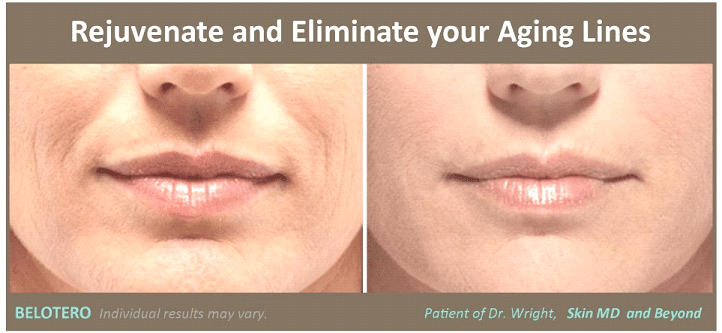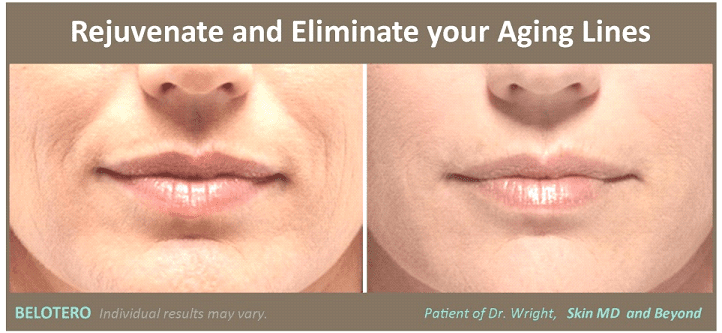 Does a Belotero treatment hurt?
Since Belotero is delivered with very small needles, it is easily tolerated by patients of Dr. Wright.  Unlike other injectable fillers, Belotero is not pre-mixed with lidocaine, and as with all injections with a needle, there can be some discomfort associated with the procedure, but at Skin MD and Beyond we will provide an anesthetic cream to the treatment area prior to the doctor performing the injections.  Our patients tolerate the procedure very well.
Am I a candidate for treatment with Belotero?
Do not use this product if you have severe or multiple allergies or a history of severe allergic reactions manifesting as anaphylaxis. The best way to discover if Belotero I right for you is to contact our offices and schedule a consultation. This is a great time to explore all your treatment options and Dr. Wright can answer all you questions and get design your unique rejuvenation plan.
How long does Belotero last?
Individual results may vary, but Belotero can last about 6 months, depending on the site of treatment.  It is Dr. Wright's experience that Belotero usually lasts longer when treating fine lines around the eyes, more than the lines about the mouth area. In clinical studies 66% of patients continued to show a visible improvement 9 months after a single treatment.  Most clients opt for follow-up treatments after 6 to 12 months to maintain a fresh, youthful appearance.
How long before I see results?
You can expect instant results upon injection. In clinical studies 97% of patients showed a visible improvement after just one treatment with Belotero.   Belotero plumps the skin and smooths away lines and wrinkles in the periorbital and perioral areas of the face- with possible supplemental "touch-up" treatments required to achieve and maintain the desired look.


What is the Skin MD and Beyond Difference?
As a National Advisor for Facial Contouring with Injectables, Skin MD and Beyond sets the gold standard and offers a customized and detailed cosmetic solution that is personally designed for each patient. With their extensive knowledge of the skin and the aging process, Drs. Wright will help you achieve long lasting and natural looking results using their gentle techniques and staged treatment approach. See photo gallery below.