COSMETIC DERMATOLOGY AND SKIN CARE FOR Plano, Frisco, and the Dallas Fortworth metroplex in Texas


The ZWave PRO is a revolutionary, non-surgical treatment that can effectively reduce the appearance of cellulite and help shrink inches away from some of the toughest problem areas, including the thighs, stomach, and buttocks.
ZWave PRO technology is a clinically-tested Radial Pulse Therapy (RPT) which delivers painless high-energy acoustic waves to a localized area of the body. During the treatment these radial waves will deliver energy into the area of concern through a handheld applicator. As a result of these high energy percussion sound waves, gas bubbles found within the fatty tissue disrupt and cause the fat structure to become unstable, thereby releasing fatty acids into the lymphatics for absorption and natural elimination.
Although painless, the ZWave PRO pulses are powerful enough to break down cellulite's fibrous connective tissue, improve blood circulation, enhance the drainage of waste through the lymphatic system and stimulate metabolic activity. The result is healthier, collagen-rich tissue with the enhanced ability to stimulate healing and fat elimination. Thus, ZWave PRO improves circumference, tone and definition in a wide variety of areas – from arms, legs and stomach, to full-body contouring.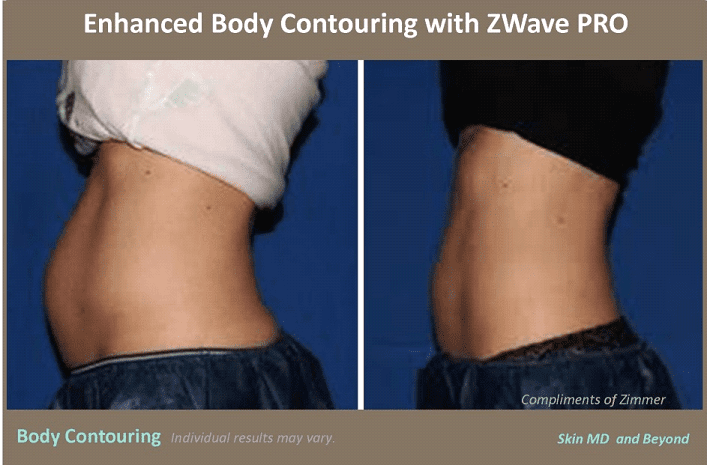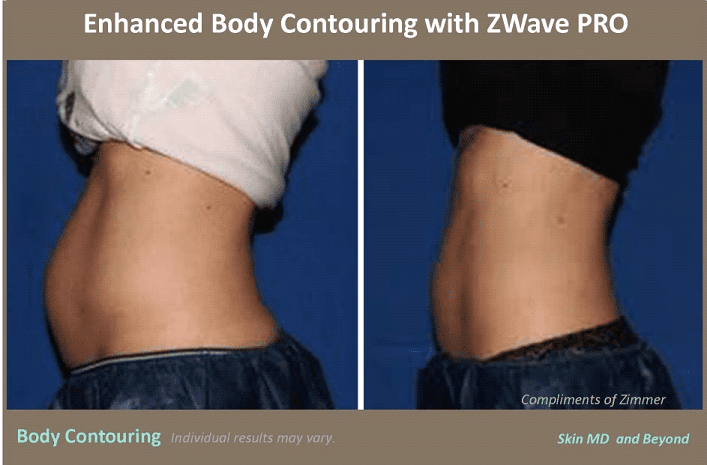 What are the Benefits of the ZWave Pro?
Although originally designed for the treatment of cellulite, Dr. Wright recognizes that the ZWave PRO is particularly effective immediately following VelaSHAPE, VelaSMOOTH and ThermiSHAPE skin tightening and fat reduction treatments.
When applied after a body sculpting procedure, not only does it further promote cellulite reduction, it will promote skin tone and has been shown through controlled studies to increase the percentage of fat absorption by almost double!
Benefits of the ZWave PRO are;
Non-invasive treatment
No downtime
Painless treatment
Visible results
Diminishes stubborn, disproportionate pockets of fat.
Effective on the abdomen, upper arms, hips, buttocks and thighs.
Leaves skin tighter, smoother and healthier-looking.
Reduces circumference and improves body contours.
Clinically tested and proven to be safe and effective.

Q.What is "Radial Pulse Therapy"?
Acoustic wave therapy is sound energy, NOT electric shocks, that delivers painless percussion (physical/ mechanical pulses) that will travel through the tissue being treated. It is non-invasive and requires no anesthesia.
ZWave PRO Cellulite Treatment Plan
For Cellulite and Skin Toning, most patients need 10-14 treatments to see the best results. The treatments are performed twice per week. Some patients are satisfied after fewer treatments while some patients need more.
Almost any body area can be treated with the ZWave PRO. An "area" is about the size of your hand stretched out. We can treat multiple areas at a time. The treatments are quick and relaxing– requiring about 5 minutes or so per area.
ZWave PRO Body Enhancement Plan
ZWave PRO can enhance your existing body treatment, including fat reduction methods such as VelaSHAPE, VelaCONTOUR and ThermiSHAPE and cellulite and skin firming procedures such as VelaSMOOTH, and ThermiSMOOTH. During your initial consultation, Dr. Wright will determine which treatments can best achieve your cosmetic goals. Treatment times and size of "area" treated is the same as previously mentioned.
Q.What is the length of time for a ZWave PRO procedure?
Typically, to treat all areas, the treatment lasts between 20 and 30 minutes, though this will depend on the individual and the number of areas to be treated.
Q.When will I see results?
Patients begin noticing shrinkage and a tightening of skin after a couple of treatments, and the smoothing and tightening continue to improve with each successive treatment until maximum results are achieved.
Q.What about Maintenance Treatments?
Some patients will see very long lasting results and not require any maintenance treatments. Other patients will wish to do occasional maintenance treatments after they have completed the initial series of treatments. As always, good dietary habits, sufficient intake of water, and light physical activity are beneficial and may optimize results and longevity.