Lines and Wrinkles result from a number of causes including the natural aging process, smoking and pollutants, contraction of facial muscles, chronic dehydration, loss of volume of the skin and most importantly sun damage.
Sun Damage to the skin occurs when we expose our skin to ultraviolet radiation (UVA and UVB) from the sun over a regular prolonged period of time. It is possible to damage the skin in as little as 15 minutes of sun exposure but the immediate effects will be short-lived. However, sun damage, also known as photodamage, is cumulative and can take years to become visible – so damage done during the early years may not become visible until middle age.
People of all skin types develop sun damaged skin on the face, chest and neck, the hands and arms, and the legs. The effects of sun damage on your skin can be variable depending on the level of sun exposure experienced, skin type, age and general well-being. Damage may present itself as irregular hyper-pigmented (dark) spots and areas of discoloration, as well as dilated blood vessels and generalized redness. The quality of the skin may change and become toughened, rough or even scaly. Early on the roadmap to aging lines and wrinkles will be created and eventually will become visible. These changes are usually harmless but can be cosmetically unattractive.
No one can change the effects the sun has had on skin cells' DNA however it is possible to repair and protect skin and improve its imperfections. Recognizing the specific types of changes that have occurred in a patient's skin and quantifying the extent of the damage are crucial first steps in designing an effective treatment plan.
At Skin MD and Beyond we can assess your skin and show you any damage that has been done and the degree of wrinkles you have. We can then individualize a plan to help repair, protect and rejuvenate your skin. Most plans are for the long term as what you do at home, what your skin is exposed to in the future and treatments you decide to have done all need reassessment and continued maintenance to keep your desired look.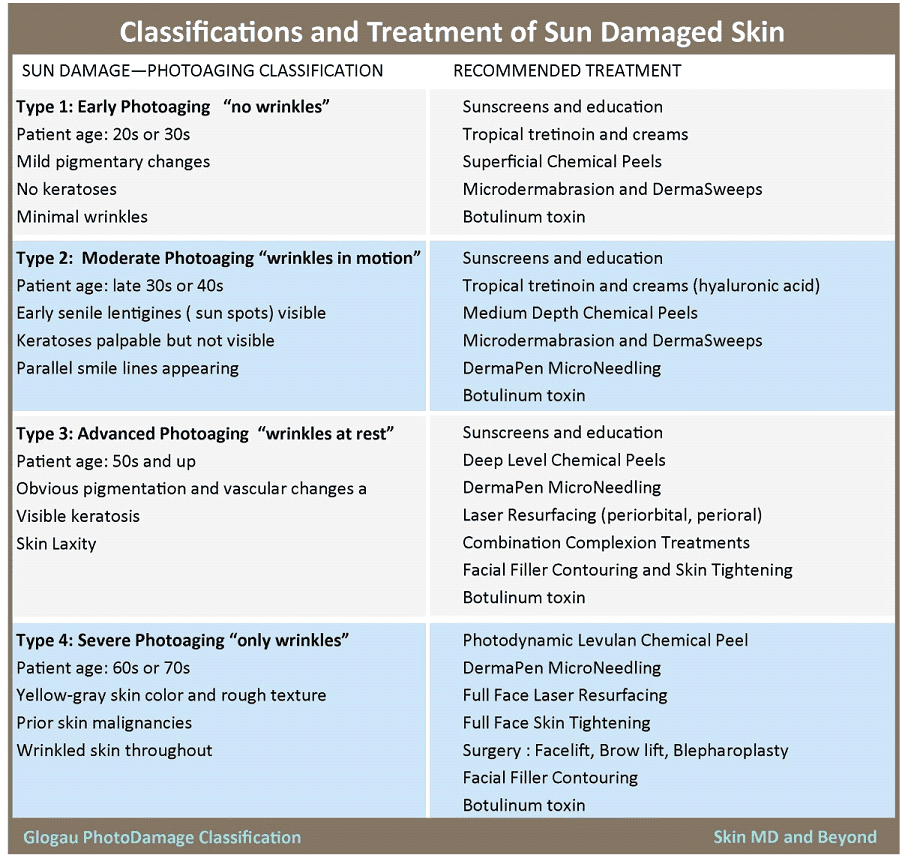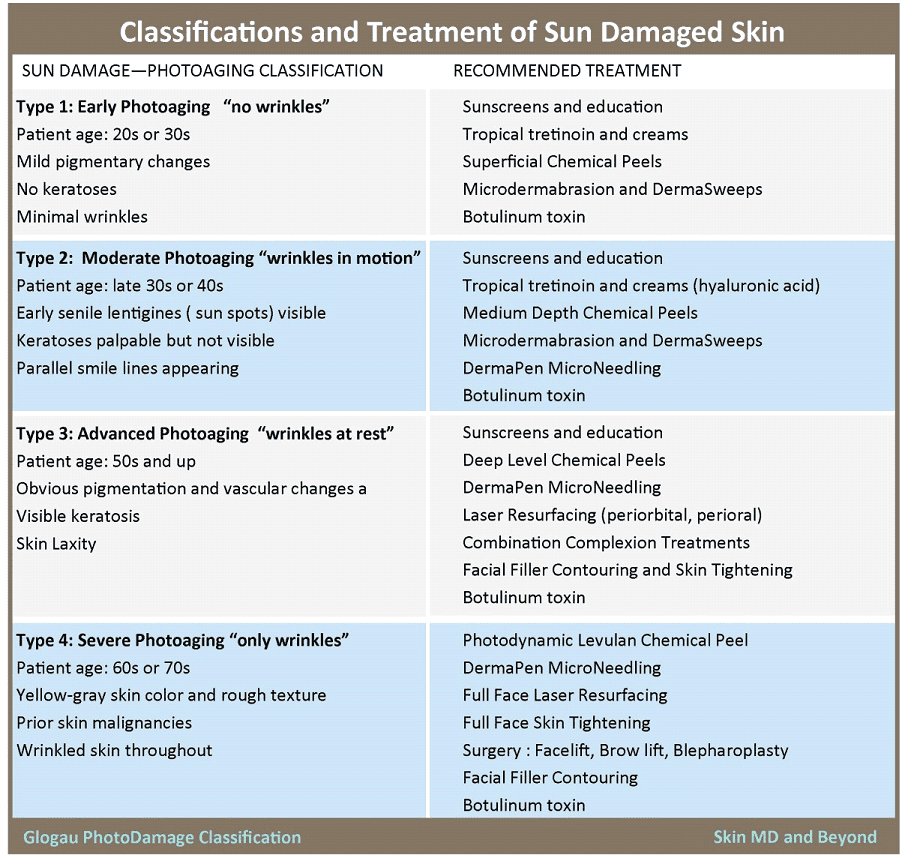 TREATMENT FOR WRINKLES and SUN DAMAGED SKIN:
Skin MD and Beyond offers a wide range of treatment options that are individualized to your concerns and is most suited to you to help improve sun damaged skin.
Skin Care and Sunscreens
Chemical Peels
Microdermabrasion and DermaSweeps
DermaPen MicroNeedling
Laser Resurfacing
Complexion Correction Treatments
Skin Tightening
Botox and Dysport
Facial Fillers
Skin Care and Sunscreen
As our skin ages, small wrinkles begin to form and a loss of elasticity occurs. The natural protective barrier of our skin is diminished both by the effect of time and exposure to our environment. Collagen production is reduced, causing the skin to sag. Fiona WRxIGHT MD Skincare systems are designed to counteract the effects of environmental aggression and fight wrinkles and fine lines by delivering powerful anti-aging formulas to the skin. These potent formulations will also even out the skin tone by removing or reducing discolorations and/or brown spots from sun damage or hyperpigmentation. After only a few weeks of use, the skin is noticeably smoother, healthier and firmer. To learn more click here.
Chemical Peels
With the introduction of various strengths (depth) of Chemical Peels and Exfoliation any patient can be a candidate for a brightening of their skin, lightening of age spots and smoothening of texture and fine lines depending on the area. As each patient's case is different; we will tailor a treatment program specifically for you and your circumstances.
The newest treatment on the block is the Photodynamic Chemical Peel Therapy, the topical application of aminolevulinic acid, followed by exposure to blue light. Photodynamic therapy, when combined with IPL or other devices, can improve all three aspects of photoaging: color changes, dermal remodeling, and precancerous changes.
Dr. Wright will assess every patient and an appropriate treatment program along with a long term maintenance program will be designed for you. The new concept today is to start with photo rejuvenation services early so as to prevent the deterioration of skin color and texture as one gets older.
To learn more click here.
Microdermabrasion and DermaSweeps
Before more advanced resurfacing techniques are used, we have to determine where the damage lies in the skin. For superficial damage and wrinkles involving just the top layer (epidermis) of skin, Skin Md and Beyond offers Microdermabrasion, DermaSweeps and Dermal Infusions to target the surface and exfoliate the stratum corneum in the uppermost epidermis. These effective and no downtime exfoliation treatments are designed to remove the stratum corneum, stimulate new cell growth and encourages the growth of a plumper and regenerated epidermis- with less lines, discoloration and aging. To learn more click here.
DermaPEN Skin Needling
DermaPEN Skin Needling is a novel way to treat: fine lines and wrinkles around eyes, mouth, cheeks, neck and décolleté, as well as reducing pigmentation. Other areas of the body can also be treated such as the abdomen, back of the hands and arms. The DermaPEN uses multiple needles that pierce the skin vertically with minimal pain compared to traditional Dermaroller rejuvenation.
The concept of skin needling is based on the skin's ability to repair itself whenever it encounters physical damage such as cuts, abrasions and other physical trauma. Immediately after an injury occurs, such as the microinjury of skin needling, our skin destroys the damaged tissue which triggers a whole cascade of events that result in new collagen growth. The result is smoother, firmer and younger looking skin. A great treatment for all skin types especially patients with acne scarring, hyperpigmentation, enlarged pores and moderate to severe wrinkling. To learn more click here.
Laser Resurfacing:
ReSurFX fractional laser resurfacing
Erbium resurfacing laser peel
ReSurFX Laser Resurfacing Treatments improve texture surface irregularities, scarred areas, fine wrinkles, and sun damage. ReSurFX Fraxel® is a revolutionary fractional laser therapy that produces thousands of tiny but deep columns of precisely wounded skin, known as microthermal zones (MTZ). This is based on a grid and this "fractional" treatment allows the skin to heal much faster because there is normal skin between the wounded areas. ReSurFX is an excellent treatment for sun damaged skin as it tackles both the brown spots and fine lines and wrinkles associated excessive sun exposure. To learn more click here.
Erbium Resurfacing MicroLaser Peel is a type of facial resurfacing procedure using a Radiance Profile Erbium Laser. The procedure involves between 1 and 2 passes of the laser on the face. The laser is set to ablate between 10 to 120microns in depth. The skin is ablated by the laser and is replaced by new skin causing collagen regeneration, and skin textural improvement.
This laser can only be used on the face and is an excellent treatment for mild to moderate wrinkles, textural changes and pigmentation. The deeper the treatment, the greater the results and the greater the downtime and potential complications. Downtime can range from 5 days to 2 weeks
To improve skin texture and the appearance of pores: Removing the top 10-30 microns is a light resurfacing procedure and will require 5 days downtime. The uppermost layer of skin is removed and a brand new skin surface is created. This will stimulate collagen and the skin will appear refreshed. To learn more click here.
Complexion Correction Treatments
Complexion Correction is best treated with IPL which means Intense Pulse Light. It is a non-laser form of light treatment that involves a very powerful light being emitted by a rapid pulse of flashes. These pulses are absorbed by the target structure in the skin – whether it is red veins, brown spots and discoloration or other sun damaged blemishes – heating it and destroying it permanently. Also called PhotoFacial, these treatments are
Photorejuvenation treatments are non-invasive with little or no downtime. They remain one of the most popular treatments at Skin MD and Beyond to make your face look more youthful – by removing and reversing sun damage, signs of rosacea and reducing pores or acne spots. To learn more click here.
Skin Tightening
Thermi-RF skin tightening is a minimally invasive, non-surgical process that uses radiofrequency energy to tighten skin by heating the collagen under the skin's surface, causing the skin to contract (tighten). Facial skin tightening is noticeable immediately after the treatment, and there is no downtime, making this an increasingly popular procedure. Additional skin tightening occurs over the next few months, but optimal results will require a series of treatments. While non-surgical skin tightening results may not be as dramatic as those of a face lift, patients enjoy the removal of wrinkles and skin laxity with no downtime! An added benefit of radiofrequency skin tightening is that it is safe and effective for restoring a more firm, youthful appearance to skin all over the body. To learn more click here.
Botox and Dysport
Botox and Dysport are the world's most popular cosmetic procedure. Both are extremely safe and highly effective. It is especially suited to eliminate the lines and wrinkles of the upper face, including between the eye-brows, around the eyes, and the forehead. The procedure is quick and maximum results are seen by two weeks.
Your face is supposed to wrinkle when you talk or make expressions and Botox /Dysport only work on wrinkles that are due to this regular use of facial muscles. Most women do not "need" Botox until they are in their 30s or 40s, but younger patients sometimes use it to treat signs of premature aging from sun exposure, tobacco or drug abuse, or bad genes. When you start to notice those wrinkles even when you are not making expressions, it's time to consider if Botox may be right for you! To learn more click here.
Facial Fillers
Fillers are typically used to address lines and wrinkles of the lower face. Lines around the mouth, jaw and nasolabial fold (the fold that runs from the side of the nose to the corners of the mouth are largely caused by loss of volume of the soft tissues under the skin. Replacing this volume with a facial filler can instantly reduce lines. This is a simple procedure performed in the clinic and usually involves no down-time. For this reason it is always a favorite with patients and doctors. To learn more click here.