Recommended treatment
Facial Fillers
Botox/Dysport
Laser Resurfacing
At Skin MD and Beyond, Drs. Wright have been treating lip lines with excellent success! It is their opinion that the best results involve a three step approach. 1) Replace volume with Facial Fillers, 2) Relax muscles with Botox to stop the muscles from making the lip lines, and 3) Add a Resurfacing Technique including peels or lasers to improve the texture of the aged and photo-damaged skin.
Fillers can smooth unwanted fine lines and is an excellent choice to enhance the size and shape of your lips – to give you a smooth, natural and younger looking appearance.
Facial Fillers
Upper lip vertical creases, "the Barcode above your top lip" are caused by multiple factors. Smoking, chronic sun-damage, dentition, genetic predisposition and natural aging contribute to the lines.  Lip lines also appear due to a loss of volume in the area, so using Facial Fillers is usually the first step in Lip Rejuvenation as it will restore the volume and decrease the appearance of the unwanted lines.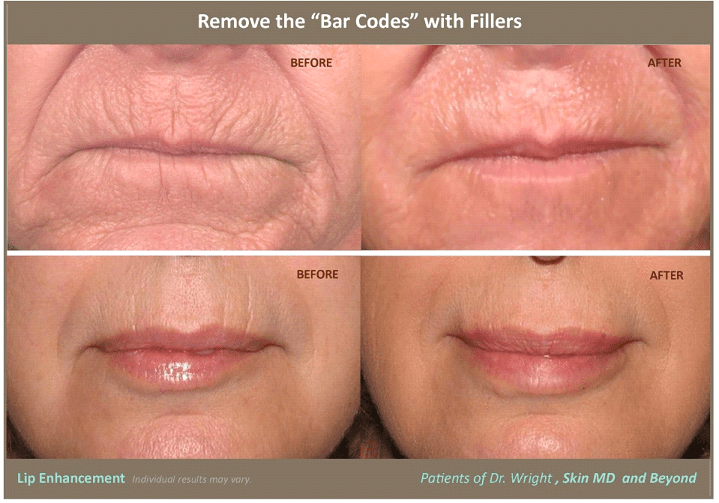 Botox/Dysport
In some patients, it is worth adding some muscle relaxing injections to prevent the lips from "pursing together" and causing the vertical lines in the first place. As well, artistically placed Botox can prevent the lines that come from the wear and tear of the puckering of the lips during smoking and natural movement. Slightly relaxing the muscles help reduce the intensity of that wear and tear, which helps to slow down the worsening of the lines.  Botox used about the mouth is very safe and highly effective and requested commonly by our patients. It is an off-label indication and you need to see an experienced physician for this treatment.  The risk would be overuse of the product which may cause a marked change in the sensitivity of the lip as well as changes in the shape of the mouth or smile.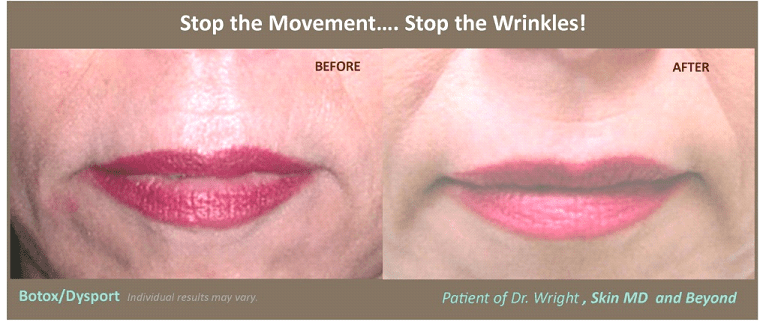 Laser Resurfacing
ResurFX laser resurfacing can be used for mild to moderate wrinkles around the mouth. This procedure combines the impact of resurfacing lasers with the gentleness and safety of non-invasive procedures to treat sun damaged and rough skin. The ResurFX Laser has improved on prior fractional and traditional resurfacing technologies through a combination of full coverage and deep fractional ablation. The ResurFX Laser uses a unique wavelength that facilitates the proper balance of tissue removal and thermal damage to the skin surface to achieve the desired results. A single treatment can show results but the final results will accumulate after a series of treatments designed to treat the lines around the mouth. Long-term improvement in collagen production will maximize over the next 3-6 months resulting in the disappearance of fine lines and wrinkles, for a plumper, healthier skin.