Permanently Remove the Hair You Don't Want With Laser Hair Removal
With hundreds of competing Laser Hair Removal facilities, Skin MD and Beyond continues to earn the top spot in the Frisco and Plano, TX area for the "Best in Laser Hair Removal". For over 20 years, Dr. Fiona Wright has offered patients the "Gold Standard" in hair removal, and there are reasons why our patients keep coming back and telling their friends about us. Many men and women have turned to the expertise of Dr. Wright to enjoy the safe, effective and affordable results of the High-Speed LightSheer Duet Laser Hair Removal System.
Why choose SKIN MD and Beyond for your Laser Hair Removal?
At Skin MD, each patient is personally evaluated by Dr. Wright to ensure the most successful and safe treatment. Her vast experience with treating ethnic skin types has allowed many people be free of unwanted hair. Dr. Wright receives numerous referrals from physicians and skincare specialists throughout the Dallas Metroplex. To ensure the best quality and care, Dr. Wright personally trains each of her aestheticians and nurses to provide the highest quality treatments. After many weeks of training, they have a comprehensive test and must treat Dr. Wright before any staff treat patients. A "Gold Star Service" is what each of our patients wants and deserves, and that is why we have been winning awards for many years in a row!
Why Should You Choose the Duet LightSheer Hair Removal system?
With so many different options for laser hair removal available today, making a decision can be challenging and frustrating. At Skin MD and Beyond, we place safety and effectiveness at the forefront of what we do.  Considering those factors, we believe there are five key reasons why you should make the LightSheer your first choice for Laser Hair Removal.
FDA Approved for Permanent Laser Reduction

This is perhaps the most important and reassuring reason for this laser. With FDA approval for permanent reduction, we no longer have to guess if the treatment works.  Through extensive case studies and documentation, the Duet LightSheer Diode Laser has proven to give a permanent result.

Patented Chill Tip

The Chill Tip is a patented cooling lens designed exclusively for the LightSheer. During treatment, this lens is pressed directly against the skin allowing a larger amount of energy to be focused through the skin and into the hair. This lens makes treatments safer and more comfortable by helping to prevent burns associated with other laser or "non-laser" light systems.

Wavelength 810nm

Among other things, the laser wavelength is what determines what colors will be attracted to the light emitted by the laser. When compared to the 1064nm wavelength, the 810nm wavelength is more effective for passing through light skin and being absorbed by darker pigments.  The advanced technology of this laser even has a setting designed to lengthen the pulse duration of the laser beam, making it safer and more effective to use on some darker skinned people.

Compression Factor

Unlike other hair removal systems that pulse or flash light onto the skin from few centimeters away, LightSheer Chill Tip is pressed directly onto the skin while the laser pulses. Not only does this allow more energy to be delivered through the skin (as opposed to bouncing way), the "pressing down" onto the skin makes it easier for the hairs to absorb the laser energy.  With more of the surface area exposed, the hair is destroyed more easily destroyed.

Fast Treatment

Many laser hair removal machines can take hours to do a full laser treatment of the back, bikini, or legs, plus an additional 30 minutes and require anesthetic cream up to 30 minutes before treatment to reduce any pain. At Skin MD and Beyond, our High-Speed LightSheer Duet system is designed to remove unwanted hair faster than other devices. With no need for topical anesthetic or gels, this laser hair removal system takes only 20 minutes to treat the back or legs.
Can the Duet LightSheer Hair removal system treat Dark Skin?
The Duet LightSheer can safely and efficiently treat most dark skin patients successfully. The patented Chill Tip allows treatments to be safer by helping to prevent tissue injury. The advanced technology of this laser even has a setting designed to lengthen the pulse duration of the laser beam, making it safer and more effective to use on some darker skinned people.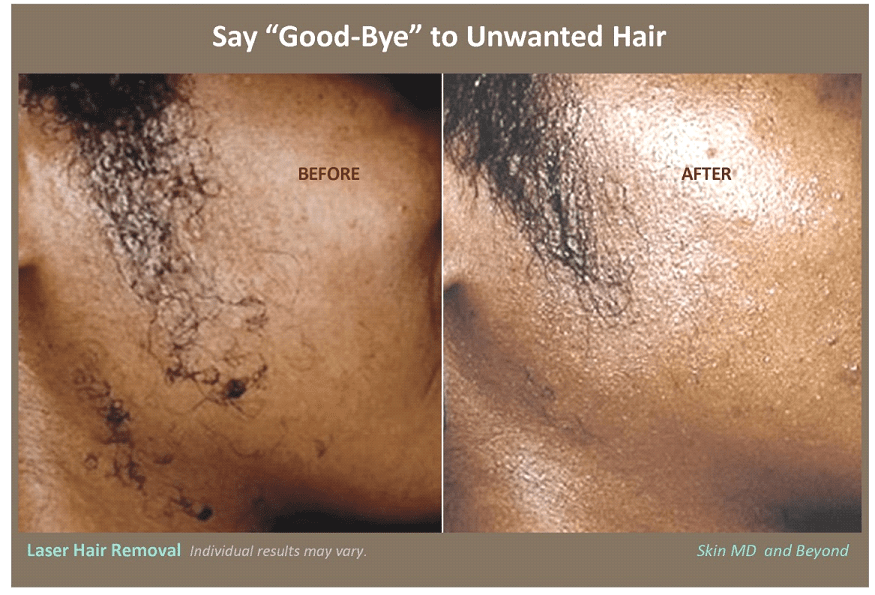 What are Laser Hair Removal Treatments Like?
LightSheer Laser Hair Removal treatments are both gentle and efficient. First, we cleanse the area to be treated and then apply a topical anesthetic to remove any possible discomfort during the process. Treatments can last from 30 minutes to an hour depending on the size of the area treated. Each laser session must be done 4 – 6 weeks apart.
How Many Treatments will You Need?

Usually, 4 to 6 treatments will be sufficient. After you complete you treatments, you can expect to have anywhere from 75% – 100% permanent hair reduction. Each person will respond slightly different due to many factors that influence hair growth. Dr. Wright will help you determine the number of treatments that you may require for the optimal long-term benefit.
What results should I expect?
Results will vary from patient to patient.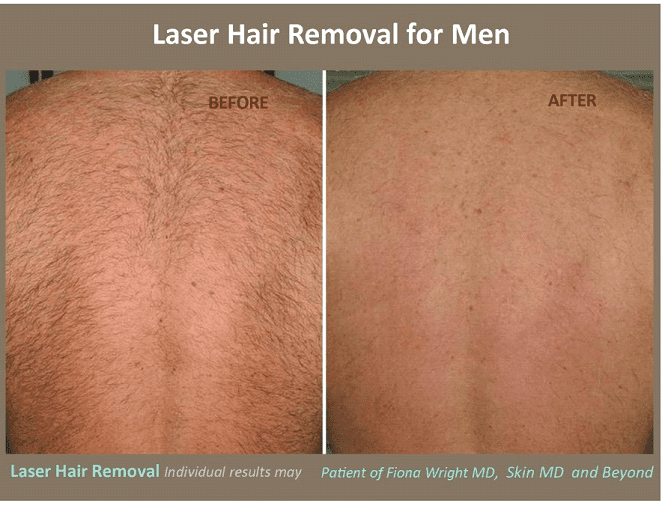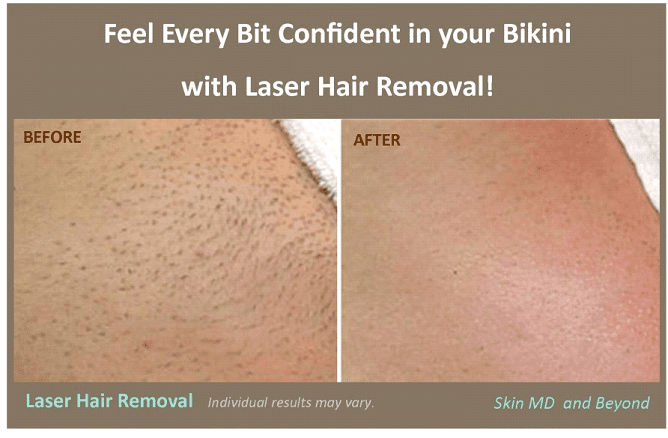 How do I get Started?
The first step is to schedule a consultation with our office in Plano, TX by calling (972) 608-0808. Your consultation appointment will last about one hour. Dr. Wright will personally create your treatment plan with you to achieve the most efficient and effective results. If you have further questions about laser hair removal, contact our Plano office, or check out our dermatology blog.