What is Radiesse?
RADIESSE  is an alternative injectable filler for the treatment of deep facial lines and volume loss around the temples, cheeks, nasal folds and for jowl contouring. It is safe, biocompatible and has been in use for years in other areas of medicine such as hip replacements and dental implants.  It immediately adds volume to safely contour, correct, and beautify facial features. And it continues to work over time. When injected into the deeper layers of the skin, studies show that it also helps to stimulate production of your own collagen.  This natural collagen growth continues for months after the injection, which extends the initial volumizing effects of Radiesse.
What Is the Difference between RADIESSE and other Facial Fillers?
Like many other fillers, Radiesse is FDA approved for the correction of moderate to severe facial wrinkles and folds. What is different about Radiesse is that it is made of a unique, patented material, calcium hydroxyapatite, a material naturally found in teeth and bone.  For the first three months after injection, Radiesse acts as a typical filler substance by 'filling' lines and wrinkles and plumping up the skin. Then due to its unique collagen-generating properties, Radiesse actually stimulates new tissue development for extended correction for up to an additional year.
The material is thicker and denser than Perlane or Voluma. Because it is denser it will resist spreading out and will do a better job than Perlane of lifting up deep folds – but not as good as Voluma. This feature makes Radiesse the most useful agent for individuals with very deep cheek/upper lip (nasolabial) folds.
What is RADIESSE commonly used for at Skin MD and Beyond ?
TEMPLE REJUVENATION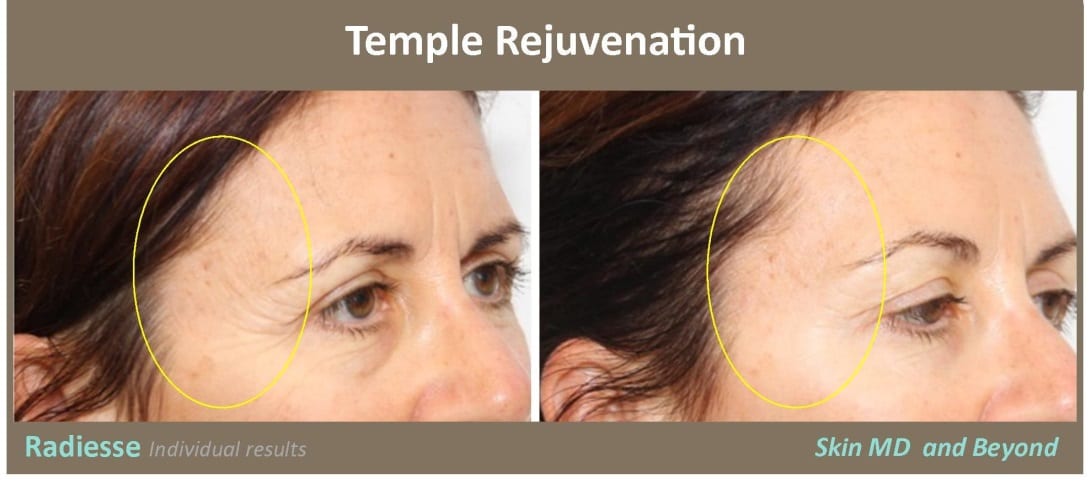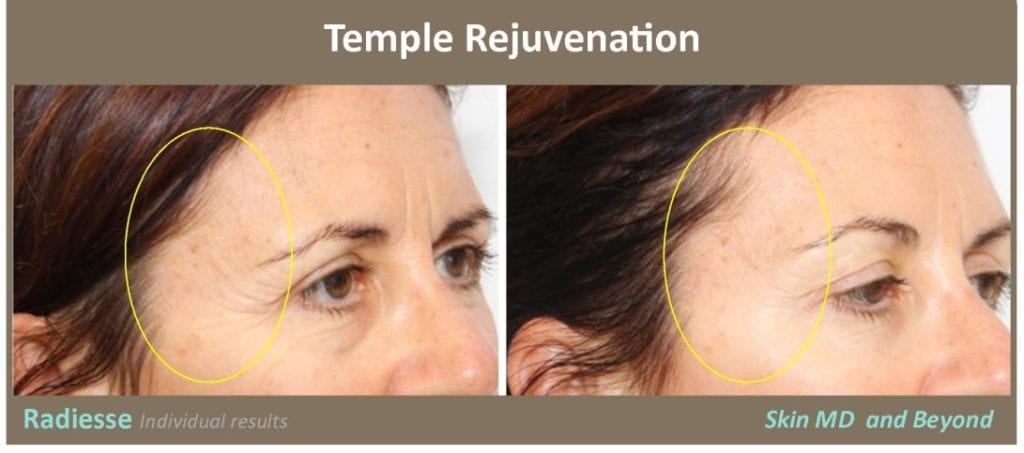 CHEEK LIFT/CONTOUR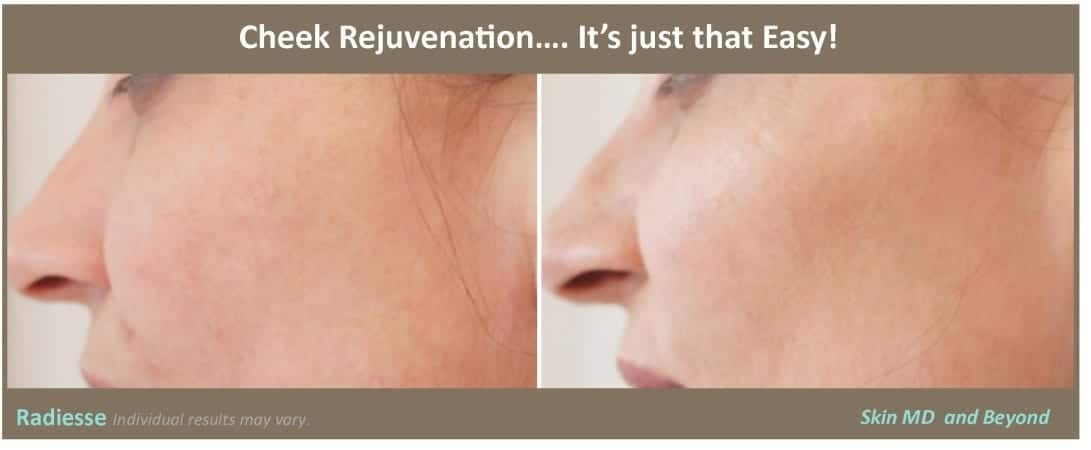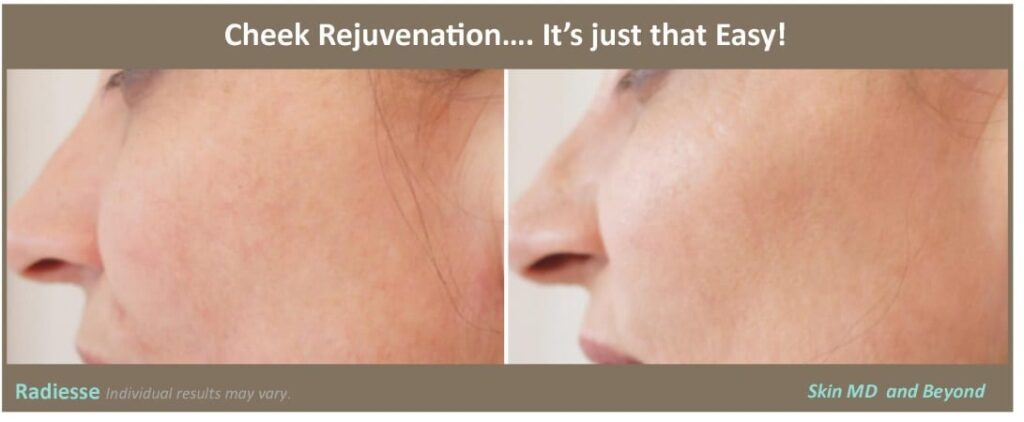 NASAL FOLDS


JOWL LIFT/CONTOUR


CHIN CONTOURING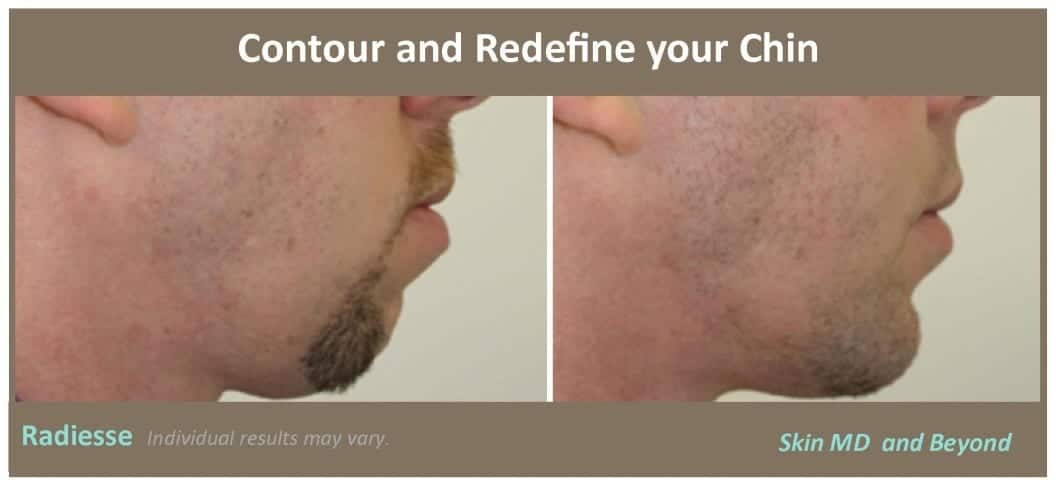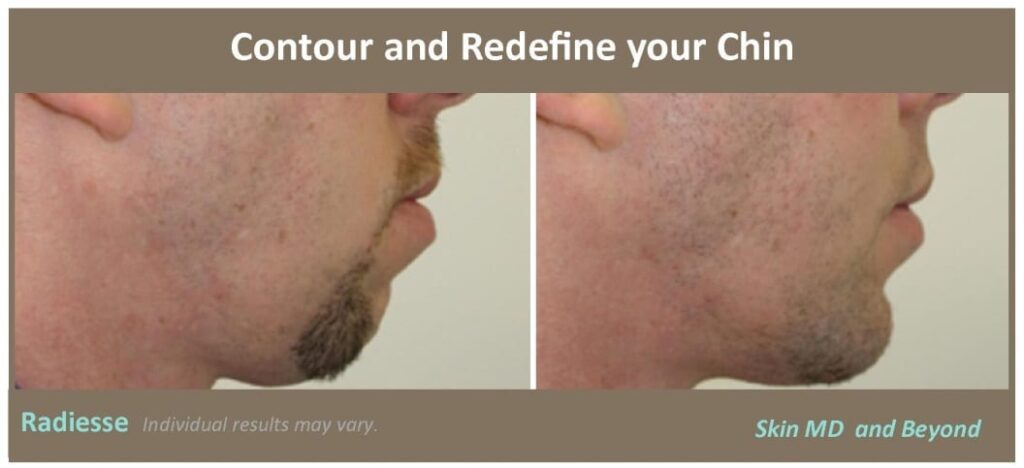 HAND REJUVENATION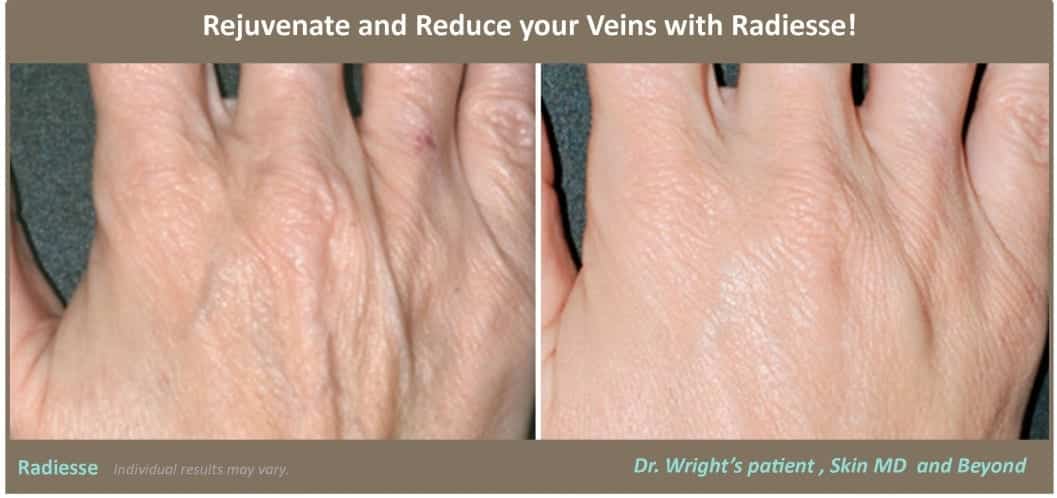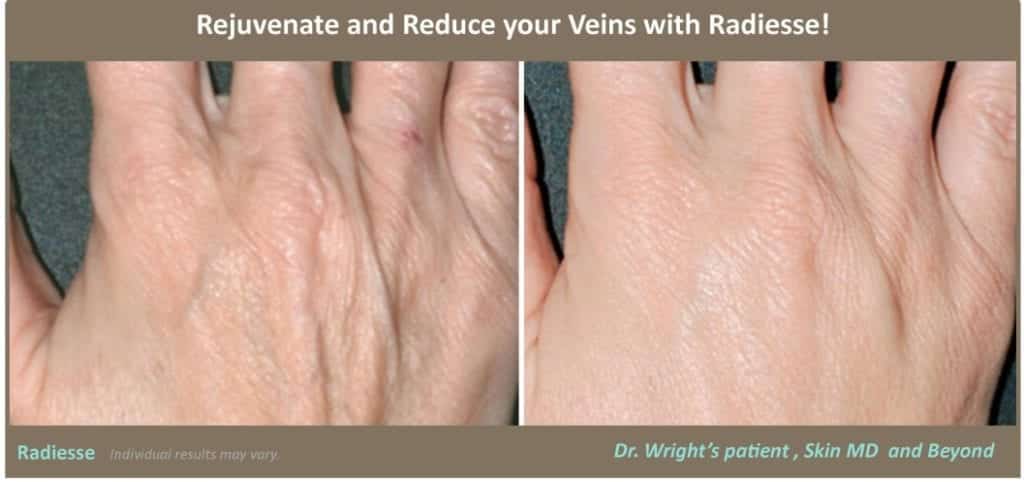 Am I a candidate for treatment with RADIESSE?
Women and men who have facial wrinkles and folds common with aging and volume loss are good candidates for Radiesse. One of the most popular areas for Radiesse treatment is the nasolabial fold, or smile line, while other patients request Radiesse to enhance or sculpt the overall shape of their face in a minimally invasive, nonsurgical manner.  Radiesse can make a marked difference in all of these situations and can give the appearance of looking more rested and youthful. Due to its thicker composition, Radiesse is not widely considered safe for injection into the lip or under the eyes, and other filler options should be discussed with your doctor.
Can people with different skin tones be treated with RADIESSE?
Yes.  Radiesse is an FDA-approved dermal filler and has proven its safety and effectiveness for patients with different skin color.
How long does RADIESSE last?
Clinical studies show that a Radiesse treatment provides extended results that typically last one year or longer. Individual results may vary, depending on age, skin type, lifestyle, and amount of product used, so it is important to discuss your expectations with your doctor.  Many patients will achieve their desired result after just one treatment, but to ensure your satisfaction, you may schedule a follow-up visit, for a touchup treatment to achieve your final desired result and longevity.
Patient Testimonials
"Having been a client of

Dr. Fiona Wright

for over 14 years I cannot rave about here artistry in keeping me looking my best! She is concerned about her patients looking natural and I have referred a number of girlfriends to her. They too think she is wonderful! So glad I was guided to her years ago."

– Nancy O.

"Love Dr. Fiona Wright and team! I have been seeing them since 2016 and am always happy. She never sells me on more than I want or need and is always timely for appointments." – Amber G.
How long before I see results?
The initial results of Radiesse are seen immediately and require little to no downtime – and your final Radiesse results will reach maximum effect in about 2 – 4 weeks.  Radiesse continues to deliver results as it stimulates your body to produce new collagen. The collagen that forms results in extended correction times and increased patient satisfaction. Results typically last up to a year or more for many patients. The results are long-lasting, but not permanent.
Is RADIESSE Filler safe?
With years of rigorous clinical testing and use by physicians in hundreds of thousands of patients worldwide, Radiesse has been proven to be safe and effective.  Radiesse does not contain any animal- or human-derived components and it has a minimal risk of allergic reaction.  After injection, Radiesse will not migrate to other parts of the body. Over time, it degrades naturally into calcium and phosphate ions that are safely metabolized by the body's own processes.
Does a RADIESSE treatment hurt?
There is typically minimal discomfort during the treatment process and is easily tolerated by patients of Dr. Wright.  Unlike other injectable fillers, Radiesse is not pre-mixed with lidocaine, and as with all injections with a needle, there can be some discomfort associated with the procedure. But, at Skin MD and Beyond, our goal is to help you relax and we will provide an anesthetic cream to the treatment area prior to the doctor performing the injections.  Although considered an "off-label" use, lidocaine can safely be added to the Radiesse to reduce any additional discomfort.
Why Get Radiesse at Skin M.D. and Beyond?
As a National Advisor for Facial Contouring with Injectables, Skin MD and Beyond sets the gold standard and offers a customized and detailed cosmetic solution that is personally designed for each patient. Every patient is provided a private and detailed medical consultation with the doctor, who will perform your procedure, to assist you in determining the best course of action to address your aesthetic concerns –in a comfortable setting conducive to optimal results. With their extensive knowledge of the skin and the aging process, Drs. Wright will help you achieve long lasting and natural looking results using their gentle techniques and staged treatment approach. See photo gallery below.
Schedule Your Radiesse Consultation Today!
Interested in scheduling your radiesse consultation with Skin M.D. and Beyond? Call us at (972) 608-0808 to contact us today! Our practice serves Plano, Dallas, & more in Texas.