Recommended treatments:
Skincare
Facials
Chemical Peels
Microdermabrasion/DermaSweep
Blu-U Light Therapy
Photodynamic Therapy
The Skin MD and Beyond Acne Treatment Program is the most comprehensive acne treatment program available to treat both active acne and acne scarring. We offer to you, the combination of the best traditional medical treatments and cutting edge technology with advanced aesthetic services which will provide you exceptionally effective acne treatments with fast results.
The goals of Skin MD and Beyond Acne Treatment Program are to target the causes of acne, clear up active acne, prevent further breakouts, eliminate any red or brown spots left from old acne papules, treat any residual scarring and to improve the overall appearance of the skin.
Dr. Wright will personally assess each patient's skin condition through a detailed skin and health history, review of previous treatments and skin examination.  After this comprehensive review she will design an individualized Skin Care Treatment Program for each patient. Our treatments include specialized face washes, gels and creams, systemic treatment (tablets) including antibiotics, hormonal treatment and as well as laser therapy and advanced aesthetic procedures as reviewed below.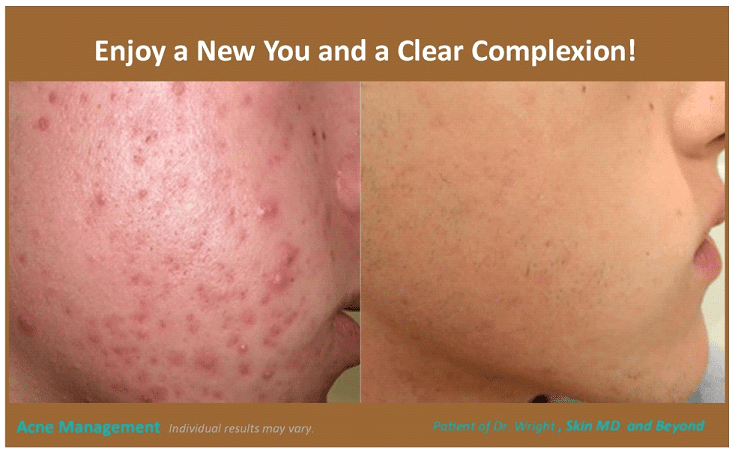 Skin Care
There is no "One-Type-Fits All" approach to acne. Acne management is a complex and challenging problem, and to help you reach Flawless Skin, Dr. Wright has formulated unique products for all degrees of acne and all skin types.
Fiona WRxIGHT MD Skin Care
Because we know acne is a serious matter, Dr. Wright not only offers several products that are non- allergic and non-acnegenic- but she also offers complete and specialized acne treatment system kits. Based on the most recent dermatology developments, she has formulated skin care systems that will attack the acne bacteria and significantly reduce acne breakouts. These simple and easy to use products will help you get rid of your acne for good. Clear skin is just a few steps away, and those steps are as easy as 1-2-3.
Helping clear existing acne
Preventing new acne from forming
Improving skin tone and the appearance of existing acne scar
Acne is notorious for affecting almost everyone – and not just teenagers! To help you put a stop to your acne with effective acne skin care products choose items below- from our highly effective cleanser to our popular Clear Skin Repair Cream, Fiona WRxIGHT MD Skincare can help people of all ages find relief from acne.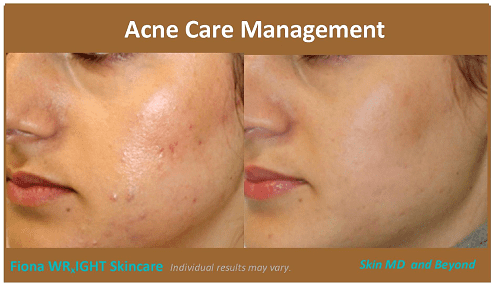 Prescription Medications
There are many prescriptive options for acne treatment, and it is important to realize that acne is an ongoing process that takes time. If one treatment does not work, you may need to switch to another. There is no cure for acne, but it can be controlled in most cases. Dr. Wright will work with you to find the right product, treatment, or combination of both to suit the severity of your skin condition. The various topical prescriptive treatments include:
Benzoyl Peroxide
Salicylic Acid
Retinoids
Azelaic Acid
Topical Antibiotics
Topical Sulfa
Topical Dapsone
If your acne is not responding to topical treatments alone, Dr. Wright may prescribe an oral prescriptive medication. Oral medications such as antibiotics, hormone modulators, and Isotretinoin (Accutane) have been proven to be very effective in treating acne by improving current acne breakouts and preventing reoccurrences.
Facials
Medical Grade Acne Facial Treatments use products with the highest activity levels available to address multiple skin care concerns. Custom preparations combining a wide range of enzymes and polyhydroxy acids are used to treat each individual patient. During your treatment our licensed aestheticians will address the many concerns of acne – from hormonal changes, bacterial infections and imbalances in your body chemistry. Additional services can be customize by including extractions, enzyme peels and certified organic products.
Reparative Oxygen Treatment is a specialized procedure delivering medical grade oxygen to the skin to improve skin oxygenation, decrease bacterial growth and promote healing. When oxygen is introduced to the skin at this cellular level, it assists in cell regeneration, and has healing/ detoxifying qualities which will remove impurities and pollutants left on the skin from the outside environment. Oxygen will also adhere to the collagen and elastin molecules, thereby increasing the strength of the collagen and elastin fibers – and improve your skin's suppleness. This procedure can be done in conjunction with a Medical Grade Acne Facial Treatment.
Chemical Peels
Waiting for acne to clear on its own can be frustrating. Without treatment, acne can cause permanent scars, low self-esteem, depression, and anxiety. The American Academy of Dermatology promotes Chemical Peels (using natural acids) as a supplemental treatment with high patient satisfaction. However even though acneic skin might be oily, it can also be sensitive. Professionals working on patients with acne need to remember this, and consider using a more customized and controlled technique to remove oils and dead skin layers.
Chemical Peels are topical preparations including lactic acid, glycolic acid and salicylic acid which act to improve acne, skin surface texture, superficial scarring and help to eliminate oil plugs to decrease blackheads. Peels can be a simple, fast and highly effective way to achieve radiant skin for a special event and can also be used to dramatically lessen the effects of more serious skin conditions.
A series of peels are recommended to treat acne. We offer five different types of peels and during your consultation advice will be offered on choosing the correct peel for your concerns.
Microdermabrasion and DermaSweeps
These relaxing exfoliating superficial type of treatment using very fine crystals(microdermabrasion) or customized bristles(DermaSweep) to remove the dead outer layer of the skin resulting in a smoother skin surface. During your treatment customized masks, ampoules and dermal infusions can also be applied to treat the deeper skin levels where the acne begins and to address your specific concern.
Acne Serum – with Salicylic Acid for active acne and clogged pores.
Exfoliating Serum- with Glycolic Acid for oily skin
Lightening Serum- with Hydroquinone, Azelaic acid and Kojic acid to remove pigmentation
caused by acne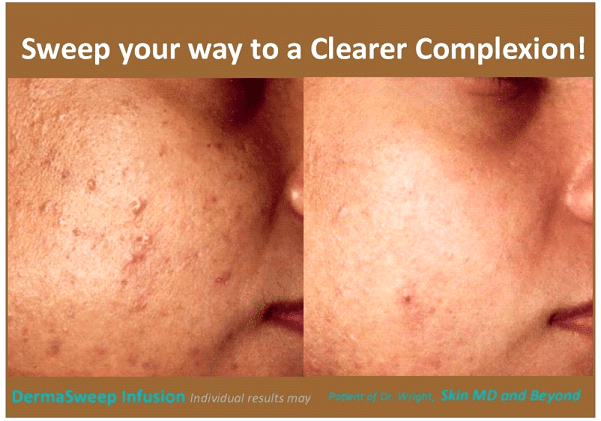 Blu-Light Acne Therapy
Blue Light Acne Treatment is a faster solution to clearing acne than traditional oral and topical medication alone. By using light to kill acne bacteria, results are apparent more quickly. This extremely safe treatment can control your acne or clear it up for a long period. Treatments are simple – you simply sit with your face close to the light for approximately 15 minutes. The procedure is noninvasive & pain-free. Once the treatment is done, patients can return to their daily routine. Typical schedules for patients are twice weekly for 8 weeks. The BLU-U system by Dusa effectively clears 50% of moderate, inflammatory acne in 4-8 weeks. Results are especially impressive when used with conventional treatments, such as topical creams and oral antibiotics. Dr. Wright may recommend exfoliation treatments such as Vitality Vitamin A Peel along with your BlueLight Treatment to clear the skin of the dead cell plugs and blackheads.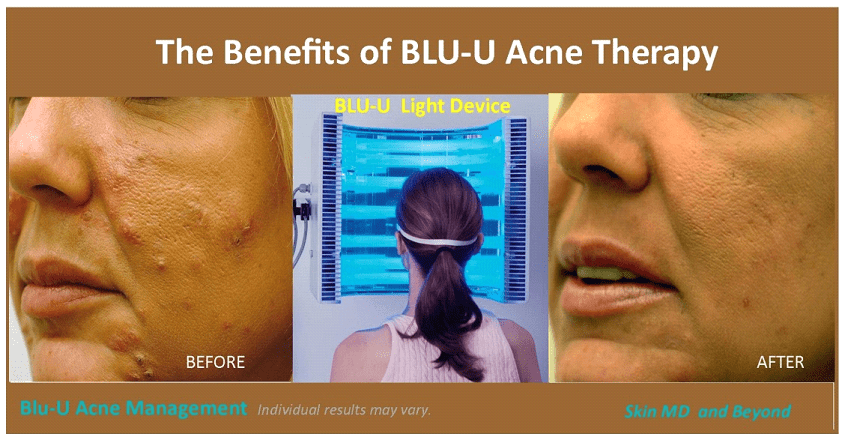 Photodynamic Therapy
Newer non-traditional therapies like Photodynamic Therapy with Blu-U Acne Light is a very popular treatment as it deliver excellent results without requiring the use of oral medications. The Blu-U Light therapy uses blue light to kill bacteria and quiet inflammation. There is no pain or downtime with this treatment. Photodynamic Therapy is used for moderate to severe acne, including cystic, and requires a prescription liquid called Levulan to be applied to the skin prior to the Blu-U treatment. Treatments are able to be customized by choosing the appropriate light therapy device to reduce acne as well as improve your facial tone, color and texture. Patients have experienced wonderful results after a series of 2 to 5 treatments. Results are long-lasting and can be permanent when continuing on a simple at home skin care routine.