Do you want to Turn Back the Hands of Time? Reverse Sun Damage? Or Deep Wrinkles and Crow's Feet?   Do you Dream of Improving your Deep Acne Scars or Stretch Marks?
Finally, there is a Laser Free, Surgical Free option that achieves all these goals…..
Dermapen Medical Skin Needling.
Schedule Your Consultation Today!
What is Dermapen Medical Skin Needling?
The DermaPen Medical Skin Needling treatment is the world's most advanced micro needling device and was voted as the Best Professional Skin Rejuvenating Device of 2012 by Aesthetic practices throughout the USA and the United Kingdom.  The FDA approved DermaPen in Plano, Texas as it is a FAST, AFFORDABLE and EFFECTIVE device that works to tighten, and rejuvenate the skin. It is considered by leading skin care specialists worldwide as one of the best devices in improving fine lines and wrinkles, minimizing open pores, stretch marks, keloids, surgical and acne scars.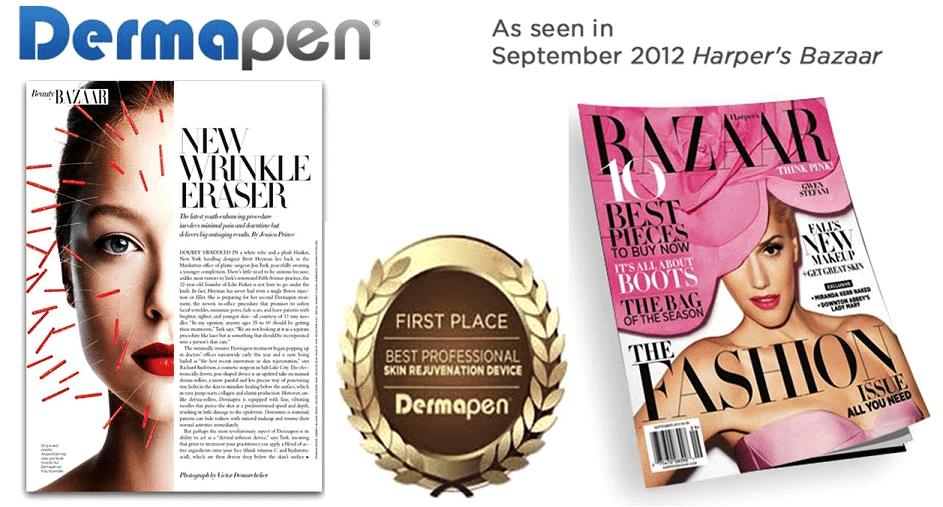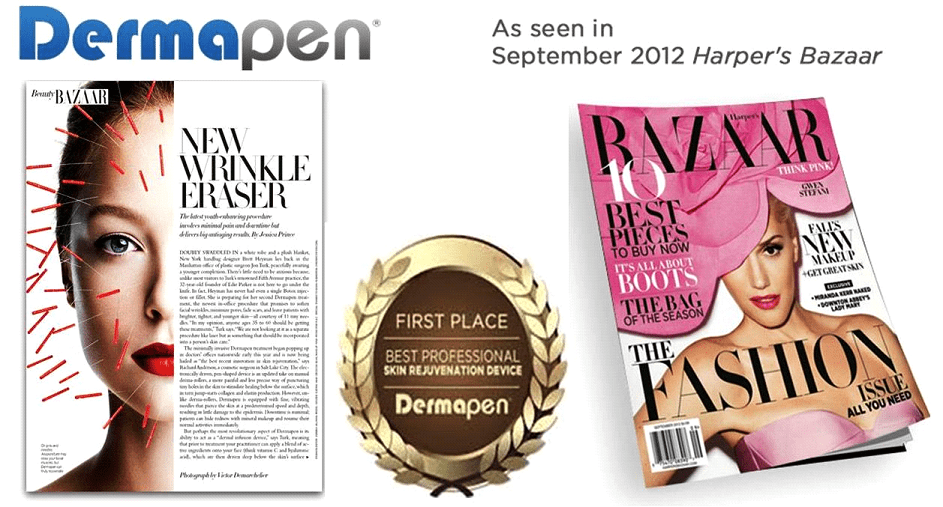 Dermapen Medical Skin Needling is especially effective for aging because collagen is produced, therefore scars and stretch marks can also improve from treatments especially indented acne scars or chicken pox scars. Pigmentation issues can be helped, general lack of skin radiance and skin firmness is also an indication for skin needling treatments and visible improvements can be seen. This treatment is used to help patients with all skin types and is a corrective and preventative procedure alike.
Who are the Ideal Candidates for DermaPen Treatment?
DermaPen Medical Skin Needling is especially effective for any skin conditions that require collagen production and remodeling. Therefore it is not only effective to fight aging, but it is extremely successful in the treatment of scars and stretch marks and can also improve indented acne scars or chicken pox scars.
The many benefits of DermaPen Treatments include;
Significantly lessens Deep wrinkles
Repairs Acne scars
Reduces the appearance of Keloid scars Improves jowl lines and smile lines
Repairs stretch marks
For Aging Hands
Significantly helps Neck wrinkling and lines
Reduces the appearance of Burn Scars
Removes Hyperpigmentation
How Does DermaPen Work?
Using a patented, uniquely automated spring loaded tip, multiple needles gently pierce the skin to create collagen growth through "micro injuries" to the skin – thus promoting the body's innate ability to re-grow and repair. The Dermapen's multiple, vibrating needles pierce the skin several hundred times per minute to enhance rejuvenation results in a manner that is far safer than other methods and because the Dermapen is fully adjustable, it is easier to treat delicate areas around the nose and eyes.
Patient Testimonials
"I highly recommend Skin M.D. and Beyond. Dr. Fiona Wright and her staff are truly amazing! They are professional, friendly and treat you like family. They go out of their way to make sure you are taken care of." – A.B.
Types of DermaPen Treatments:
– the Spa Model which allows the needle to reach depths of up to 1.0mm;
– while the Medical Model allows us to treat up to 2.5mm in depth, allowing for deeper collagen stimulation, better absorbing of topically applied products, and superior skin rejuvenation.
At Skin MD and Beyond, in Plano Texas, you have the benefit of Dr. Wright's extensive knowledge and expertise with an effective Medical Strength Treatment. Because our DermaPen Micro Needling is performed by our Registered Nurse under the direct supervision of our physician, you can enjoy the many benefits of skin rejuvenation. Whether improving your appearance with a small subtle change or restoring your face to a more youthful state, treatments are individualized to your needs, goals and expectations.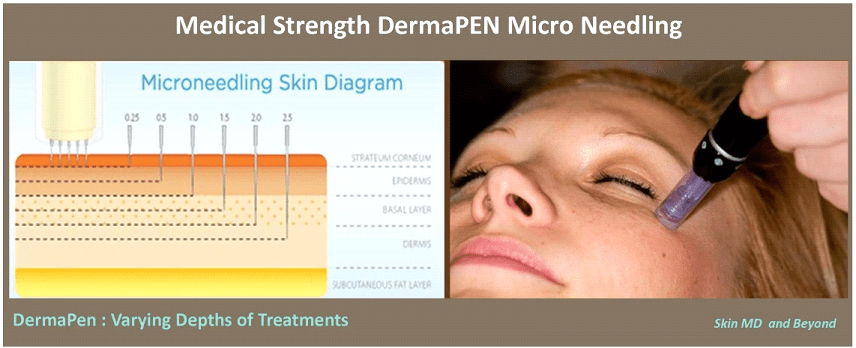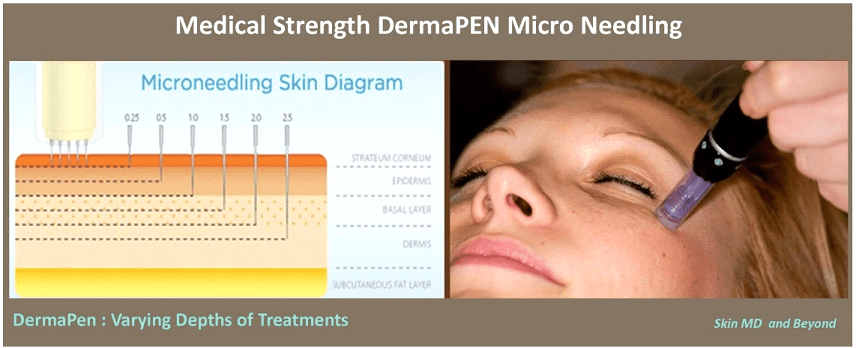 How DermaPen differs from a Laser Treatment
Although lasers have successfully treated uneven skin tones, scars and stretch marks, oftentimes there are those who are not always a candidate for these treatments. Lasers are often difficult to use on patients with darker skin tones because their natural skin pigment serves as a risk, when using temperature levels needed to create therapeutic thermal damage to achieve their cosmetic goals. To find a solution for those who cannot use laser treatments, Skin MD and Beyond in Plano, Texas has you in mind and is excited to offer DERMAPEN, a non-laser treatment that can help with brown spots, age spots, hyperpigmentation, wrinkles, scars and stretch marks!
Can I combine DermaPen with other treatments at Skin MD and Beyond?
DermaPen can be used in conjunction with many advanced treatments. Dr. Wright will be able to help you choose any additional treatments you may require to achieve your ultimate rejuvenation goals, such as;
Microdermabrasions and Facials
Photofacials and Blu-U light treatments
Radiofrequency treatments such as FSR (Fractional Sublative Radiofrequency)
3DEEP and ThermiSMOOTH Skin Tightening treatments.
Injectable Contouring Treatments
Questions? Call Us
Is there Downtime with a DermaPen procedure?
On the day of treatment, the treated area will be red and mildly sore. You will look like you have a sunburn. The day post-treatment, you will be able to apply make-up as usual and the skin will appear slightly pink. Some people have mild peeling of sloughing skin 3-4 days after the treatment.
How many DermaPen treatments are required?
Your age and skin condition will determine the number of treatments required to achieve the maximum effect. Common skin conditions may require anywhere between 3-6 treatments with a 1-2 month interval between visits depending on your treatment plan.
How can I make DermaPen Micro Needling therapy most effective?
One proven way to further boost your skin's collagen production is to prepare the skin with a Vitamin A product prior to each treatment. At Skin MD and Beyond, in Plano Texas, we offer several strengths of Dr. Wright's exclusively formulated Vitamin A Flawless Treatment Pads. Additionally, enhancing your personal internal health by not smoking and correcting any volume imbalances will also help.
Patient Testimonials
"Dr. Tim and his wife are AMAZING! I love how professional they are and I love how beautiful I feel when I walk out!! You are in safe hands with this duo" – C.D.
Is the DermaPen treatment painful?
Because we are a medical clinic, our patients experience little to no discomfort as we pretreat the skin with an anesthetic cream that has been specifically formulated by Dr. Wright to minimize any pain. Our cream is applied 20-30 minutes prior to the procedure, and for most people they will experience the prickle sensation of many fine needles on your skin area where the nurse is working. Our patients find that it is far more comfortable with the DermaPen than it is with a traditional roller.
 Who should NOT have Collagen Induction therapy?
If you are taking Accutane or have within the last six months
If you have open wounds, cuts or abrasions
If you have had radiation treatment in the area within the last year
If you have a current outbreak of Herpes Simplex, a skin infection or chronic skin condition in the
treatment area.
If you are a diabetic or any area of the skin to be treated is numb, lacks sensation or has poor
wound healing.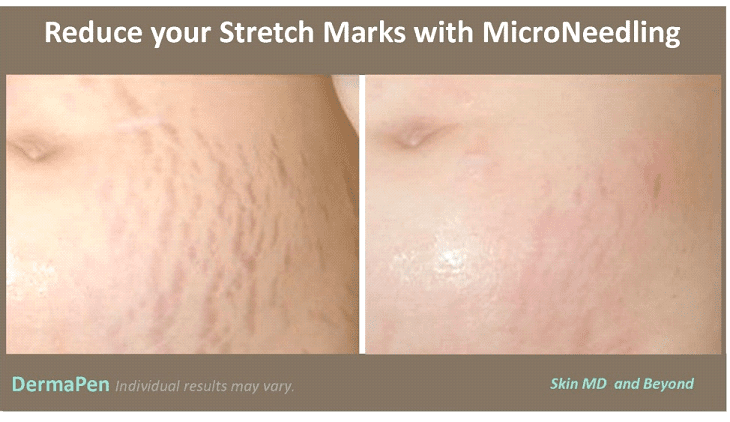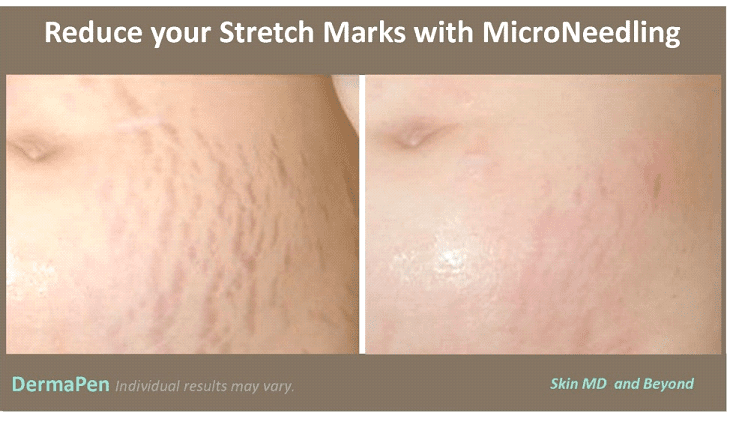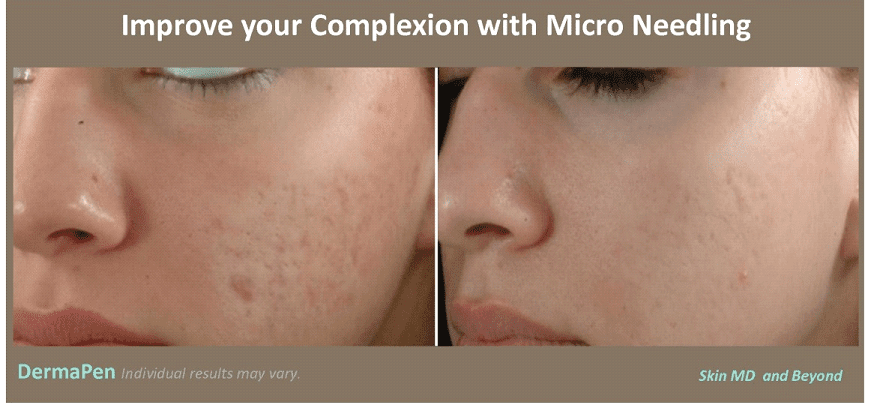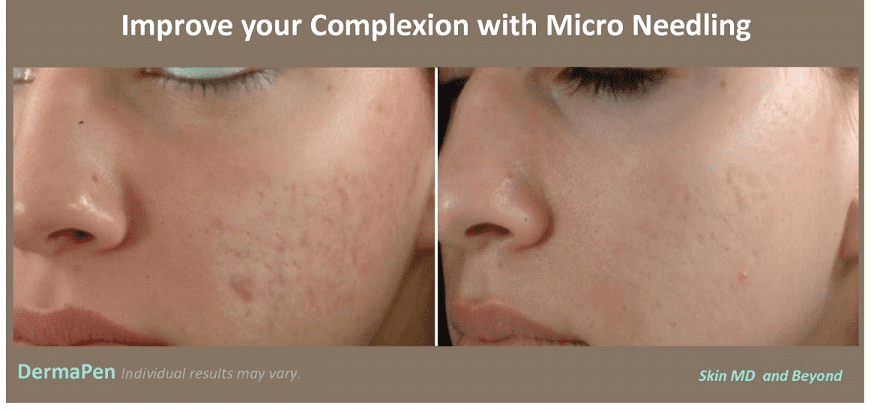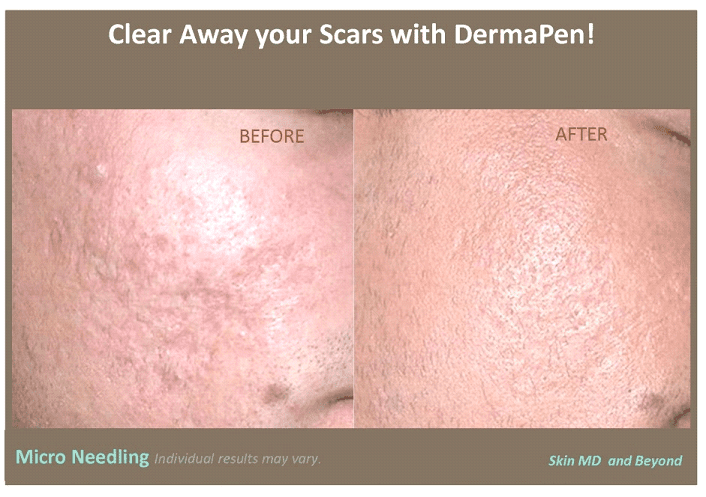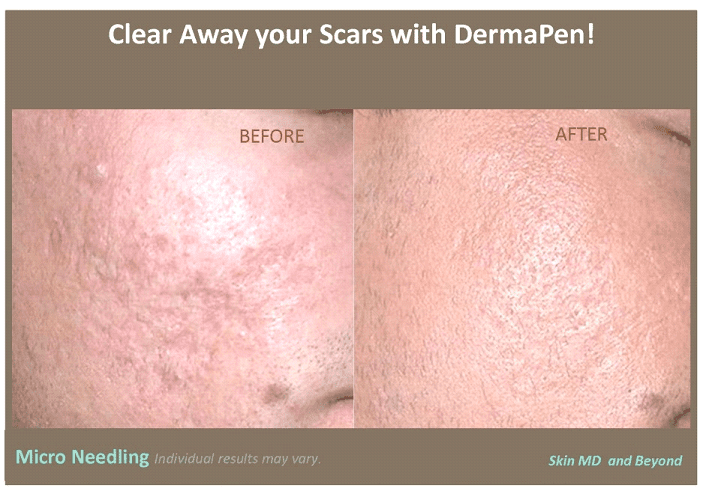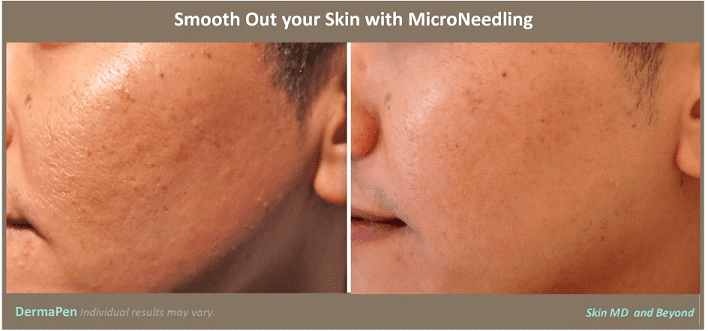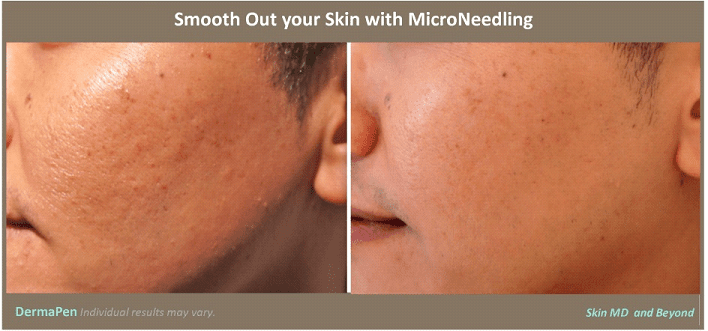 Schedule A Consultation
To learn more about micro needling and how you can benefit from it, please call out office today to schedule an appointment.