Cobblestone Chin
Chin Asymmetry
Receding Chin
Double Chin
Some people were born with a great profile including a well projected chin, and others were born with underdeveloped or recessive chins whose appearance could be improved. For those who weren't born with the perfect chin or aging has set in and it is changing – many people are looking to non-surgical options to improve their chin. With the help of Dr. Wright our patients are pleased with the many options available – and with no surgery!
COBBLESTONE CHIN (Dimples and Creases):
Recommended treatments :
Botox/Dysport
Facial Fillers
Botox/Dysport
"Chin-tox" refers to the application of Botox Cosmetic or Dysport to the chin area of patients with dimpled or wrinkled chins to smooth the appearance of the "golf ball" or "orange peel" chin. Dimpling and puckering of the chin is very common and most people don't even realize it happens to them because it usually happens during animation and talking. This predictable and recurrent habit results in an aesthetically unwanted dimpling, or "cobble-stoning," of the tip of the chin over time. It is also common for people who have a recessed chin. Treatment of this area with Botox / Dysport is simple and effective. Doctors have found that one or more controlled injections of Botox/Dysport to the chin in a low dosage can help smooth away unwanted dimples and wrinkles. A severe crease can be temporarily ironed out, much like crow's feet or frown lines, with the relaxing of the mentalis (chin) muscle.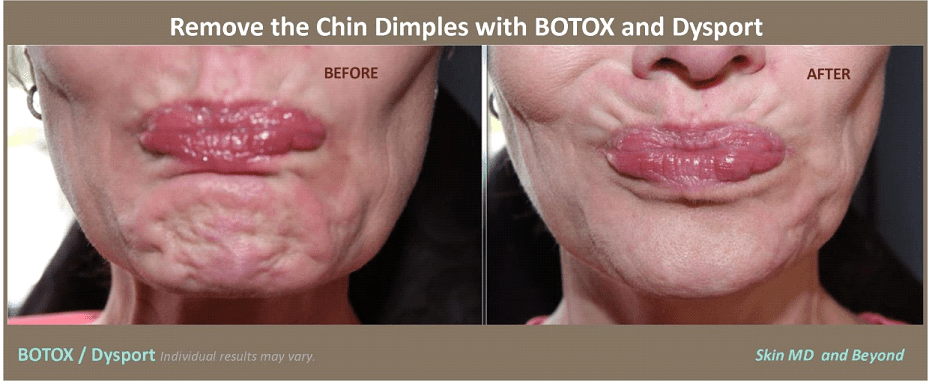 Sometimes when the skin surface has been in contracted into a creased position, it really wants to return to that position and a very deep crease or dimple may not lie perfectly flat.  Several treatments over months may be required and it may also need Facial Fillers to replace the volume loss that resulted from the excess movement.   Using this combination for contouring the chin by combining Botox / Dysport with Fillers can create a great result!
Facial Fillers
The horizontal groove/crease between the lower lip and chin is called ' Labiomental or mental groove'. It is created by the active chin muscle (Mentalis) continuously pushing upwards and with time some people will get a strong etched line/crease across the chin which can give a displeasing profile with the chin too far forward or a lumpy appearance on the chin. Pairing Botox / Dysport with Facial Fillers, such as Restylane, for chin contouring can improve the overall aesthetic outcome of this area. As mentioned previously, Botox injections can be used to relax a hyperactive mentalis muscle causing chin dimpling, while injectable treatments with Facial Fillers can be an excellent balancing treatment to give the our patients their desired chin.
CHIN ASSYMETRY:
Recommended treatments :
 Botox/Dysport
Facial Fillers
Chin Contouring: If you are unhappy with your jawline because of an unbalanced appearance of your chin, Dr. Wright can use a combination of Botox/ Dysport and Facial Fillers to sculpt, shape, and enhance your chin to create your desired jawline. As expert injectors, they may choose Voluma to augment the chin or Restylane to finesse fine details that need correcting. Facial Fillers are products that are injected into the skin to fill in defects such as creases, lines, wrinkles and scars or to rejuvenate the skin and replace volume. The effect will fill in and elevate the skin's surface producing a smoother, more youthful and relaxed appearance.
RECEDING CHIN:
Recommended treatments:
Chin Contouring: Many people may desire improvement in the appearance of a poorly defined, under-projected chin. For those that do not want to undergo a surgical implant, Facial Fillers (Perlane, Voluma, Radiesse) can be used for chin augmentation with excellent results! There is an art to a liquid chin augmentation and even with a modest amount of fillers, your chin can have a noticeable improvement. It can also help define your jawline, and may provide a more tightened look to your neckline as well.
DOUBLE CHIN :
Recommended treatments
VelaCONTOUR
Facial Fillers
ThermiSMOOTH
ThermiSHAPE
ThermiTIGHT
Most of us pay little attention to our neck, until one glances down into a reflective surface, skypes a friend or takes a picture and sees their own double chin as the skin bunches up and folds encroach on the jawline. What if you didn't have to look down to see a double chin?
Excess chin fat or skin folds have traditionally been treated with liposuction and surgery. Often with liposuction it is difficult to achieve a uniform result, and furthermore, the skin often appears more lax after the treatment. Compression garments are required for a few weeks which is also inconvenient, and so many look for an alternative treatment. The good news is that now with the experience, artistry and cutting-edge technology of Dr. Wright, Skin MD and Beyond can offer you the best non-surgical options to get rid of a double chin.
VelaCONTOUR
A double chin can be created by a layer of subcutaneous fat around the neck that sags down and creates a fold, making the appearance of having a second chin.  To address this problem Skin MD and Beyond offers VelaCONTOUR, an advanced non-surgical dimension to neck rejuvenation and contouring. "Once the inches are gone, the skin can still be loose," Dr. Wright explains. " VelaCONTOUR works on both as it will also shrink the fat and lift the skin which offers patients smoother, tighter and younger looking skin."
VelaCONTOUR is part of the new VelaShape-3 device, a top-of-the-line, bulk radiofrequency soft tissue heating system for fat reduction and skin tightening. The contouring handpiece of this system is an effective non-invasive treatment that treats both the upper layers of the skin and the deeper tissues of fat, that result in a measurable reduction in size and skin tightening. A pulsating precise energy level of light provides a significant amount of heat safely into the treatment area with a high level of comfort.
This precise heating allows for greater localized increase in metabolism resulting in a reduction of fat with ensured safety, effectiveness, and fast treatments and no downtime. This device also is equipped with a vacuum and mechanical massage, to facilitate safe and efficient heat energy delivery. The net result increases the metabolism of stored energy and lymphatic drainage which reduces or shrinks the size of the actual fat cells and fat chambers.
ThermiSMOOTH/SHAPE
Unfortunately some people are predisposed to a double chin, the unforgiving layer of extra fat around the chin or a double layer of loose skin. A double chin doesn't necessarily only occur in people who are overweight, slim people can still suffer from a double chin too!
The ThermiSMOOTH and ThermiSHAPE are two similar devices that use Radiofrequency to stimulate collagen production and tighten the skin. It is a fantastic non-surgical treatment for sagging skin and can be used on all areas of the body. There is no recovery time and the treatment is very relaxing. With ThermiSMOOTH/SHAPE, the tip of the handpiece is directed on the skin above the area that is to be treated. It then heats the layer that is underneath it stimulating the production and regeneration of collagen. When this happens, the skin and its layers are stimulated to become firmer, smoother and tighter.
For someone who has more lax skin and a double fold of skin to the chin, the ThermiSMOOTH is very successful in tightening the skin and reducing the appearance of a double chin caused by sagging skin as it can tighten the skin in this area and add definition. For those who have additional fat under the chin area and loose skin that requires a little more definition, the ThermiSHAPE is a non-invasive and non-surgical treatment that is ideal for people who require a little definition in areas that are hard to perfect.
When compared to other skin tightening treatments, these two create a convenient solution. They are both non-invasive and they don't require significant downtime. There may be some minor redness immediately after treatment, but it doesn't mean that you have to take time off from work to recuperate.
ThermiTIGHT
For those with more moderate skin laxity, a non-surgical lift (as referenced above) may mean that the outcome may not look like the one you can get with surgical treatment. Non-surgical treatments are a more conservative approach as it does not involve manual manipulation of the structures. Therefore, this is only appropriate for those who are not showing severe signs of skin aging
For those that require a more aggressive treatment but do not want to "go under the knife", the ThermiTIGHT may be the perfect solution!  The ThermiTIGHT is a minimally invasive procedure in which a radiofrequency probe (the size of a coffee straw) is placed under the skin to deposit the radiofrequency energy directly below the skin to create a stronger repairing process which promotes a firmer and tighter skin from the inside out.  This minimal surgical procedure targets a deeper area of the skin which targets laxity and fat underneath the chin, but without the downtime or complications of a full surgical procedure. To learn more about ThermiTIGHT click here.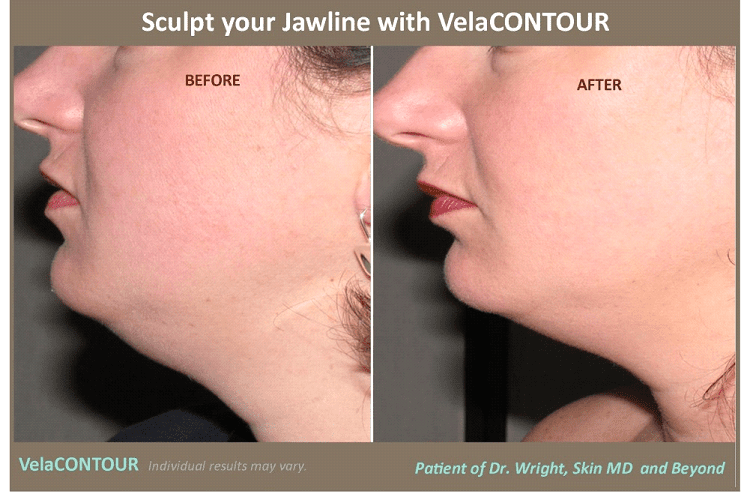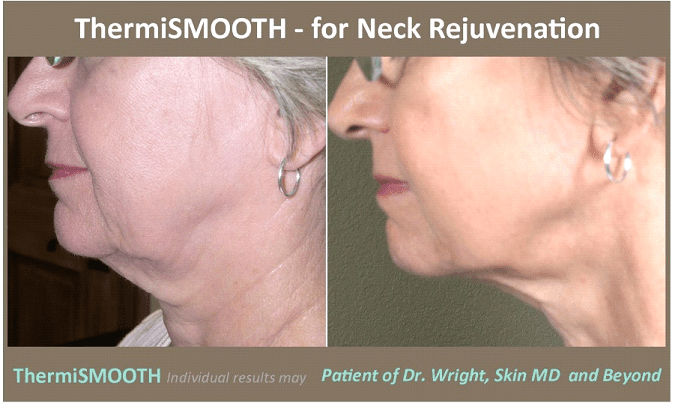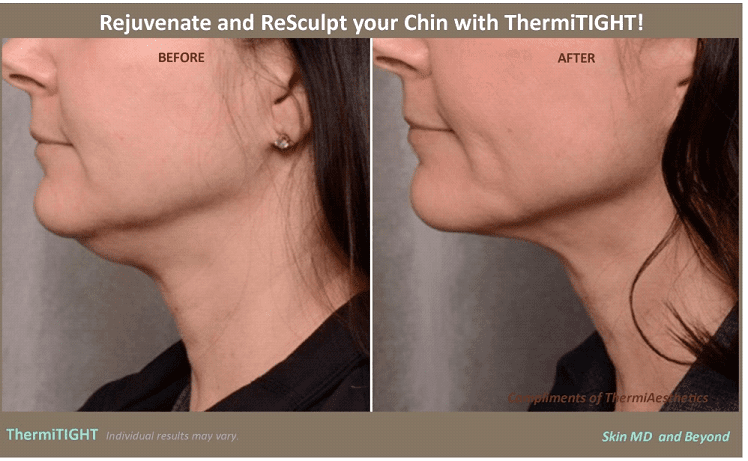 How do I get Started?
The first step is to schedule a consultation with our office in Plano, TX by calling (972) 608-0808. Dr. Wright will personally create your treatment plan with you to achieve the most efficient and effective results. If you have further questions about chin contouring, contact our Plano office.