Micro-Peel Non-Fractional Laser Resurfacing
At Skin MD and Beyond we offer various levels of laser treatments to resurface your skin, to ensure you get the best results. Laser resurfacing can repair skin damage, reduce wrinkles and fine lines, and lessen the severity of skin irregularities like acne scars, blemishes, enlarged pores, and uneven skin tone.
ReSurFX Laser Resurfacing
Lasers can work by gently removing the top damaged and discolored layers of skin and allow healthier skin to rise to the surface.  When the skin heals, new collagen is formed which will create a smoother surface.  The fractional lasers break the laser beam up into tiny little beams of light and the skin is treated like a lawn being aerated, with little plugs of laser treatment.  This causes less damage and less downtime and allows for a more powerful treatment. By treating micro-islands of skin, the surrounding untreated skin drives the healing process, filling in the treated area with healthy skin and without the long-term downtime associated with traditional skin resurfacing technologies.
The ReSurFX Laser is the newest fractional laser treatment, which unlike other devices, is the only true fractional non-ablative technology which requires only one pass over the skin to effectively treat scars.  Why is this important? As a National Expert Panel Advisor on the ResurFX Laser, Dr. Wright  will educate physicians that typical lasers  deliver energy in a standard pattern that requires multiple passes which can overheat the skin very quickly causing burns and hyperpigmentation.  In addition, the very advanced ResurFX scanning pattern, allows our doctor to choose from more than 600 combinations of shape, size, density and energy strength for a highly customizable treatment to fit each patient's precise needs.  No other laser has this ability.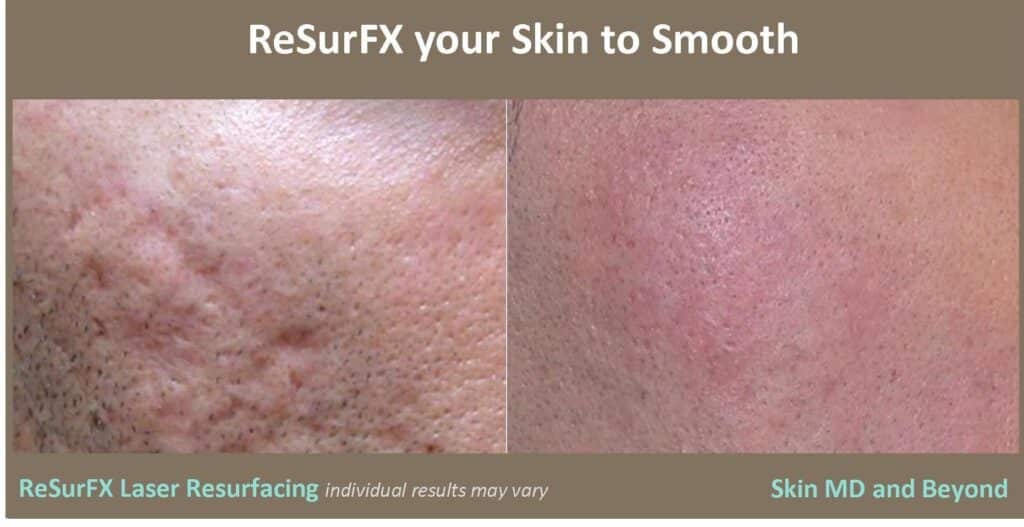 To see more examples of ReSurFX Laser Resurfacing , click here.
Micro-Peel Laser Resurfacing
The Micro Laser Peel is a superficial exfoliation to a light dermal resurfacing skin treatment.  The depth is controlled by the energy of the Erbium:Yag laser, and is predetermined by Dr. Wright to achieve the desired goals of each patient.  Unlike microdermabrasion, which can remove 10 microns of the skin's surface, the Micro Laser Peel can remove up to 50 microns of skin tissue in only one treatment. And, unlike a fractional laser resurfacing, a Micro-Peel Laser treatment will remove a full layer of skin, instead of "islands" of skin.
This procedure provides a safe, reliable, relatively painless outpatient treatment which can be performed with topical anesthesia only.  Compared to a surgical laser resurfacing, patients will heal in a fraction of the time, and experience less redness, swelling, and bruising.  Afterwards, patients will experience a smoother, healthier more vibrant complexion with a significant and immediate change in skin texture and tightness.

The Micro-Laser Peel is an Ablative Non-Fractional Laser Resurfacing treatment which offers an effective way to treat sun damage, aging skin and scarring without the need for deeper surgical skin resurfacing.  This advanced technology was designed specifically for busy individuals who are seeking significant improvements without significant downtime.