The Battle for Beauty now goes wrinkle-to-wrinkle, …..
as Botox's rival, DYSPORT, has received FDA approval
to remove your wrinkles and make you look younger!
What is Dysport?
Dysport is a medically derived from botulinum toxin called botulinum type A – the same derivative as Botox.  Dysport received its approval from the FDA in 2009. Like Botox, it works by reducing the movement of specific, "wrinkle-causing" facial muscles which means that it weakens the signal from the nerve to the muscle into which it is placed. The precise placement of Dysport into specific areas of the face, blocks these signals from the nerves, allowing the muscles to relax and smoothing the wrinkles that they cause.  In experienced hands Dysport can provide a very natural appearing and dramatic improvement in your appearance.   Enjoy the Experience!
What is the Skin MD and Beyond Difference?
Fiona Wright MD was privileged to be one of the first physicians in the Dallas-Fort Worth Metroplex to offer Dysport to her patients.  Having vast experience with injectable facial contouring, news anchor, Meredith Land, interviewed Dr. Wright for the NBC Evening News at SKIN MD & Beyond to learn the latest about Dysport.
<Click here to watch Dr. Wright on the NBC Evening News >


With their mastery level of injection skills and extensive experience, Drs. Fiona and Tim Wright offer the same level of excellence with Dysport, as they do with Botox.  At Skin MD and Beyond, the only individual who performs injectable contouring on you are the doctors – no nurses or other staff members administer Botox, Dysport, or fillers as is the practice in many other offices.  Drs. Fiona and Tim Wright are very proud of the results they obtain – which means you will get the response you expect and won't have to worry that your Dysport could be improperly placed.
See Photo Gallery Below.
What Is the Difference between BOTOX and Dysport?
Overall Botox and Dysport are very similar. Both are a type of botulinum type A but are made by different companies. Both are used to relax the muscles that cause frown lines and other facial lines caused by active facial muscles.  Both have been in use for years and have a high safety profile, both can be used on other parts of the face and body, and both Dysport and Botox must be injected every 3-6 months.
The main difference between Dysport and Botox is in the amount of proteins that surround the active molecule. Dysport has fewer proteins and is an overall smaller size particle. Because of this difference, Dysport results will take effect sooner and the transition between treated and untreated areas more subtle and less noticeable. This can help create a more natural look after the procedure.
There has been much discussion amongst physicians about the differences between Botox and Dysport, or IF there is any difference. Here are the main differences:
Dysport may not last quite as long (duration of efficacy).  This is still being debated and studied.
Dysport has a slightly quicker onset (2-5 days vs 4-7 days for Botox)
You need more Dysport to get the same results as Botox. Dysport and Botox "units" are not the same, so the amount needed to treat an area varies greatly. The general rule is that you will need 2.5-3 units of Dysport for every 1 unit of Botox used.
What Are the Advantages of Choosing Dysport for Wrinkle Treatment?
Dysport diffuses more (i.e., spreads to a wider area). This is an advantage in some areas of the face and a disadvantage in others. It is good in that large areas that need injection (forehead, armpits) would require fewer injections due to the spreading. With fewer injections, you can have less potential discomfort, swelling, or bruising.
What are the Side Effects of Dysport Injections?
The disadvantage is that unless the Physician is an experienced injector with a good understanding of more complex musculature (around the eyes, between the eyebrows), the Dysport could spread into unwanted areas causing untoward side effects (blurry vision, droopy eyebrows).
---
What Our Patients Have to Say
"I've always been really insecure about how flat my chin is. I started researching about chin fillers about two years ago and started researching places that would do them when I stumbled upon Skin M.D. and Beyond. I see Dr. Tim Wright and he helped me feel confident about myself! This past Saturday was my second time getting the fillers and I'm even more impressed than the first time!" -Janet O.
---
What Should I Expect at My Dysport Consultation with Dr. Wright?
Dr. Wright has vast experience in treating patients with both Botox and Dysport and during your consultation, they will help you decide which treatment would be best suited for your individual goals.  In some instances, Dysport may be desired for its ability to "diffuse more". But in other instances, Botox will be a better choice for precise placement in small areas of concern. The main thing when receiving injections is to make sure the person injecting is well versed and skilled in injecting whichever product they are putting in your face.  Patients a Skin MD and Beyond can relax easy… as you will receive the wRight treatment with our doctors!


What are Dysport Injections used to treat at Skin M.D. and Beyond?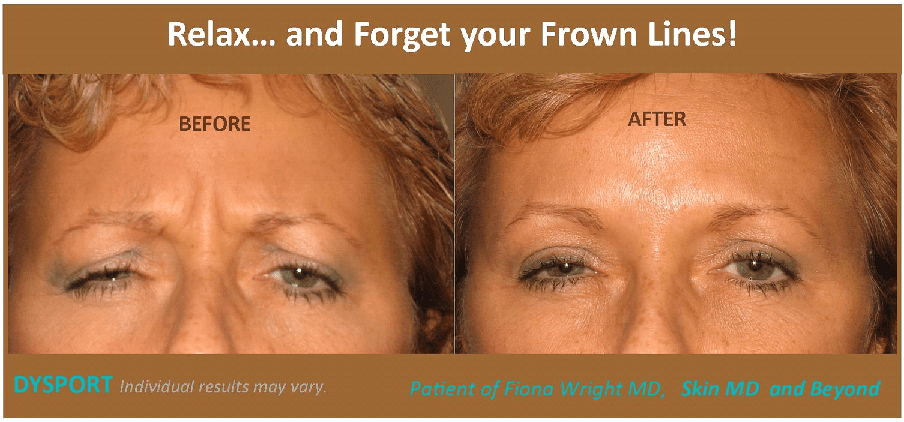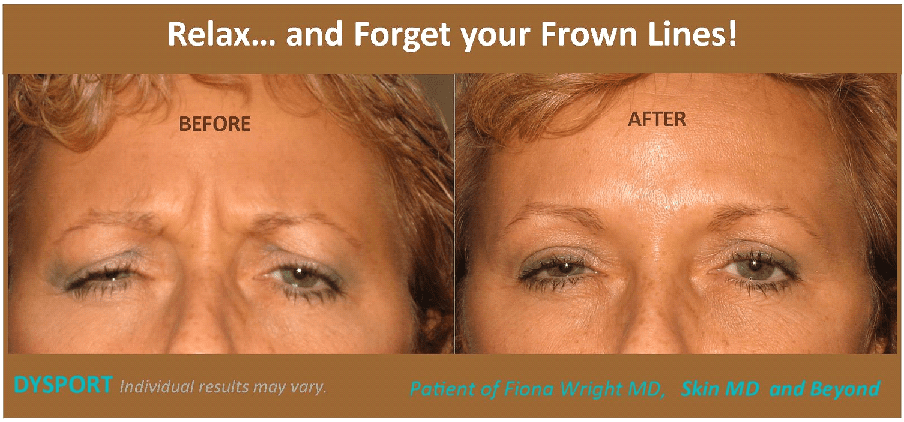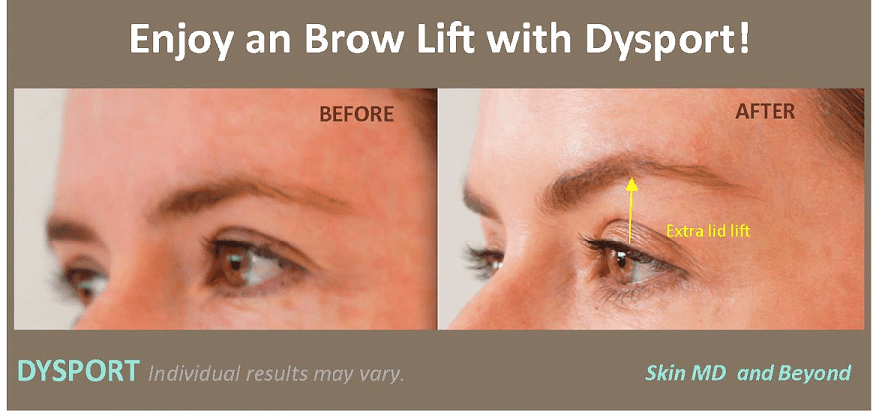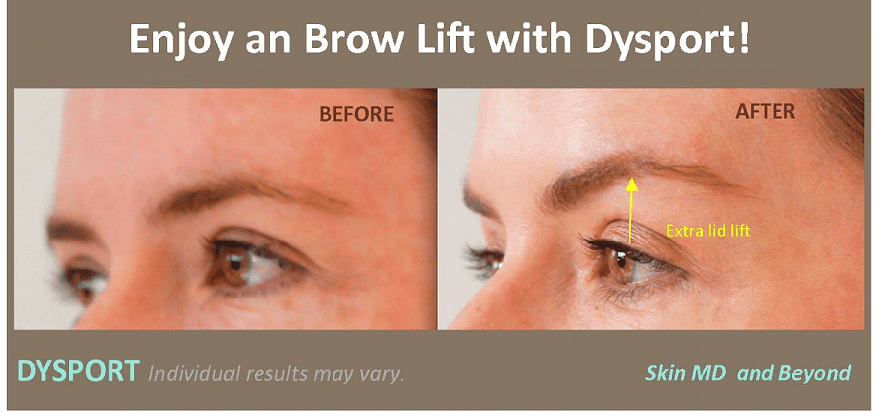 Nasal SQUINT LINES/ "BUNNY" LINES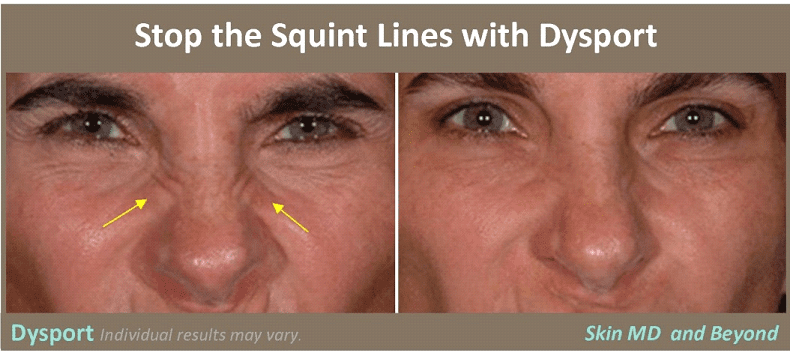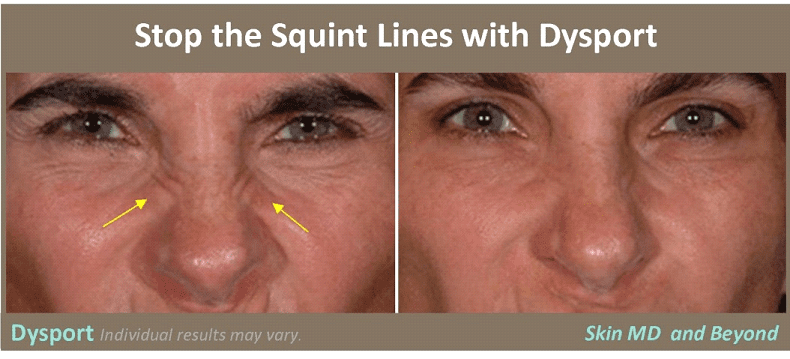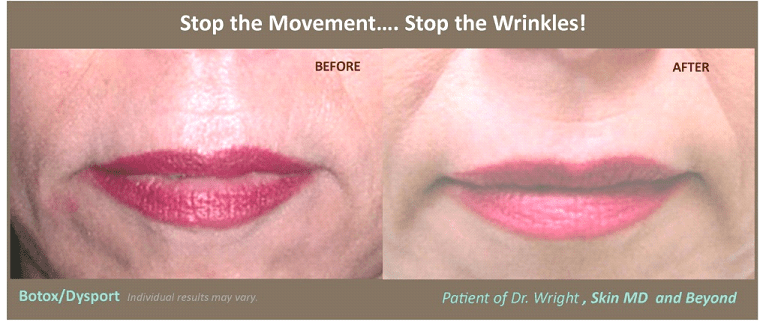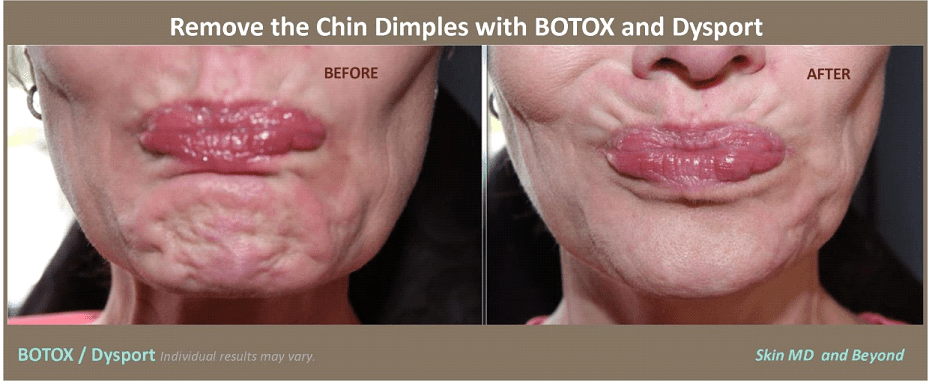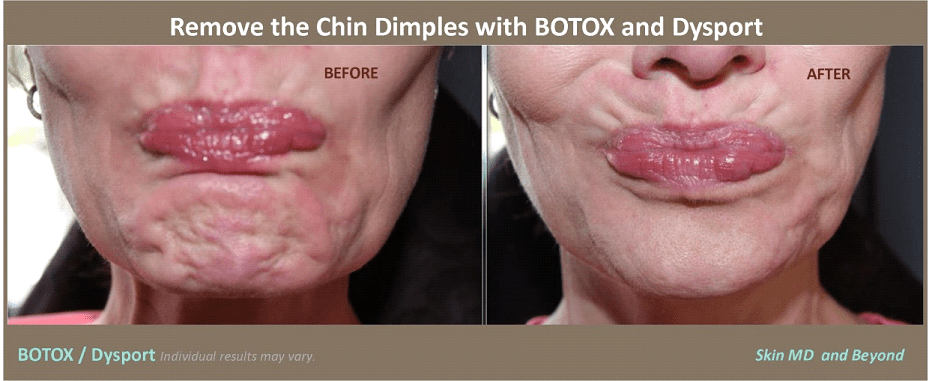 SAGGING JAW LINE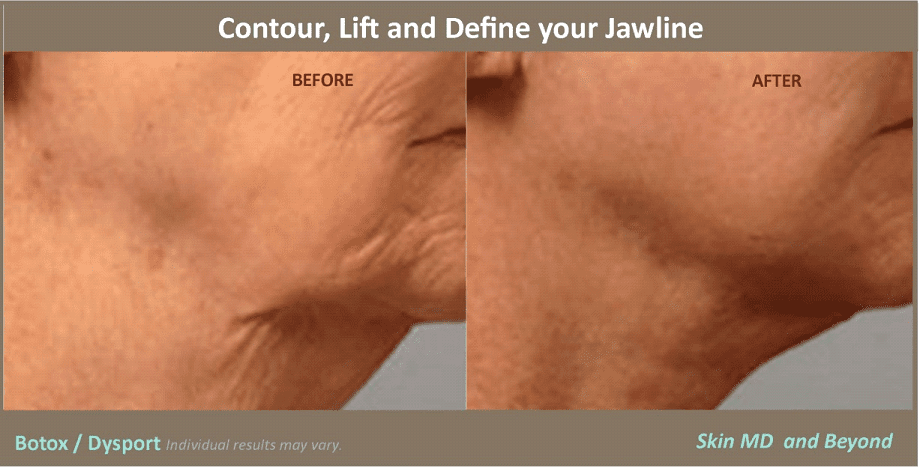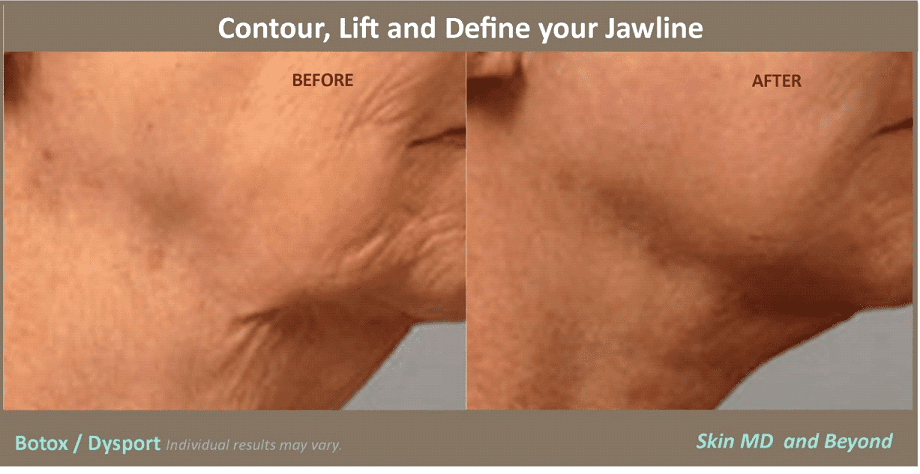 Treatment of Masseter Muscle to Slim the Lower Face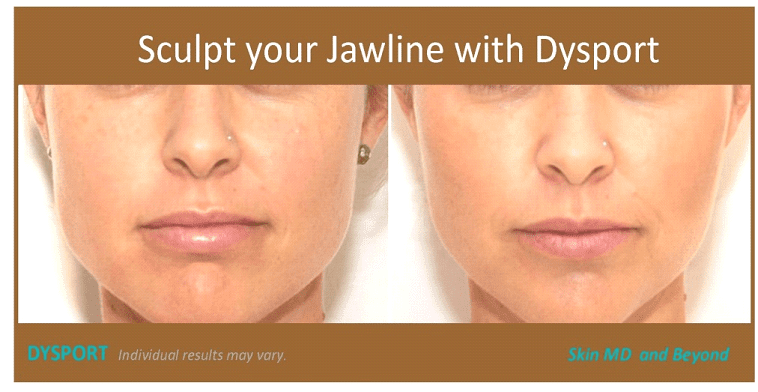 TEETH GRINDING (Bruxism) & JAW PAIN RELIEF NECK BANDS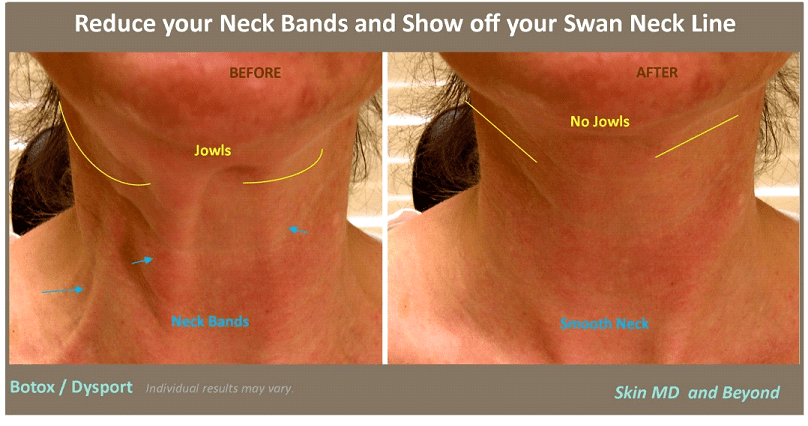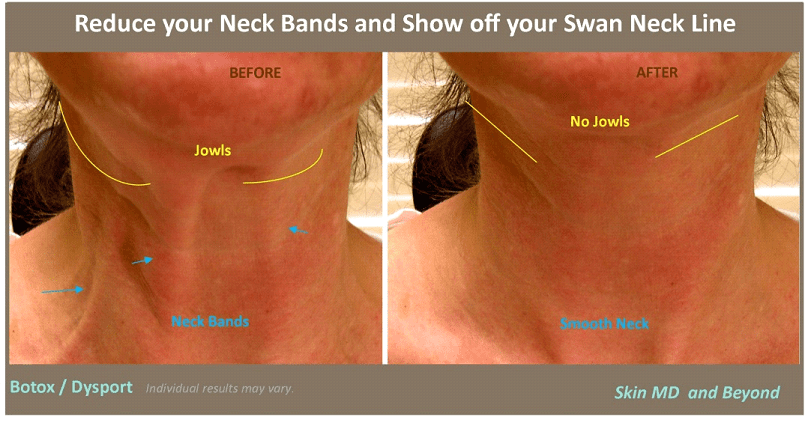 ---
Schedule a Consultation
To learn more about our Dysport injections for Wrinkle treatment, please call us at (972) 608-0808 to schedule a consultation. Skin M.D. and Beyond is proud to serve Plano, Frisco, and the surrounding areas of Texas.