COSMETIC DERMATOLOGY AND SKIN CARE FOR Plano, Frisco, and the Dallas Fortworth metroplex in Texas
Body Reduction of Inches
Remove Fat, Reduce Inches. ZERO Surgery · ZERO Pain · ZERO Downtime Meet ZERONA™
Perhaps you want to tighten your post-pregnancy tummy. Or your "love-handles" aren't so lovely. When you've tried diet and exercise but still have fat and inches that you can't lose…
Welcome to ZERONA™ – the proven new way to painlessly reduce inches and stubborn body fat quickly. ZERONA revolutionizes fat reduction in a safe, proven procedure. There are no needles, no incisions, and no recovery time needed.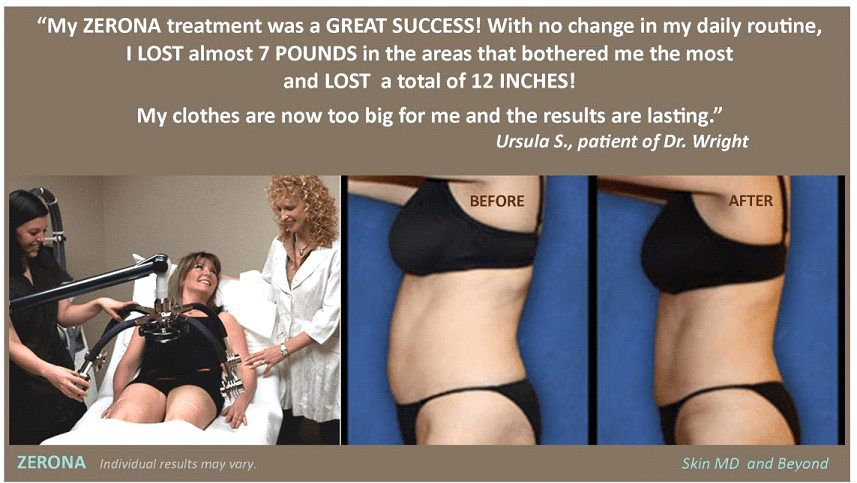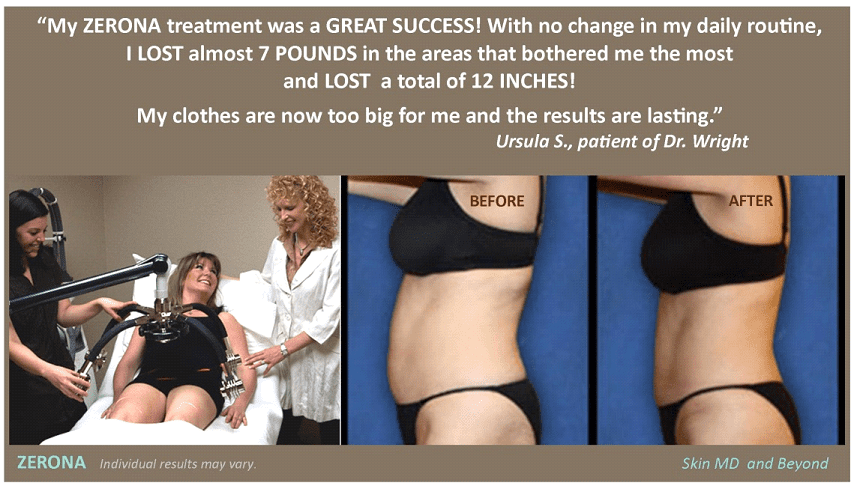 ZERONA is a new and proven slimming procedure designed to reduce fat and contour the body without invasive surgery. ZERONA is a series of quick and painless treatments. You simply lie under the ZERONA slimming device for 20 minutes on your front and 20 minutes on your back. And unlike minimally-invasive procedures or traditional liposuction, ZERONA allows you to continue your daily activities without interruption.
What can ZERONA do for me?
By following the ZERONA treatment plan you can:
Reduce inches from target areas
Contour and reshape your body
See a reduction in cellulite
Drop 2 to 7 pant/dress sizes
Lose 3 to 9 inches and reduce stubborn fat from:
Tummy –Back-Hips-Thighs-Buttocks-Love handles-Arms
"I went from a size twelve to a size six in just two weeks. I'm on top of the world!" — L.W., Jacksonville, FL
How Does Zerona Work?
The new ZERONA Non-Surgical Body-Slimming Treatment is considered a " Low Level Cold Laser" as it does not heat pockets of fat, but instead 'excites' the fat cells, causing the fat cells to rupture and lose some of their liquefied fat contents.
Low-level lasers reduce the fat in the tissues under your skin and you wash the fat from your body using your natural detoxification systems. Clinical trials confirmed the amazing effects that the ZERONA laser therapy had on adipose tissue (fat storing cells). It demonstrated that a small pore was created in the protective membrane of the fat cell enabling the fatty matter to seep out of the cell. The excess fat was then passed out of the body during its normal course of detoxification and elimination.
The fat cells are not removed or destroyed, but simply shrink. They will stay shrunken for the most part, unless the individual gains weight. Since the fat leaks out, it has to be deposited somewhere else as fat, or burned as calories.
Zerona treatments are offered in a package of 2 and 4 week durations and are absolutely pain-free. These no-injection body sculpting laser sessions that take about 40 minutes each; you will be required to come in for your Zerona treatments three times weekly for two week or 4 weeks. The Zerona laser works best when combined with dieting, but special diets and exercises are not required.
As well, we will provide a package of 6 complimentary CyberSlim treatments to use after your session to enhance more lymphatic flow and enhanced results! Zerona is ideal for men or women wanting to 'jump-start' their new diet, or to re-energize dieting results once weight loss reaches a 'plateau' stage.
As seen in Harper Bazaar –