Pump up the Volume… at Skin MD and Beyond!
Are You Starting to Look Older than You Should?….  Voluma Facial Filler can help!


What is VOLUMA?
VOLUMA injectable facial filler is the first and only filler FDA-approved to instantly add volume to the cheek area.   VOLUMA is the next generation of fillers It has been in the market since 2005 in Europe and like it's sister product Juvéderm, Voluma is made of hyaluronic acid (HA), a sugar that occurs in our body naturally. VOLUMA is an axcellent product to lift and add volume to the cheeks, jowls and temples.  It gives you a subtle and natural looking lift, helping to restore contour and a more youthful profile, for up to 2 years!
What Is the Difference between VOLUMA and other Facial Fillers?
What sets Voluma apart from other fillers is the cutting-edge Vycross technology that gives it a uniquely thick and robust consistency, making it ideal to treat age-related volume loss.  The Vycross technology  refers to the way the HA molecules are bonded together to provide longer duration and strength.
What features make the "Ideal Youthful Face"?   Volume.  As the face ages, our cheeks flatten as volume disappears and your profile "goes South". Facial experts now focus on rebalancing this volume change.
So to restore your youth it is important to re-volumize your mid-face with VOLUMA and restore your  prominent, high, and fully contoured cheeks.
What is the Skin MD and Beyond Difference?
As a National Advisor for Facial Contouring with Injectables, Skin MD and Beyond sets the gold standard and offers a customized and detailed cosmetic solution that is personally designed for each patient. With the vast experience that Drs. Wright have with various facial fillers and that they are placed in the top 1% of injectors, Allergan (the company who makes Voluma) provided Certified training, not provided to all physicians, to our doctors to achieve the full artistic potential that Voluma can provide with facial sculpting and volumizing.
Every patient is provided a private and detailed medical consultation with the doctor, who will perform your procedure, to assist you in determining the best course of action to address your aesthetic concerns –in a comfortable setting conducive to optimal results. See photo gallery below.
"For many years, I have turned to Perlane and Radiesse to do the job – but now there is a NEW FILLER to  bring back your youthful profile – VOLUMA!"
                                                                                                                        Fiona Wright MD


How long does VOLUMA last?
Individual results may vary, but with optimal correction, Voluma can last up to 18 months to two years. In clinical studies, 67% of patients retained a clinically significant response to Voluma at 2 years, and 76% of patients reported increased satisfaction with their appearance.  Since Voluma is a very long-lasting filler you typically would not need to be treated again for a long time.  However re-injection may be needed a few weeks after your initial injection if you need more volume or more lift to complete your desired look.  Often it is better to be conservative and touch-up if needed.
Why should I use VOLUMA for volumizing instead of other Juvéderm products?
Although other Juvéderm products such as Ultra Plus can offer robust contouring in areas such as the nasal folds, Voluma is specially designed for true volumizing and lifting in areas as the cheeks, cheekbones, and chin.
How long before I see results?
You can expect instant results upon injection. It gives you an immediate, subtle lift, helping to restore contour and a more youthful profile.  With instant, visible improvement to flat and sunken cheeks as the smooth gel gently lifts the cheeks and jawline you can experience long-lasting volume for correction of age-related, midface and lower face volume loss.
Is VOLUMA the same thing as BOTOX?
No, Botox Cosmetic uses Botulin toxin to relax muscles and stop movement therefore we mainly use is for forehead and between the brows (glabellar) but does not replace volume.  Voluma is a dermal fillers meant to replace volume loss in facial areas such as cheeks, nasal folds and jawline.
Can people with different skin tones be treated with VOLUMA?
Yes, Voluma is excellent for all skin types.  People with darker skin of color usually do not wrinkle as much as lighter skin tones, but everyone experiences age-related volume loss in their cheeks.  Voluma which often works well for anyone that is experience sagging of the apex of the cheek with aging and this may appear at a relatively young age.
Does a VOLUMA treatment hurt?
There is typically minimal discomfort during the treatment process.  Voluma contains lidocaine (anesthetic) which numbs the skin. Drs. Wright have performed thousands of injectable treatments and they utilize their skilled techniques to make you as comfortable as possible. As well, at Skin MD and Beyond we will provide an anesthetic cream to the treatment area prior to the doctor performing the injections.  Our patients tolerate the procedure very well.
Am I a candidate for treatment with VOLUMA? 
Patient selection is very important with Voluma, as it is a specialty volumizing product. Patients who can benefit from Voluma are patients with age-related facial volume loss, which may have resulted in a sunken look or facial asymmetry. Do not use this product if you have severe or multiple allergies or a history of severe allergic reactions manifesting as anaphylaxis. The best way to discover if Voluma is right for you is to contact our offices and schedule a consultation. This is a great time to explore all your treatment options and Dr. Wright can answer all you questions and get design your unique rejuvenation plan.
 What is VOLUMA commonly used for at Skin MD and Beyond in Plano, Texas?
Voluma is FDA approved and indicated in the USA for correction of volume loss in the mid cheek and central face. Due to fat and bone loss as we age, the face can look sunken or hollow, and Voluma is an ideal product to reverse the signs of aging and achieve a Non-Surgical Face Lift.
Considered as an "off-label" use of Voluma, Drs. Wright are also able to offer to you, other aesthetic options of how Voluma can be used and patients are delighted in the many additional ways Voluma can enhance their appearance!
TEMPLE REJUVENATION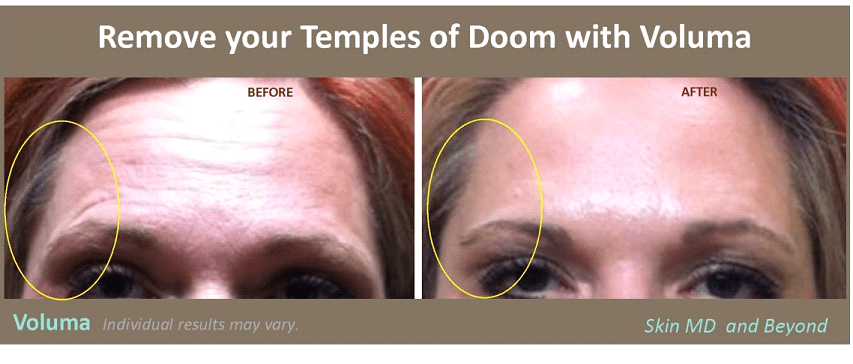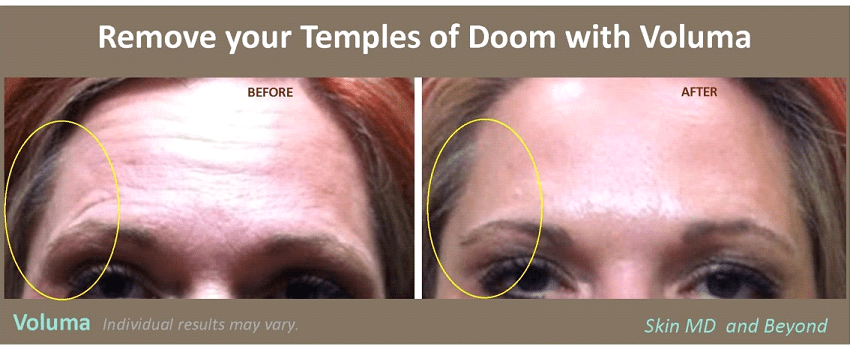 CHEEK LIFT/CONTOUR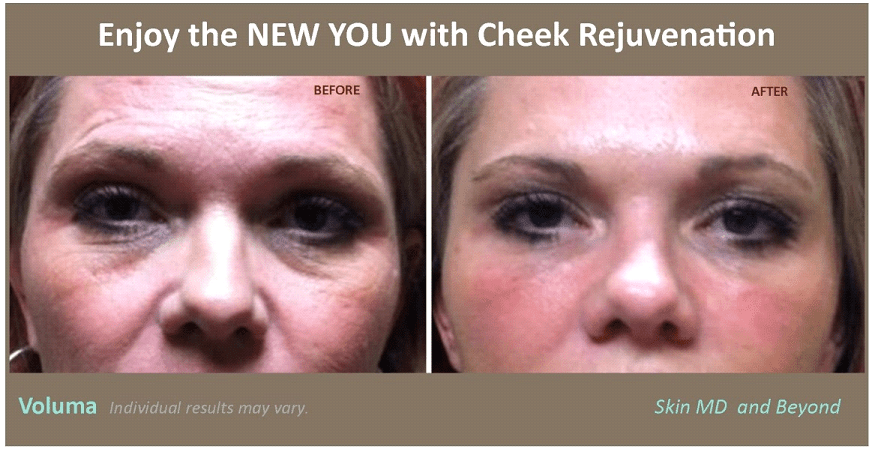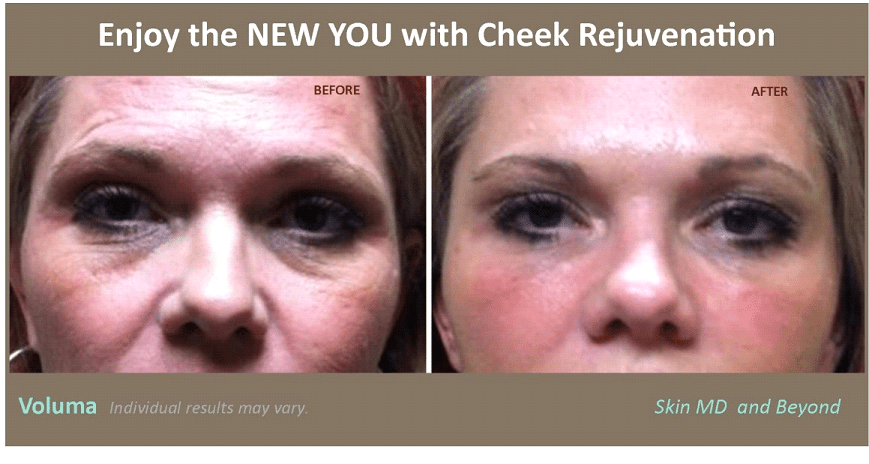 NASAL FOLDS


JOWL LIFT/CONTOUR
CHIN CONTOURING