Eyebrow Droop:
Recommended treatments
Botox, Dysport
ThermiSmooth
Facial Fillers
Botox, Dysport
For some, a lowered brow is pure genetics. For others, it's simply part of aging and experiencing the worries of life. There are two zones that normally pull down the eyebrow and by injecting Botox/Dysport into these areas, the muscles are weakened, and the eyebrows are lifted.
A Mini Eye Brow Lift is simple, reliable and at Skin MD and Beyond it is a very common source of patient referrals. Almost every day, Drs. Wright will see a new patient who request that, "They want a BROW LIFT like what Dr. Wright did for their friend." Strategically placed Botox/Dysport injections can give your brows a subtle yet temporary lift— and may possibly delay the need for browlift surgery. In addition, with the vast experience and artistry of Drs. Wright, the can discuss with you what type of brow position you would prefer, correct any asymmetry that exists and place the product appropriately to attain the optimal result.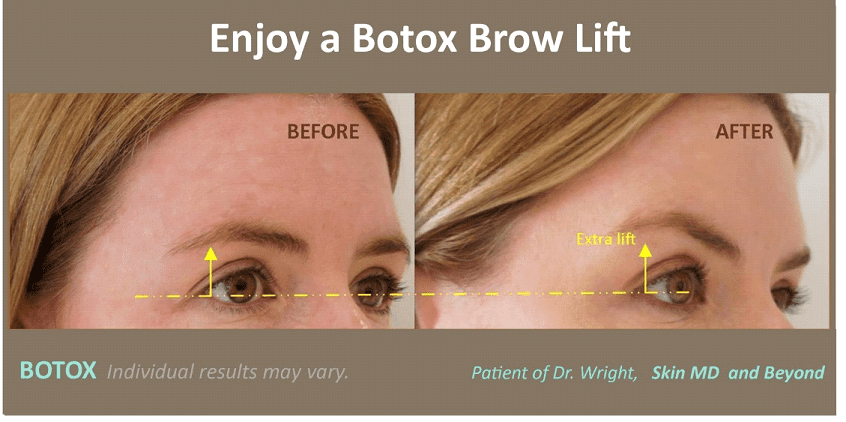 ThermiSmooth
The term brow lift is used to describe the process of lifting or tightening forehead skin. This will achieve elevation of the brow and relative lifting or tightening of the upper eyelid skin. We generally interpret loose brow skin as a sign of looking tired, angry or aged. Until recently a brow lift was only achievable through invasive plastic surgery. However, Skin MD and Beyond offers a brow lift by ThermiSmooth . The ThermaSmooth Brow Lift tightens the skin above the eyes by the firming effect of radio frequency on one's own collagen where the brow lifts and tightens.
The benefit of Radiofrequency treatments is that they are safe and effective for all skin types. The additional benefits of ThermiSmooth Radiofrequency is that it is the only device that allows us to have the ability to control the temperature of the treatment with accurate control to allow for effective skin tightening. Skin MD and Beyond was the first clinic in the United States to offer ThermiSmooth and our patients remark that it does a great job for refining and tightening.
Facial Fillers
An Eye Brow Lift treatment can get that sexy young arch back in your eye brow! As we age, our brows loose volume, start to drop and create extra folds of skin. By filling in your brows with Fillers they will not only look less hollow, but with only a small amount of Filler used, it will produce a subtle, yet delightful, refreshing, youthful lift in your eyebrows – Without the need for surgery!
Before you start on this journey of youth, Dr. Wright reminds us that it is important that you choose a specialized doctor who has a lot of experience in treating this area. Facial Contouring is an art and you have to know where to inject it, more importantly where not to inject. As injecting the tiniest amount in the wrong place can cause a crooked brow for months.
 IRREGULAR / ASYMMETRIC EYEBROWS
Recommended treatments
Botox, Dysport
Facial Fillers
Rx Beauty Bar- Brow Contouring
Botox/Dysport
Traditionally, the only method of lifting and balancing eyebrows was by surgery. But now, non-surgically, it is now possible to lift the eyebrows, balance and rejuvenate the eye area. Firstly by using Botox/Dysport, it is possible to relax certain muscles around the eyes to help create an overall lift in the eyebrows. There are certain muscles that hold the eyebrows down, especially the muscle surrounding the eye, known as orbicularis oculi. By careful placement of anti-wrinkle injections into these muscles, the eyebrows are released from this downward pull, and the brows can be rebalanced.
Facial Fillers
By injecting a Facial Filler underneath the eyebrow, support can be given to the eyebrow and this elevates the eyebrow up. Usually 1/2 to 1 syringe of product is required in this area. It also helps to soften the bony orbital rim around the eyebrows, leading to a softer and more youthful appearance. The 'skeletonization' of the brow is an aging feature and by placing fillers on the bony rim, it softens this area and reduces any showing of the underlying skull.
Additionally, Facial Fillers can be used in the middle half of the upper lid/brow to help to reduce the apparent sag of the eyelids.
Rx Beauty Bar- Advanced EyeBrow Contouring
Shaping the Eyebrow isn't just about trimming, waxing or tweezing, it's about creating a look. A style.
A feeling. It's about Creating Beauty. Through various techniques of tweezing, waxing, threading and brushing we can achieve eyebrows so they'll resemble those of Angelina Jolie, Beyoncè, Aniston and a number of other celebrities.
Shaping the eyebrows enables anyone to instantly improve and update their look.
Dramatically Defined Brows frame the face and enhance your facial symmetry to bring out your youthful look. Our SIGNATURE BROW DESIGN creates a lift without surgery to accentuate the brow and highlight your eyes. It is used to also enhance the shape of your eyes and create a tidy, polished appearance. This treatment is quick, simple and less painful than doing it yourself. For those who are long-sighted it is the ideal solution. Depending on the rate of your hair growth you will need to repeat this treatment every 2-4 weeks. At Rx Beauty Bar we can provide a total re-shape or a brow clean up.
LACK OF EYEBROWS:
Recommended treatments
Eyebrow thinning is a common and distressing problem – and even though Latisse is only FDA approved for use on the upper eyelids for eyelash growth, it is works great on eyebrows too! At Skin MD and Beyond, we have seen the results of both areas treated and it is impressive. Only a small amount of Latisse is generally needed. After applying to each upper eyelid, use any remaining Latisse on eyebrows. It works very well to stimulate eyebrow growth in our patients and it has also helped improve their eyebrow density. Latisse is FDA approved for eyelash growth and prescribing it for eyebrows is considered an 'off label' use.
The product is easy to use. You can treat the brow with same brush applicator for the lashes, 1 to 2 drops on your brush and apply it to each side. If you are only using one brush be sure to alternate brows each time you apply so one does not get more product than the other.