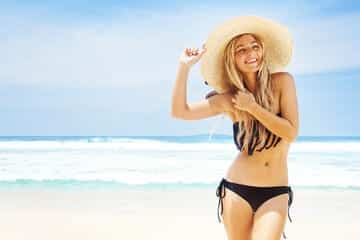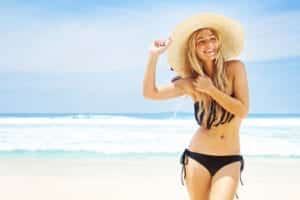 Spring is in full swing which means that you are likely replacing your pants with shorts, and you are kicking your tights to the curb. And although springtime is a great time to show off your legs, it can also make you feel self-conscious about things like cellulite. As a condition that affects women of all ages, weight, and ethnicities, cellulite is considered to be many people's "enemy #1." To quickly get rid of the appearance of cellulite on your legs, we have created a brief article with some helpful tips.
Self-Tan
Self-tanning gels and lotions have come a long way. It used to be that these products would make you look more like a streaky Oompa Loompa than an actual person. However, they now can give you a natural looking tan without you having to lay in the sun. And, the best thing about self-tanners is that they can help conceal your cellulite. How exactly? The more tanned your skin is, the less apparent the dimples are— leaving you with more confidence. When applying self-tanner, make sure to moisturize before hand and to spread it evenly across your legs to avoid any streaking.
Body-Brush
Another easy way you can help to reduce the appearance of cellulite is through using a body brush. Body brushing stimulates the blood flow in your skin and contributes to break up pockets of fat— which will, in turn, help to lower the appearance of cellulite. When using a body brush, make sure to do so with circular, upwards motions.
VelaShape
Another fast and easy way that you can get rid of your cellulite is through our VelaShape system. By using a unique technology, VelaShape treats the deeper tissues and upper layers of the skin, reducing the appearance of cellulite in the process. In around just six treatments, you can get virtually cellulite-free legs that will make you wondering why you didn't try VelaShape sooner.
Bring on the shorts and skirts with the confidence you need by using the tips in this article. If you would like to learn more about how you can get rid of cellulite, contact Dr. Fiona Wright's office today to schedule an appointment.