HORIZONTAL FOREHEAD LINES:
Recommended treatments –
Botox
Dysport
Facial Fillers
ReSurFX laser resurfacing
MicroNeedling-DermaPen
Botox, Dysport
Botox is an excellent choice for the softening and smoothing out of forehead lines. These horizontal wrinkles are caused by contraction of the frontalis muscle which is an elevator of the eye brow. Small injections using a very fine needle are strategically placed in the forehead, and relaxation of this muscle occurs. This results in significant improvement in forehead wrinkles. When strategically injected in the forehead, the muscles relax and lines that worsen with movement are less likely to form and the lines will soften. It is important to recognize that if the lines are present at rest, the treatment may not completely smooth these lines.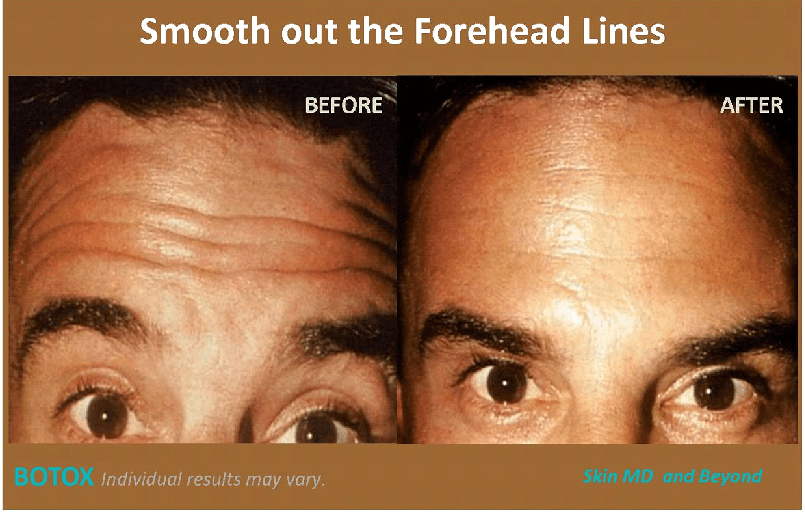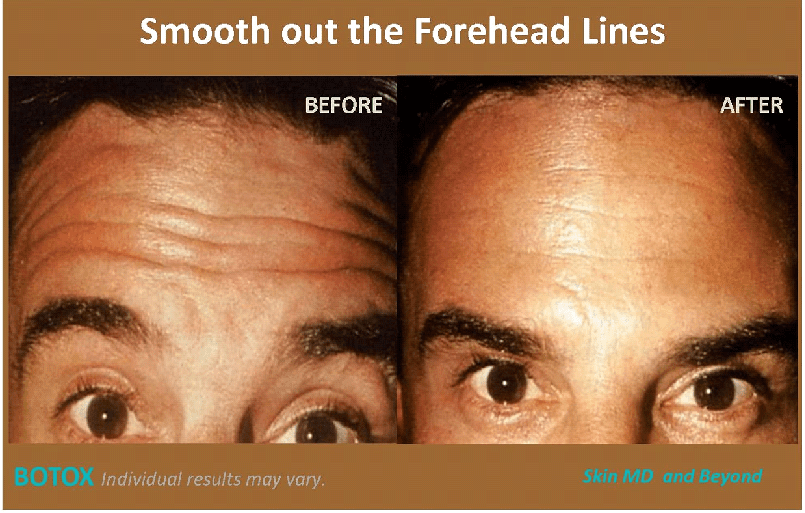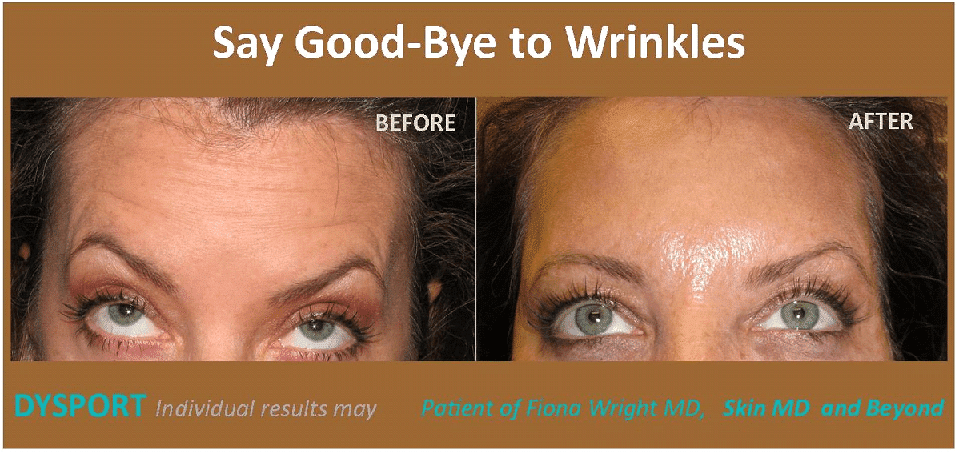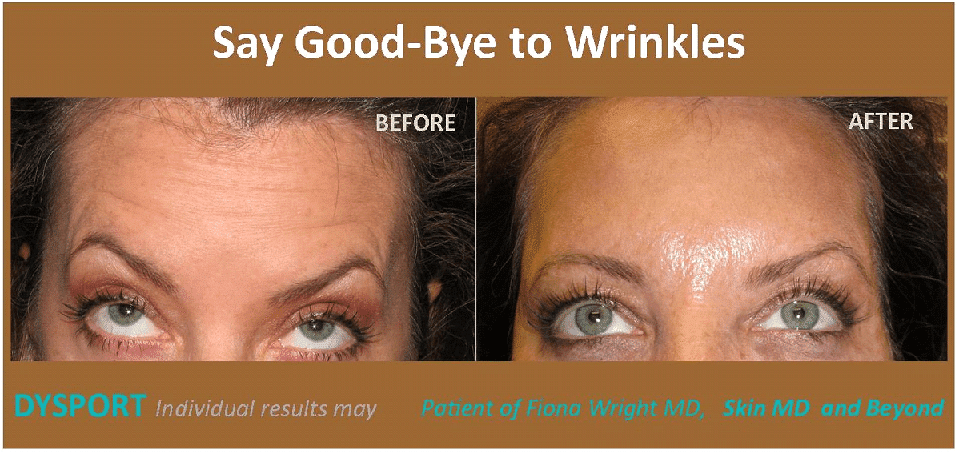 It is very important to have a skilled doctor who understands the placement and amount of Botox needed, as improper placement can leave you with an uneven positioning of your eyebrows.
"Spocking" of the eyebrows can occur when an injector is being careful to avoid a brow droop in the outer corners of the eyebrow and undertreats one eyebrow so it ends up higher than the other. By undertreating the forehead and not injecting too close to the part of the frontalis muscle which raises the outer brows, your eyebrows can look asymmetrical or both brows can look too "peaky" which gives the brow a strange appearance.
"Brow Droop" and drooping eyelids occurs for the opposite reason – when the forehead muscle have been over-treated (too much Botox injected) or the result of improper Botox application (usually injecting the Botox too low or too deep) . Unfortunately there isn't a quick fix for post-Botox drooping. You simply have to wait for the Botox to wear off – which can take 3-4 months. For this reason, it is important to go to a doctor who is experienced with injecting Botox in the forehead and around the eyes. When done correctly, the results provide a high level of patient satisfaction.
Facial Fillers
While Botox and Dysport are most commonly used to reduce the lines of the forehead (by reducing the muscle movement that cause the lines), Facial Fillers can be used in combination to instantly help soften the appearance of depressed lines etched in the skin. It is advisable to use Botox/Dysport first as this will relax and the muscles and soften the lines. If fillers are only placed into the forehead lines without first using Botox/Dysport – it would quickly degraded by the active muscle motion.
The skin in the forehead is thin, with little room for fillers to plump lines – so it is important to seek out a doctor skilled in injecting fillers in the forehead to avoid a lumpy appearance. In the "wRight" hands you can restore the harmonious and youthful appearance of your forehead… with no worries… and no lines!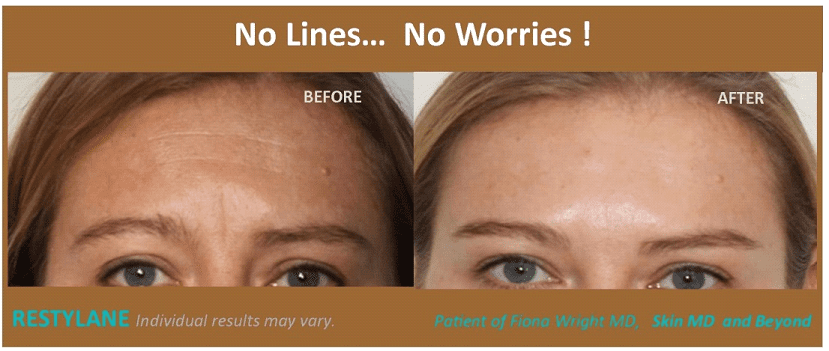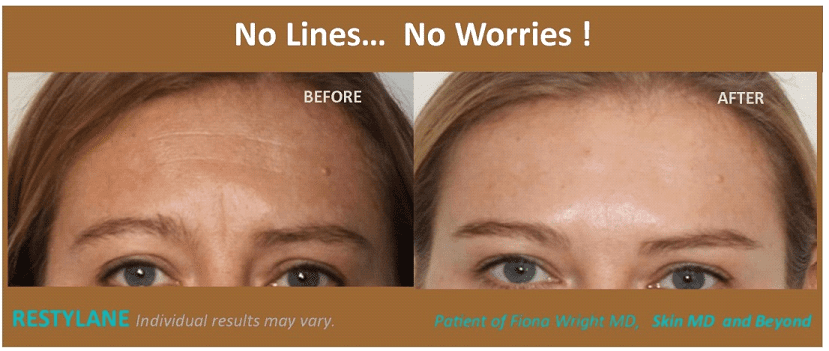 ReSurFX Laser Resurfacing
Botox/Dysport is an excellent choice for softening of these forehead lines, but for those who do not want injections, or after several treatments, are not happy with the amount of wrinkle reduction achieved , you can undergo laser facial resurfacing in order to improve the stubborn problematic area.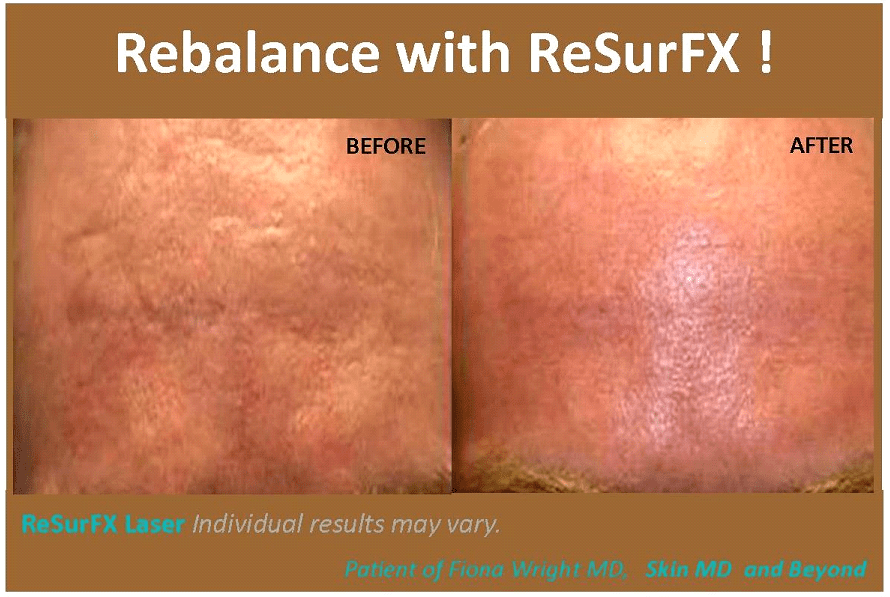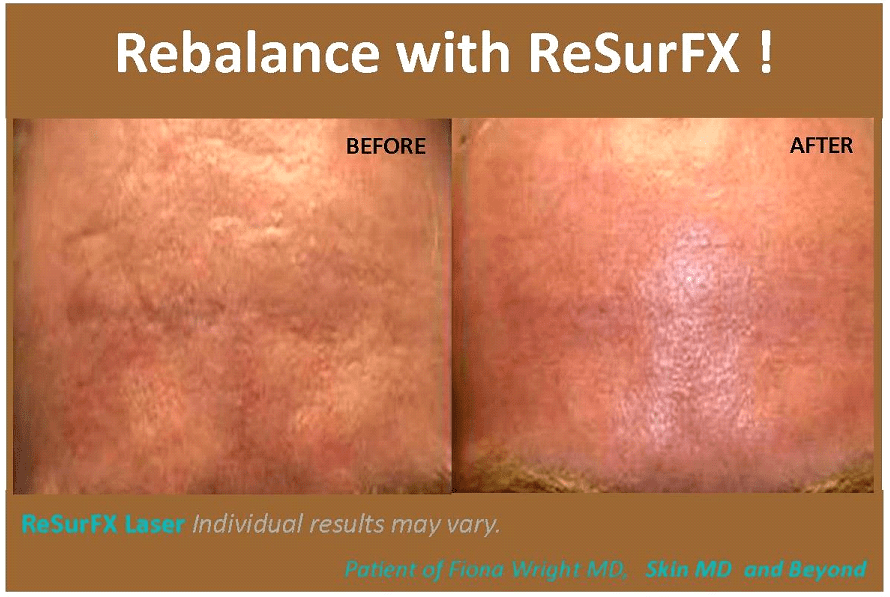 Laser resurfacing is very popular as it can erase years off your appearance and is minimally invasive.
Laser skin resurfacing treatments use a concentrated light beam on irregular and damaged skin areas. This procedure removes damaged skin on the top layer of the skin- known as the epidermis, while heating the underlying skin- known as the dermis. This method will also stimulate the new growth of collagen fibers to improve the skin's elasticity. Once the areas treated heal, new skin forms and is much softer and firmer than before.
Dermal MicroNeedling-DermaPen
Dermal Micro Needling (DMN) is a safe and effective alternative to laser resurfacing without the down time. Dermal Micro Needling is also ideal for any client looking to improve signs of hyperpigmentation, fine lines, deep lines, wrinkles, loss of skin density, sun and UV damage, acne scarring and other scars.
The Dermal Pen is an electric pen-like device which pokes tiny needles that oscillate hundreds of times per minute moving the needles in and out of the skin. The needles make hundreds of microscopic channels or micro injuries in the skin, and it is these "Pin Pricks" that stimulates your own body to begin the healing process that produces new collagen and rejuvenates your skin.  The Dermal Pen offers a variety of depths within the treatment allowing us the ability to cater to your specific needs and treat areas that are difficult to reach.
Frown Lines
Recommended treatments –
Botox, Dysport
Facial Fillers
Botox, Dysport
Frown lines / vertical forehead lines / or the "elevens" between your eyebrows are lines that develop over the years as we contract the muscles that make us concentrate, frown or squint. Over time, these lines etch in permanently and are there even when the person is not frowning. This is one of the most requested Botox treatments at Skin MD and Beyond, as these lines make a person look mad, tired and unapproachable. Dysport is a botulinum toxin similar to that of Botox and is also commonly requested to reduce the appearance of wrinkles and frown lines.
When Botox/Dysport are placed correctly the effect will be a relaxed, calm and refreshed brow that provides an excellent result! If your lines are deeper, and prominent without movement, the combination of Botox and a Facial Filler is even better and lasts longer. The two are synergistic and are able to get rid of frown lines much better when combined.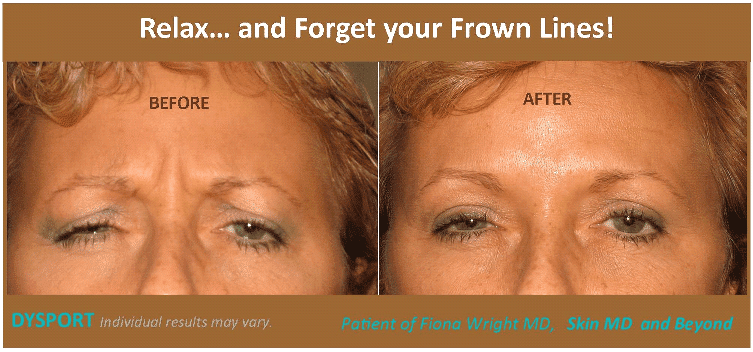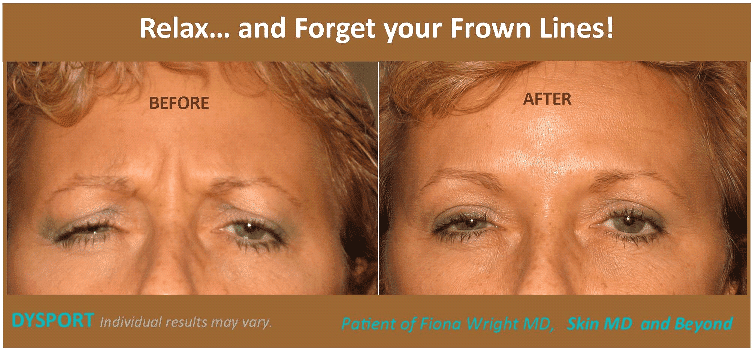 Facial Fillers
The frown area between the brows looks the way it does because of muscle movement making the lines, volume loss and the effects of aging. Botox/Dysport is a temporary fix to block the muscles for a 3-6month period. This keeps the muscles from creating deep wrinkles in the area, but it doesn't improve the volume loss. Fillers are a great way to improve the lines that form in this area. By placing filler in the "cracks" it makes it harder for the muscle to actually create the wrinkles.
Drs. Wright are very experienced in treating the frown lines with a combination of Botox/Dysport and Fillers to correct both issues. Ideally, the Botox/Dysport may be injected ten days before the filler, or in patients who are unable to return for a second appointment, the two may be injected at the same time.
The two in combination work better than either alone. Amazingly in many patients the vertical line doesn't return even after the Botox has worn off.
Treating the frown lines with fillers is considered and "off-label" use and you should always ensure that your doctor is very experienced in treating this area. Only a conservative amount of filler can be used to avoid extra swelling that may compromise blood flow. There are reports of complications from fillers injected which has caused tissue death of small patches of skin. When the filler is correctly applied (i.e. not too much)this rare complication can be minimized.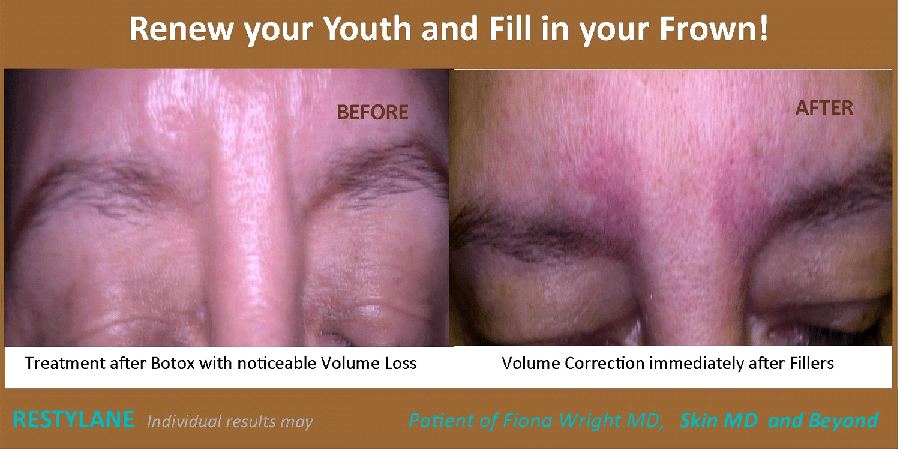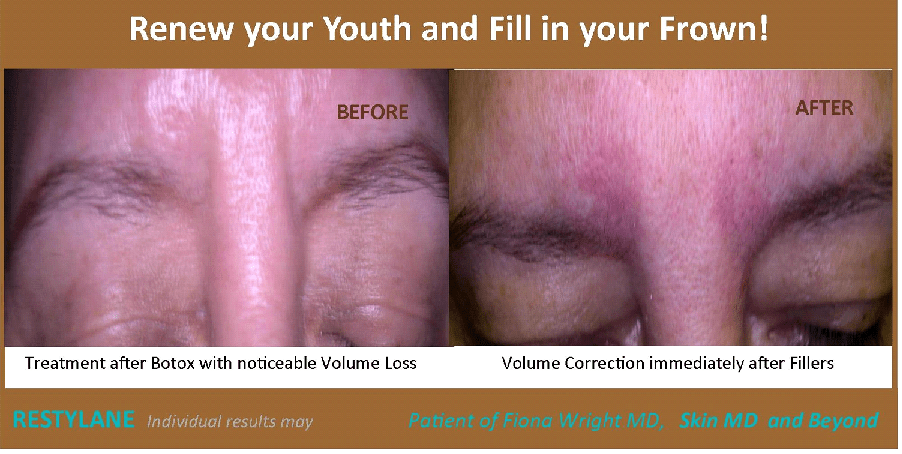 HOLLOW TEMPLES:
Recommended treatments
Temple Rejuvenation is one the most neglected and under- appreciated parts of the face when it comes to facial rejuvenation. As we age, the temples tend to narrow and hollow out, shifting the balance of the face downward. Injecting fillers into the temples is a quick and simple way to give the face a more youthful harmony. To restore the balance, fillers such as VOLUMA, RADIESSE and PERLANE can be used to correct the volume loss that causes a skeletalization of the orbital rim and dropping of the eyebrow.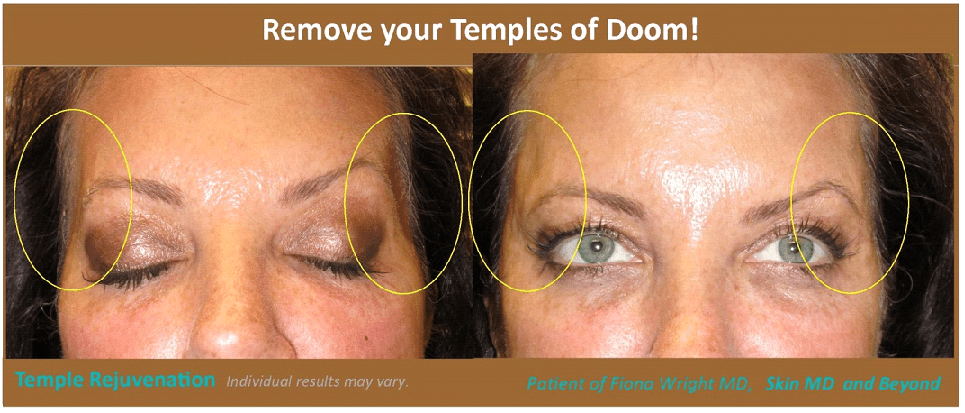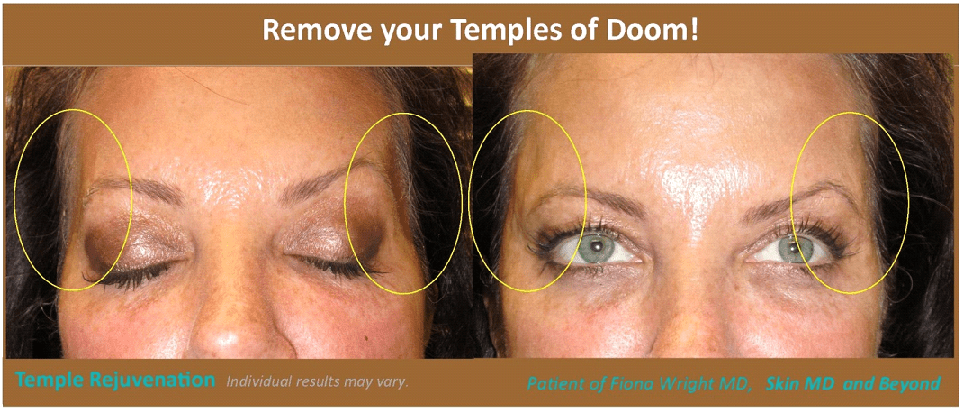 The temple region, though deep, is a relatively small area, and when the temple area loses its fat and volume it will accentuate the bony structures of the eyes and age the face. Using fillers to fill sunken temples or hollows above the brow can return a youthful appearance to the upper face and even raise the outer brow slightly. In one study, over 80% of the patients were very satisfied with their temple rejuvenation and asymmetry correction completed with fillers.
Facial Fiillers for Temple Rejuvenation is an excellent choice that can be performed safely and can restore softness and shape to the temples, for a face that looks healthier and more youthful.
BROWN SPOTS, AGE SPOTS
Recommended treatments
 Skincare
PhotoFacial-IPL
ResurFX Laser Resurfacing
Chemical Peels
Microdermabrasion/DermaSweep
Skincare
The Answer to Banishing Dark Spots is Fiona WRxIGHT MD Skincare!
Many of my patients feel uncomfortable with their skin, especially when hyperpigmentation is evident – which is the darkening of an area of skin caused by increased melanin. Melanin is responsible for producing the dark colors in your facial features – such as your eyes, skin and hair. Your melanin producing cells can be stimulated by sun damage, inflammation, or other skin injuries, – and hyperpigmentation is the result.
Another form of hyperpigmentation is melasma, which is a condition that is most common among pregnant women as well as those who are taking oral or patch contraceptives or hormone replacement therapy medications.
For some, the sun is their worst enemy. You may have noticed some dark sports getting darker in the sun, even when you're wearing sunscreen and a full cover of makeup with SPF.  People with Asian, Hispanic, Mediterranean or African skin tones are also more prone to get hyperpigmentation.
Regular use if a topical skincare can help. Dr. Wright's leading product to reverse pigmentation is RADIANCE used once or twice daily, with a good sunscreen. Containing 2% Hydroquinone to lighten the skin, this product helps fade away unwanted discoloration and aging. Also containing Glycolic Acid, it exfoliates damaged cells, which improves the skin's radiance leaving your skin significantly softer, even-toned and younger looking.
For those who are looking for a Hydroquinone-Free product , our COMPLEXION CORRECTION LOTION is a potent blend of several hydroquinone alternatives including kojic acid, arbutinin, and bearberry. The special delivery of these key ingredients will restore you skin's radiance and clarity.
PhotoFacial
PhotoFacial is commonly abbreviated as IPL (Intense Pulse Light). It is a gentle facial skin rejuvenation treatment that uses brief, intense pulses of light to contract blood vessels and remove pigmentation. This process improves your complexion by lightening and removing "sun spots", "age spots", and brown blotches on the face, neck, chest, hands and other areas of the body. It also has some effects on texture, although to a lesser effect, through collagen stimulation and improves pore size minimally by temporarily reducing oiliness.
During an IPL procedure, a broad spectrum of intense light is passed over the skin in different wavelengths depending upon the treatment. This pulsed light penetrates deep inside the skin to break pigmented and damaged cells and close off abnormal blood vessels. The breaking up of the pigmented and damaged cells helps to reduce skin lesions such as rosacea, pigmentation, age spots and acne. At Skin MD and Beyond, we use the Lumenis M22 as it is the most advanced, safe, comfortable, and clinically effective treatment available. Lumenis invented IPL technology and still is the leader in this field. Palomar IPL has a much larger window than other laser devices. This allows for a wider area to be covered, enabling a quicker treatment.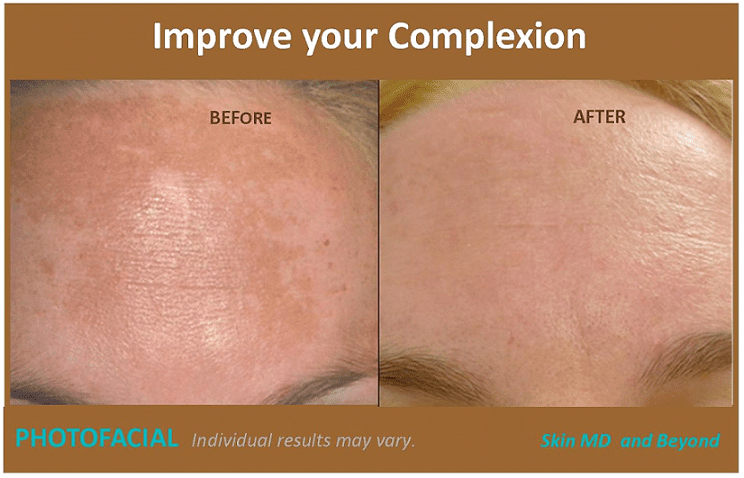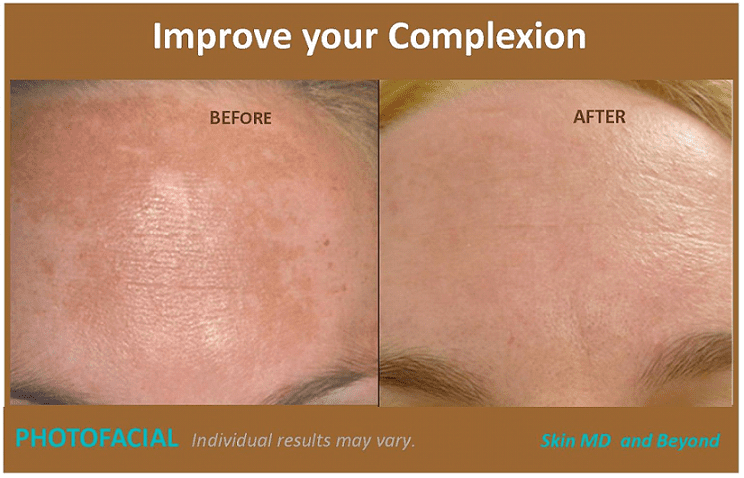 ResurFX Laser Resurfacing
The ResurFX laser offers fractional laser resurfacing which is a quick and comfortable laser procedure with little to no down time, used for improving the overall appearance of your skin. The advanced ResurFX laser treats only a fraction of skin at a time without breaking the skin's protective outer barrier. This is in contrast to traditional resurfacing techniques that remove the entire top layer of damaged skin and are associated with oozing, crusting and a lengthy recovery period.
The penetrating wavelengths of ResurFX Laser Treatment resurfaces damaged skin, smooths scars, reduces fine wrinkles and corrects pigmented lesions such as age spots and sun spots as the skin gradually becomes softer, smoother and fresher. As the ResurFX passes through the top layer of skin (like light through glass),it reaches into the deeper dermal skin layers below to create millions of tiny, microscopic areas of thermal damage that stimulate the body's own wound healing response, notably new collagen production and replacement of damaged skin surfaces with new epidermal skin.


Chemical Peels
Chemical peels can be used to treat acne, pigmentation, wrinkles and sun-damaged skin. Chemical peels are a method of regenerating and resurfacing the skin by inducing a controlled wound to the skin. It will remove the top layers skin and help induce collagen remodelling and therefore improve the overall appearance of the skin.
Chemical peels are all about trade-offs. The type of chemical peel and the concentration of peeling agent will determine the depth of peeling. Deeper peels will result in greater clinical improvements in the skin, however are associated with greater downtime and side effects. The deeper, more dramatic results with chemical peels can be associated with alterations or even loss of natural pigment. Increased pigmentation can also be stimulated. On the other hand a light peel will do minimal for deep pigmentation concerns.
At Skin MD and Beyond, each patient is carefully assessed by a Dr. Wright to ensure that the correct concentration and peeling agent is used for the condition. Depending on your specific skin condition, a treatment can be tailored using our diverse range of chemical solutions. Chemical peels work in a variety of ways to stimulate cell renewal, refine, rejuvenate and hydrate the skin, as well as regenerate and resurface damaged skin, making the results well worth the cost.


Microdermabrasion/DermaSweep
Skin MD and Beyond offers Microdermabrasions and advanced DermaSweep Dermal Infusion Treatment which are non-invasive exfoliation and delivery of skin-specific solutions that leaves patients with fresher and healthier looking skin.  These gentle skin polishing treatments allows the skin to achieve a deep delivery of patient-specific solutions. Our medically directed treatments offers a unique technology that combines several benefits in one treatment, to remove pigmentation and dull skin, letting you achieve more youthful skin in less time with noticeable improvements with each session.
When treated with a Microdermabrasion, our staff will select a customized mask and treatment ampoule to focus on reducing pigmentation through passive transfer of ingredients into your skin. For those, who want a more "advanced and active" treatment – a DermaSweep Dermal Infusion would be an excellent choice. This painless and soothing treatment is provided by a specialty handpiece which is drawn over the skin, which simultaneously exfoliates and infuses the condition-specific serums deep into the skin. To remove and reduce pigmentation, our most popular infusion treatments are the
Brightening and Clarifying formulas.
LUMPS, BUMPS, MOLES:
There are many causes for the different kinds of lumps, bumps, and cysts associated noted on the forehead. Fortunately, the vast majority of these are harmless and painless. The most common found on the forehead include;
Epidermoid Cysts (Sebaceous Cysts) which are usually small bumps which are usually white or yellow
and formed from blocked oil glands in the skin. These are usually benign but can occasionally lead to basal or squamous cell skin cancers.
Folliculitis appears as a red pimple around areas having hair which are caused by inflammation of the hair follicle, infection and chemical or physical irritation (e.g., shaving, fabrics). There is a higher incidence among people with diabetes, the obese, or those with compromised immune systems
Skin Cysts are closed pockets of tissue that can be filled with fluid or pus and can appear anywhere on the skin. They are smooth to the touch and feels like a pea underneath the surface. They are generally
slow growing, painless and harmless.
Moles (Nevi) can be brown or black growths, usually round or oval, that can appear anywhere on the skin. They can be rough or smooth, flat or raised, single or in multiples. Generally, moles are less than one-quarter inch in size. Most moles appear by the age of 20, although some moles may appear later in life. Most moles are harmless, but a change in size, shape, color, or texture can be indicative of a cancerous growth.
Seborrheic Keratosis will usual develop on most people at least once during their lifetime. They are characterized as brown, black, or yellow growths that grow singly or in groups and are flat or slightly elevated. Often they are mistaken for warts. Fortunately, these lesions are benign and don't become cancerous. Generally, no treatment is required unless the growth becomes irritated from chafing against clothing.
For the untrained eye many lesions may look similar in appearance to precancerous growth and is recommended that you see your doctor if you notice and new lesions or a change in an existing one.