COSMETIC DERMATOLOGY AND SKIN CARE FOR Plano, Frisco, and the Dallas Fortworth metroplex in Texas
VelaCONTOUR is specifically designed to tighten/ lift and contour small trouble spots of fatty tissue. As a specialty handpiece on the bodyshaping device VelaSHAPE III – it can be a stand-alone or add-on treatment to add an extra dimension to body contouring.
In a study conducted in our center looking at the VelaCONTOUR, patients saw visibly noticeable reduction in the circumference of the treated areas as well as improvement in skin tone, texture and tightness. What was most impressive and exciting for patients was that results were seen in 4 or fewer treatments. The majority of patients saw results after just the first two treatments!


VelaContour Fat Reduction
As many people have small areas of fat in the chin, arms, knees, and flanks – Dr. Wright states that the sculpting technique of the VelaCONTOUR is perfectly suited to the patient who has small areas of unsightly fat that they wish to remove. Many of our patients, treated elsewhere, have experienced uneven results with liposuction or have regained their weight in odd places and now look for a non-surgical way to correct this problem.
With VelaCONTOUR you achieve excellent results – experiencing not only the smoothing out of your skin, but also re-contouring! Can this technology work for you? Tracey V., a patient of Dr. Wright's, says yes. "With each treatment, I noticed improvements. Now, my body bulges are smaller and the skin is tight, the way it was when I was younger."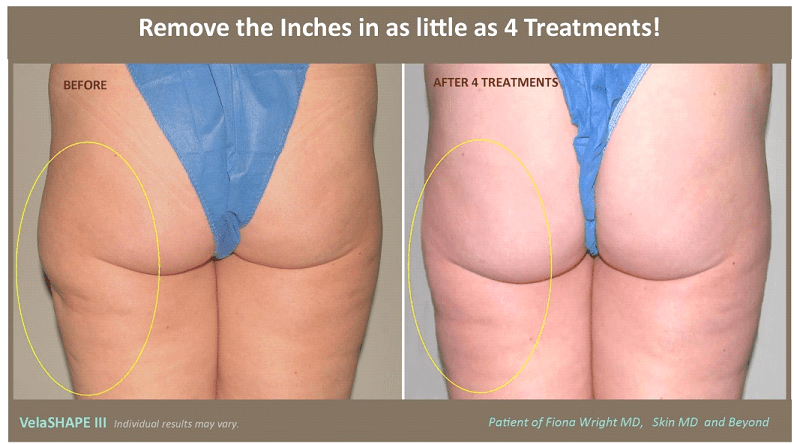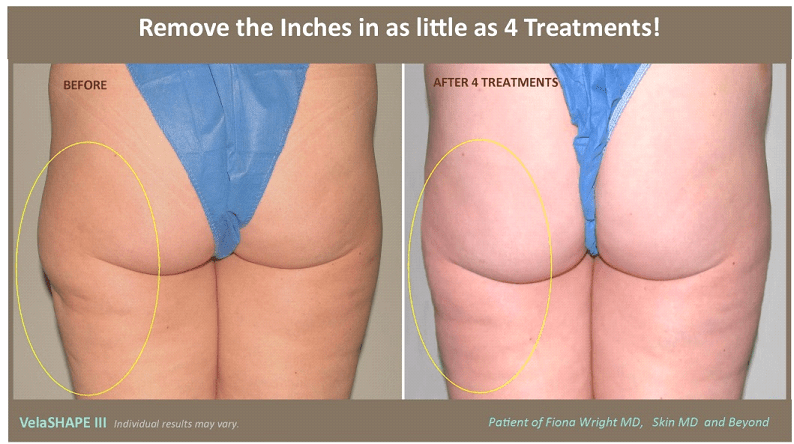 VelaCONTOUR Chin Reduction
A double chin can be created by a layer of subcutaneous fat around the neck that sags down and creates a fold, making the appearance of having a second chin.  To address this problem Skin MD and Beyond offers VelaCONTOUR, an advanced non-surgical dimension to neck rejuvenation and contouring. "Once the inches are gone, the skin can still be loose," Dr. Wright explains. " VelaCONTOUR works on both as it will also shrink the fat and lift the skin which offers patients smoother, tighter and younger looking skin."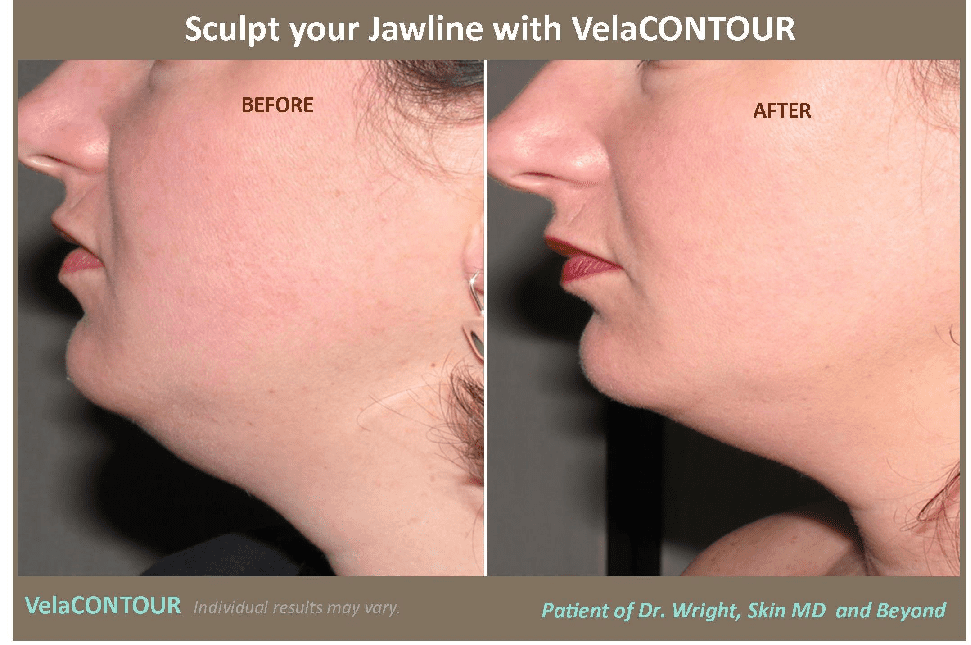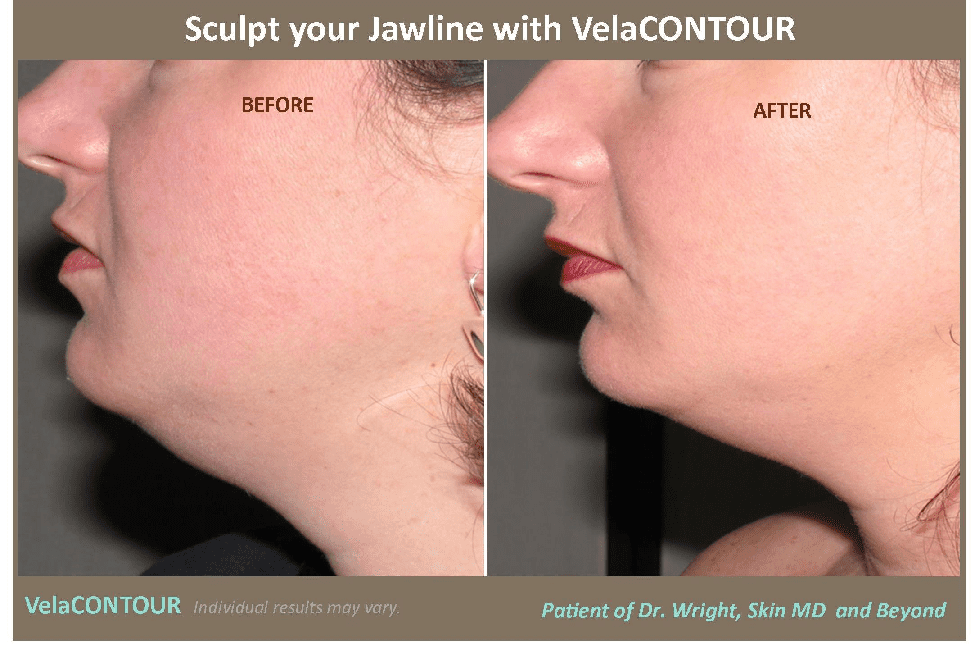 What is the VelaCONTOUR?
VelaCONTOUR is part of the new VelaShape III device, a top-of-the-line, bulk radiofrequency soft tissue heating system for fat reduction and skin tightening. The contouring handpiece of this system is an effective non-invasive treatment that treats both the upper layers of the skin and the deeper tissues of fat, that result in a measurable reduction in size and skin tightening. A pulsating precise energy level of light provides a significant amount of heat safely into the treatment area with a high level of comfort.
This precise heating allows for greater localized increase in metabolism resulting in a reduction of fat with ensured safety, effectiveness, and fast treatments and no downtime. This device also is equipped with a vacuum and mechanical massage, to facilitate safe and efficient heat energy delivery. The net result increases the metabolism of stored energy and lymphatic drainage which reduces or shrinks the size of the actual fat cells and fat chambers.
What is a VelaCONTOUR Treatment Like?
A VelaCONTOUR treatment is simple, safe and comfortable. It only feels like warm deep tissue massage. There will be mild redness on the skin and the treated areas will feel warm for a short while after a completed treatment session, but normal activities can be resumed immediately after.
How is the VelaSHAPE IIII Better than other Body Contouring Devices?
We all have different types of fat in our bodies. Some fat wraps around organs, some around muscles, some will hang over our swimsuit, while another type lies just beneath your skin. While diet and exercise are needed to remove the first two types, there are effective no-downtime clinic procedures for the overhanging muffin top and dimpling sheets of cellulite. The three devices below are designed to only reduce pockets of fat, and in fact do not tighten the skin or solve the problem of cellulite which will require the cost and time of additional procedures.
If you are looking for The All-in-One Treatment for Inches, Cellulite and Skin Tightening and the device that can lose inches, tighten and tone your hips, abs and arms, and also smooth out cellulite, -then the VelaShape III at Skin MD and Beyond in Plano Texas, is your new best friend!
Other devices include;
Coolsculpting is one treatment that is helpful to remove the muffin top by freezing fat cells and causing them to break down over time. The amount of actual fat removed per session is quite small (2 cooking spoons) so multiple treatments are required. It is used for belly rolls and love handles, and you are likely to see results after 2-6 months, so with required multiple treatments the final results can take a long time. Side effects include abdominal pain, bruising and numbness which can last up to several months.
LipoSonix is another device which treats smaller targeted areas of fat using high-intensity ultrasound energy to break down the fat cell. Results appear gradually over 2-3 months. The treatment can be quite painful and physicians will usual prescribe painkillers which are taken one hour before treatment.
Vanquish is a new machine on the market which is a series of radiofrequency treatments to selectively heat and melt fat from only the stomach and love handles . The device has not yet been FDA approved for fat reduction, and the device does not work on cellulite.
What can be expected from the VelaContour Treatment?
You will notice a gradual smoothening of the skin's surface with noticeable decrease in circumferential reduction and visible reshaping of the treated area. As backed by clinical studies, a series of treatments can show an average reduction of 1-3 inches. Added benefits of this treatment also include improved circulation and relief from muscle aches.
How long does each treatment session last? How many sessions are needed to achieve best results?
Each session takes approximately 30minutes for the one treatment area on both sides of the body, though it can be shorter or longer depending on the body surface of the client. It is done once a week for 6 to 8 weeks with best results that can be observed after at least 4 sessions.