COSMETIC DERMATOLOGY AND SKIN CARE FOR Plano, Frisco, and the Dallas Fortworth metroplex in Texas
Recommended treatments :
Under the skin of the neck is a thin sheet of muscle called the Platysma, which creates vertical neck bands or cords that run from the jawline down to the collar bone and can normally be seen when the teeth are clenched hard. As we age the left and right sides tend to separate in the middle under the chin and lose tone. This is more noticeable in thinner patients. This muscle, with time, can separate into bands and this can be aesthetically undesirable.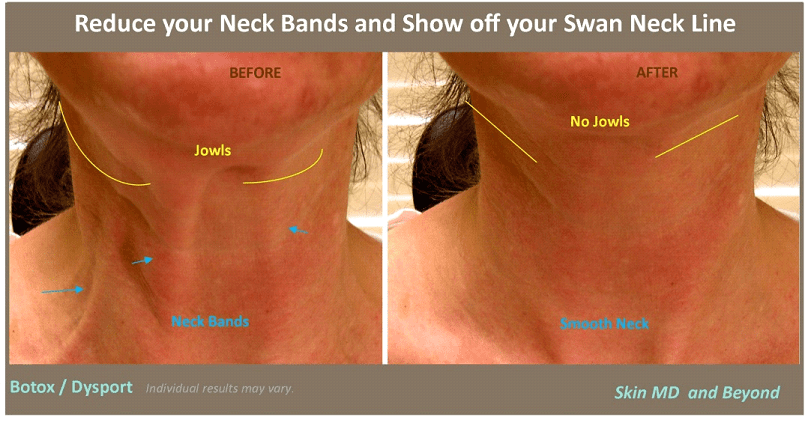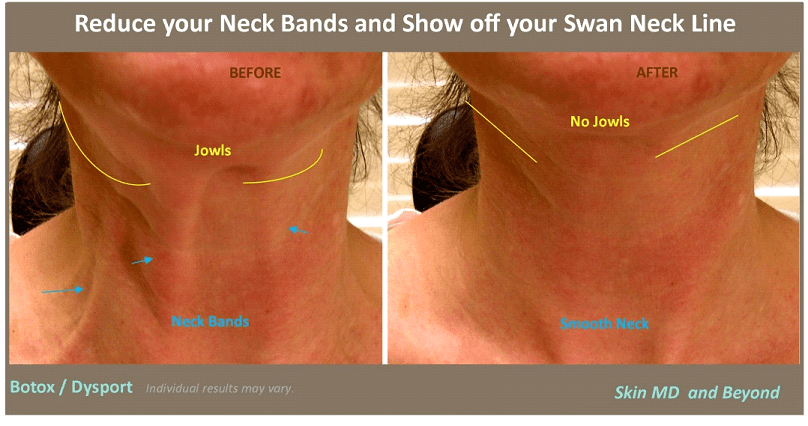 The over-active neck bands pull the jaw down creating the prominent neck bands and saggy jowl appearance (saggy jowls are also caused by loose skin and droopy fat pads).  Muscle-relaxing injections with Botox / Dysport can be injected into these bands to help flatten them.  By injecting into these platysmal muscle bands it will also reduce the downward pull of the platysma muscle on the face. A resulting lift in the face can often result. In addition to stopping the platysmal bands from forming, some injections can be placed along the jawline to help stop the pull of these muscles on the face and therefore help to lift the face.