COSMETIC DERMATOLOGY AND SKIN CARE FOR Plano, Frisco, and the Dallas Fortworth metroplex in Texas
Recommended treatments:
Skincare
PhotoFacial-IPL
Chemical Peels
Microdermabrasion
Laser Resurfacing ResurFX
Skin Care
Your face isn't the only area that needs protection. The skin on the neck and chest get almost as much sun and weather as the face. We often find that the chest and neck are left out of the daily skin care regimen, which means they are aging at a much faster rate than the face.
Wearing sunscreen on the face, neck, and chest is the best preventative method to even out skin tone. Depending on the severity of the mismatch, you may need skin lightening creams (see Skincare for Color Mismatch above) or laser treatments (ResurFX, IPL) to fade sun damage and pigmentation. Prescription-only skin care products represent a significant step up from over-the-counter offerings available at grocery stores and pharmacies. These products are specially formulated for enhanced results, undergoing extensive testing to ensure their safety and quality. We carry a full range of skin care products appropriate for the special needs of almost any patient.
Photofacial – IPL
Intense Pulsed Light (IPL) is a rejuvenating treatment for your skin, and will gradually and naturally smooth away areas of uneven pigmentation, spotting, and redness. The end result is creamy-smooth colored skin which appears youthful and rejuvenated.
After researching different IPL therapies over many years, we found the Lumenis M22 IPL to be the best because the results are predictably excellent. Our machine suits our clients' needs and gives the results promised. Lumenis M22 offers two outstanding features that make it one of the most effective IPL devices for sun damage removal systems to date.
A refrigerated hand piece and patented cooling gel, which allows maximum energy delivered with minimum discomfort.
The hand piece can be recalibrated daily, which means you get the same amount of energy delivery for the entire life of the hand piece –which provides you reliable and predictable results!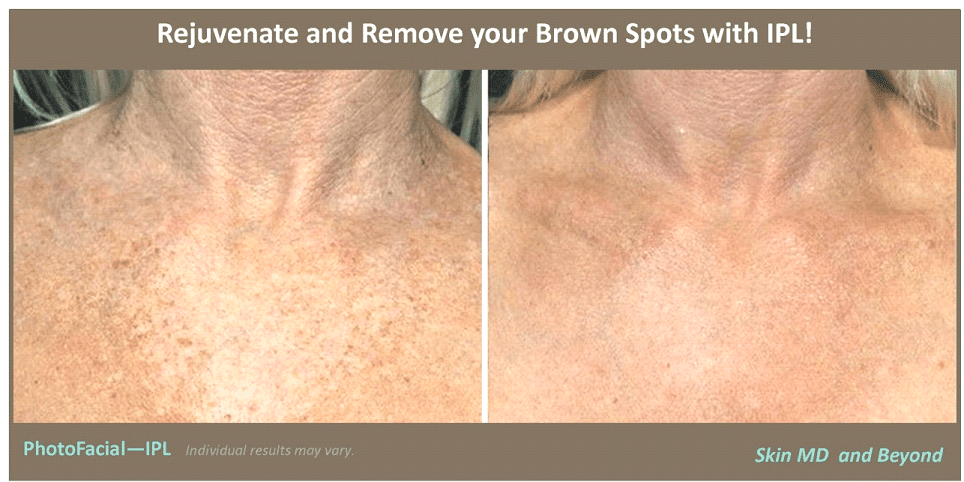 Chemical Peels
Chemical peels are a highly effective treatment for patients seeking to reduce and eliminate signs of aging, spots, blemishes, skin discoloration, and wrinkles. Depending on the severity of the case – there are several different "formulas" and strengths that can "peel" away the effects of time.
A chemical peel will rejuvenate your facial/neck/chest regions by "peeling off" affected areas that show signs of wrinkles, scars and discoloration to reveal a brighter and smoother complexion.  Chemical peels have been performed for many years and recent improvements have resulted a short recovery time and long-lasting results.
A chemical peel is a super effective non-surgical option for the treatment of lines and wrinkles, sun damage, pigmentation and acne scarring. By removing layers of dead cells from the surface of your skin, a younger, fresher looking you will be revealed. Dr. Wright has administered hundreds of chemical peels over her 18 year career, the results of which can be seen in the before and after gallery below. These medical grade peels offer the highest strength and efficacy available, and can only be administered by a doctor.
A chemical peels is among the most popular aesthetic treatments on offer today. You can gain a refreshed look, or, with more aggressive treatment, take years off your appearance.
Some additional benefits of a chemical skin peel can be:
Remedy accumulated sun damage.
Minimize the look of mild scar damage
Diminish the appearance of surface wrinkles
Improve blotchy, irregular skin color areas
Removes stubborn blackheads and mild acne
Reduce oily skin
Microdermabrasion / DermaSweep
Microdermabrasion skin resurfacing is a treatment that improves wrinkles, skin texture and color by removing the topmost layer of skin leaving it softer and plumper. Skin resurfacing also stimulates the elastic tissue beneath the surface of the skin resulting in a healthier and firmer appearance. At Skin MD and Beyond we offer traditional Medical Microdermabrasion and crystal free DermaSweep treatments which are both non-invasive, pain-free and requires no down time after treatment.
The length of the treatment and number of treatments vary depending on skin type and condition. Results are gradual but highly effective. Most people experience softer, smoother skin after their first treatment. Recent studies have demonstrated about 45% thickness in skin after a series of microdermabrasion procedures. It also kick starts the skin regeneration process.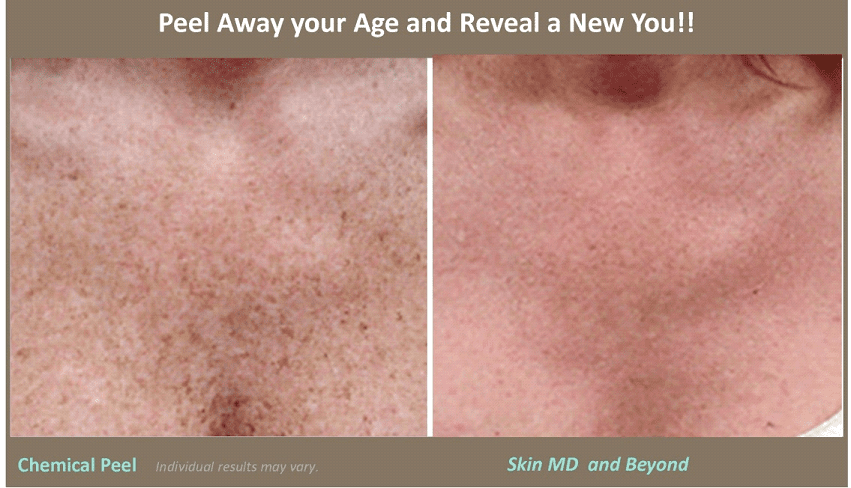 Laser Resurfacing ResurFX
At the top of the list in retexturing and tightening loose neck skin is the ReSurFX Fractional Resurfacing Laser. The ResurFX Laser uses many microbeams to penetrate into the dermis far below the outer most skin causing collagen contraction and remodeling. The outer surface of the skin is safely cooled during treatment by the patented scanning tip eliminating pain and leaving the outermost layer of skin acting as a barrier to the elements while the deeper tissues heal and tighten.


Because these microbeams only target a pin-dot size of skin tissue at a time, the untouched skin surrounding the treated skin protects the integrity of the epidermis and healing occurs quite quickly. There is negligible downtime (1-2 days of slight swelling) and no reason to miss work! Patients will experience about 2 hours of heat to the face immediately after treatment and about 24 hours of redness. Because there is no actual peeling of skin, patients remark that the downtime is very minimal- which is very different to most of the machines available. With this negligible downtime (1-2 days of slight swelling), there is no reason to miss work!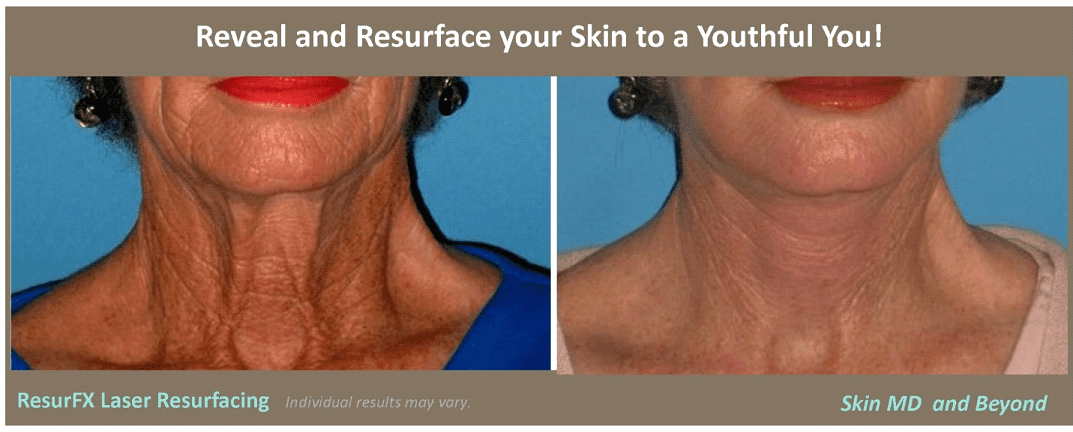 The ResurFX Laser is able to treat a wide variety of skin conditions such as skin laxity, wrinkles, scars, and photo damage. The effect is an immediate tightening and lifting of the skin and underlying tissue. Unlike other lasers, the ResurFX is useful for all skin types and tones and works on your entire face: forehead, eyes, nasolabial folds, lip lines, chin and even the neck, chest and hands.