COSMETIC DERMATOLOGY AND SKIN CARE FOR Plano, Frisco, and the Dallas Fortworth metroplex in Texas
Recommended treatments:
Laser Resurfacing
Injectable Fillers
ResurFX Laser Resurfacing
For Hand Rejuvenation, it has never been safe to perform ablative laser resurfacing on the hands due to the risks of scarring and skin color changes. But now, with the introduction of ResurFX non-ablative laser resurfacing, you don't have to put up with the problem any longer! Skin MD and Beyond is able to offer skin rejuvenation techniques that are most commonly used on the hands to remove aging changes such as pigment, sun spots, age spots, rough dry or crepey skin, wrinkles and other aging changes from the aging skin on the hand.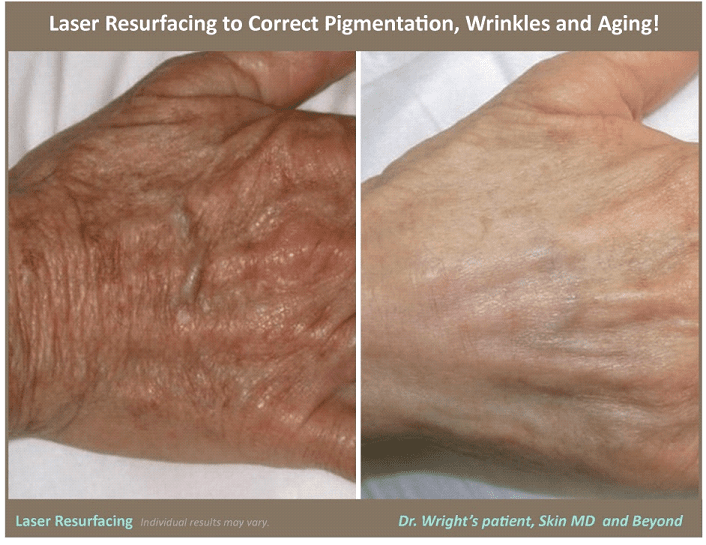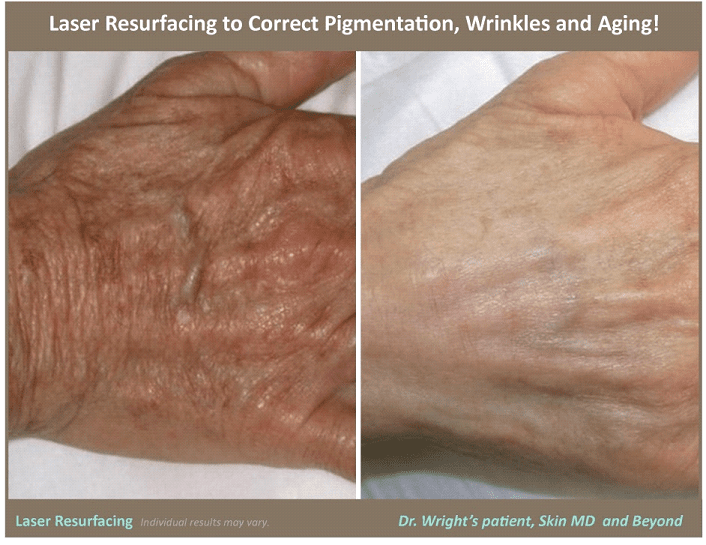 Non-ablative ResurFX Laser Skin Resurfacing clears and rejuvenates damaged, discolored and uneven skin as well as lines and wrinkles. This laser uses controlled thermal injury to trigger wound-healing, which wakes everything up by realizing an abundance of growth factors to regenerate the skin, without traumatizing it. The laser removes the epidermis and upper dermis triggering the body's natural healing process which stimulates the growth of healthy new skin. It is a targeted laser treatment meaning it works on your problem areas, leaving the rest of your skin untouched.
Rejuvenating your hands can be easy with our ResurFX laser as it works by taking away a fraction of the top layer of the skin and stimulates new skin growth, revealing more youthful hands. There may be some redness, heat and tightness to the skin following treatment, but this is short-lived, lasting an average of a day or two and not compromising movement. The best results are seen with a course of 5 -6 treatments, approximately six weeks apart with an annual freshener if required. ResurFX can be used on most skin types.
Injectable "Skin Boosting" Fillers
Hand skin goes through the normal process of skin aging, where the skin thins and becomes less elastic. The texture becomes dry, less smooth, with more fine lines and wrinkles appear. There is loss of subcutaneous tissue in the hands which causes the veins to become prominent, which is very aging. The hands also become very bony.
At the 8th Anti-Aging Medicine World Congress, studies were shown that the Hyaluronan Filler, Juvéderm, appears to not only volumize the skin, but significantly increases the hydration levels of the skin setting a new standard for skin-rejuvenation therapy. Hyaluronan (HA) is a natural polysaccharide found in skin that has the property of retaining water, and this sponge-like effect is important in keeping the skin hydrated. Over time, the loss of HA results in older-looking skin that is characterized by fixed fine lines, wrinkles and folds.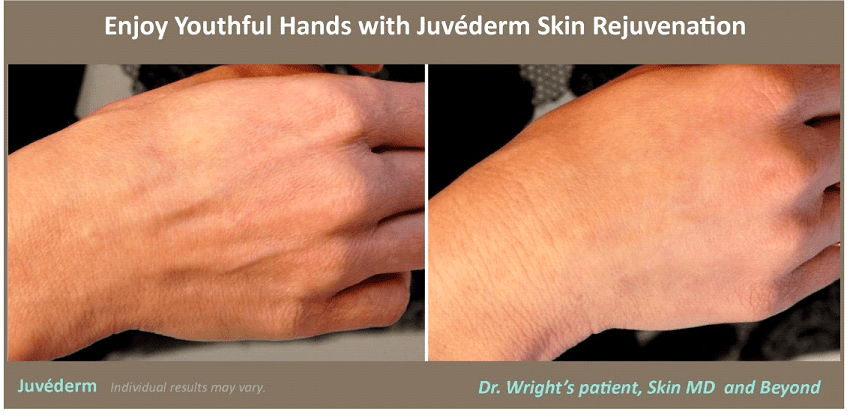 With aging, the skin tends to dry out because it gradually loses the natural hyaluronan that we have in our skin. As a result of that, our skin loses its elasticity, smoothness and brightness. But now, a very simple treatment to inject Juvéderm into the hands to act as a "Skin Booster" is an excellent way to treat crepey skin and fine lines not only because of their filling effect, but also because HA attracts water to it, resulting in fuller and smoother skin where injected.