COSMETIC DERMATOLOGY AND SKIN CARE FOR Plano, Frisco, and the Dallas Fortworth metroplex in Texas
Recommended treatments :
Microdermabrasion / DermaSWEEP
Chemical Peels
PhotoFacial-IPL
Laser Resurfacing
Microdermabrasion / DermaSWEEP
Microdermabrasion is a superficial type of treatment using very fine crystals of aluminum oxide to remove the dead outer layer of the skin resulting in a smoother skin surface. DermaSweep Treatments are similar to microdermabrasion, except that, instead of using crystals to exfoliate the skin, we use customized brushes of varying intensities. Both procedures take 30 minutes and patients can immediately return to regular activity. Only the surface cells of the skin are removed, so no additional wound is created. Microdermabrasion is a technique can be helpful with fine skin texture and pigmentation. Generally, more than 12 treatments are required and the results are usually slight, and certainly a lot less dramatic than the other treatments mentioned above.
To learn more click here.
Chemical Peels
Chemical Peels are available in a variety of forms that can be used to produce a separation and peeling of the outer layers of the skin. The new skin beneath is smooth and practically blemish-free, with reduced fine lines, wrinkles, spots and sun damage. Dr. Wright prefers to treat the hand with a series of six or more mild chemical peels spaced at two to four week intervals. Glycolic acid and beta hydroxyacids work well for fading mild cases.
In some cases stronger peels are needed for more stubborn cases and pose little risk of scarring or permanent discoloration (which are risks when alternative medium strength peels are used to treat the delicate skin of the backs of the hands). Generally, these medium chemical peels are required to achieve a significant result, but a series of more superficial chemical peels can help to achieve similar improvements.
Photofacial – IPL
Intense Pulsed Light (IPL) Treatment or Photofacials use intense pulsed light to treat spots, spider veins, and fine lines and create softer, smoother, clear skin with little, if any, pain. IPL uses multiple wavelengths of light to gently remodel the collagen and is used to eliminate superficial skin color irregularities. This treatment is best suited to treat pigmentation and vascular changes rather than changes in the skin texture.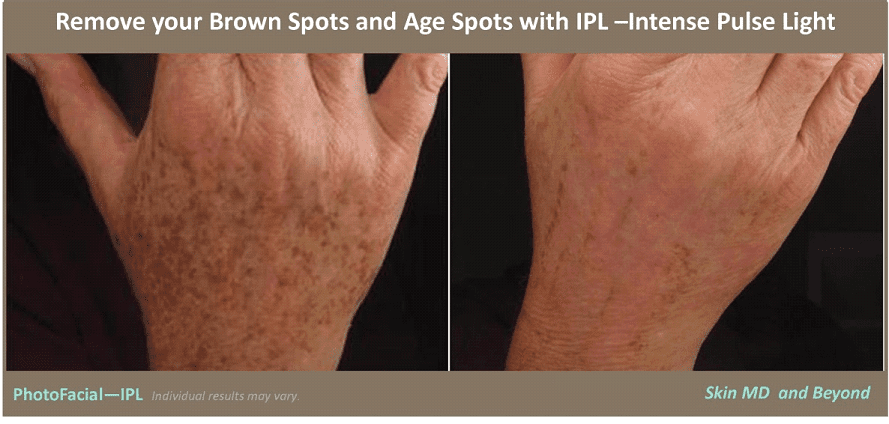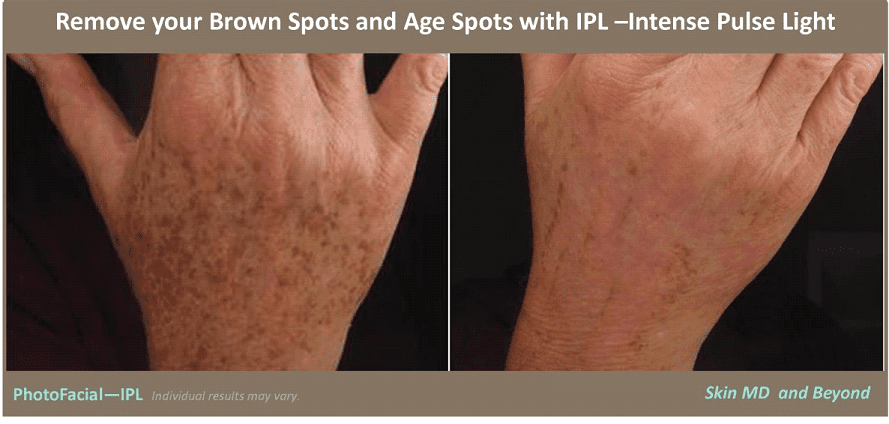 Recovery after photo rejuvenation or IPL of the hand skin is minimal and you should be able to return to work after treatment. Final results of photo rejuvenation or IPL of the hand skin will be seen at 6-8 weeks after the third treatment.
ResurFX Laser Resurfacing
Laser resurfacing is an ideal treatment for age spots and other pigmentation problems occurring on the hands. The laser can also help to thicken the skin of the hands as the heat promotes new collagen growth. There is minimal downtime, though some flaking of the skin may occur. Final results are apparent after three to six months.

Dr. Wright uses the Lumenis ReSurFX laser to provide precise control as the procedure gently removes fine lines/ wrinkles and age spots to reveal smooth, fresher-looking hands. Because the laser's microbeams only target a pin-dot size of skin tissue at a time, the untouched skin surrounding the treated skin protects the integrity of the epidermis and healing occurs quite quickly. There is negligible downtime (1-2 days of slight swelling) and no reason to miss work! Patients will experience about 2 hours of heat to the hands immediately after treatment and about 24 hours of redness. Because there is no actual peeling of skin, patients remark that the downtime is very minimal- which is very different to most of the machines available. With this negligible downtime (1-2 days of slight swelling), there is no reason to miss work!