CROW'S FEET
Recommended treatments – Botox, Dysport
In our youth when our facial muscles move, a line or wrinkle may be created about the eyes, but it goes away when the muscle returns to rest. As we age, and after years of muscle movement and sun damage our skin thins, the amount of collagen and elastin in the dermis diminishes, and lines or wrinkles persist and are etched into the skin even when the underlying muscle is relaxed. These wrinkles are often the first noticeable wrinkles to appear on the face and they deepen and become more noticeable with time. But now you can "officially" say "GoodBye to your Crow's Feet" because in September 2013, the FDA approved the use of BOTOX for treatment of these aging wrinkles! Like BOTOX, DYSPORT is also commonly used to improve crow's feet in the same manner as BOTOX to treat the muscles that can reduce the movement and eliminate the wrinkles.
Call to Schedule a Consultation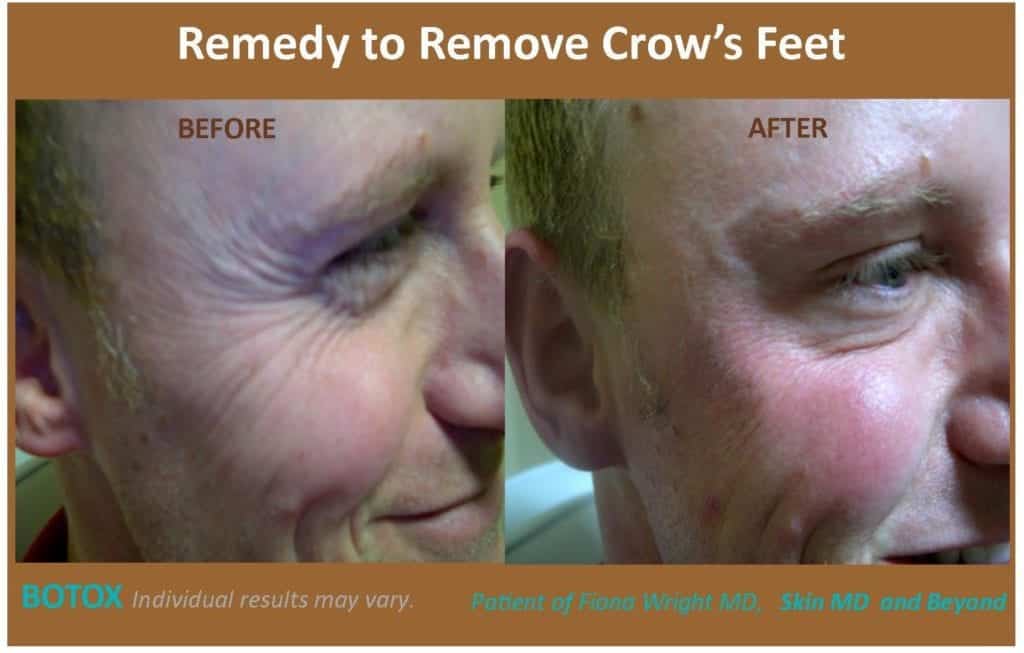 UPPER LID HOODING
Recommended treatments – Botox, Dysport, Facial Fillers, ThermiSMOOTH
Botox /Dysport:
Droopy, hooded eye lids and sagging eyebrows instantly communicates a lack of vitality even in the youngest faces and will add years to your appearance.  Hooding of the upper lids is a fairly common problem with aging. While blepharoplasty (surgery) remains the gold standard for treating this problem, many people wish to avoid the expense, risks and downtime of traditional eyelift surgery.
When the eyebrow is being pulled down upon the eyelid, the eyes can be opened by using BOTOX/DYSPORT to lift the brow back up again. No matter what the reason, if you can consciously raise your brows, you can get a brow lift! A few well-placed units at the edges of the eyebrow can help to lift your eyebrows, and our patients who look tired all the time, receive a huge psychological benefit in the way they look, feel and are perceived. Within days you can notice a marked improvement and tightening of upper eyelids, smoothing and freshening of the frown area providing you with a more youthful and appearance.


Facial Fillers
Although off-label, filler agents can be placed into the lateral brow over the boney rim to raise the brow complex to a more youthful arch and enhance the natural highlight of this area (which women often try to achieve using light eye shadows). When fillers like, RESTYLANE, JUVEDERM, PERLANE AND RADIESSE are strategically placed they will elevate the corners of the brows pulling up the lids up with them. With aging, may will lose volume in this area and fillers can be used to improve the underlying volume loss at the brow which can lift and recontour the brow.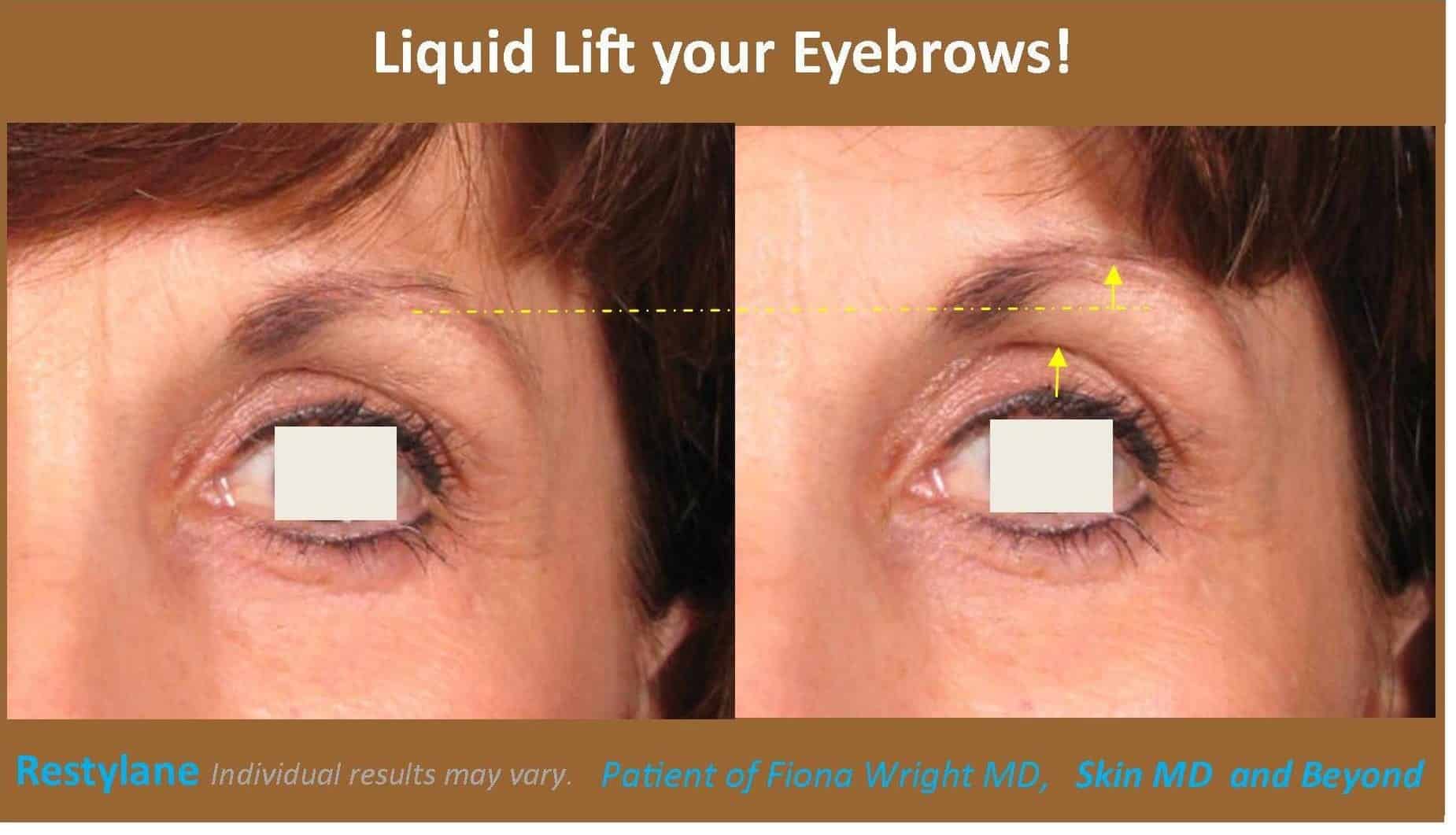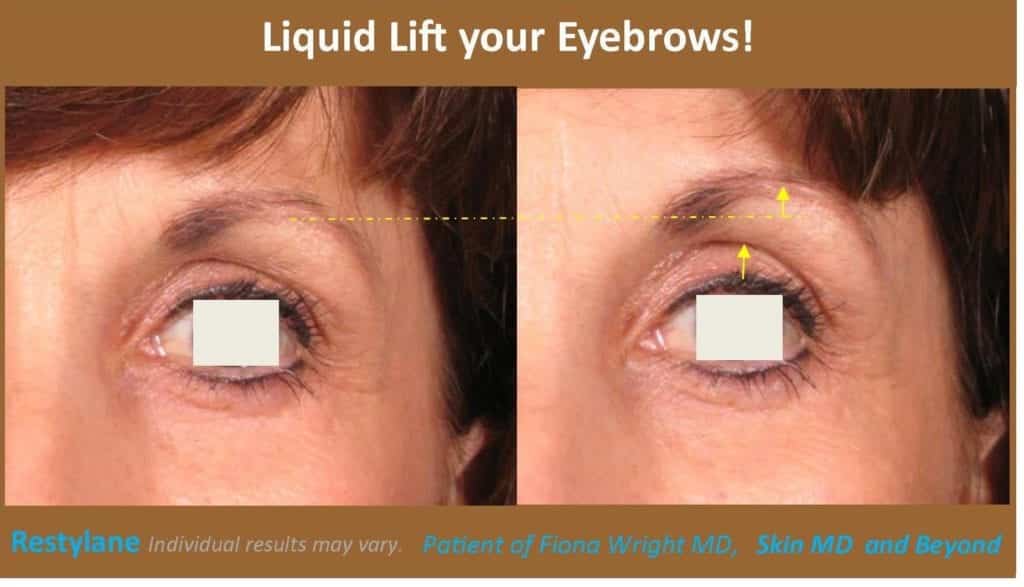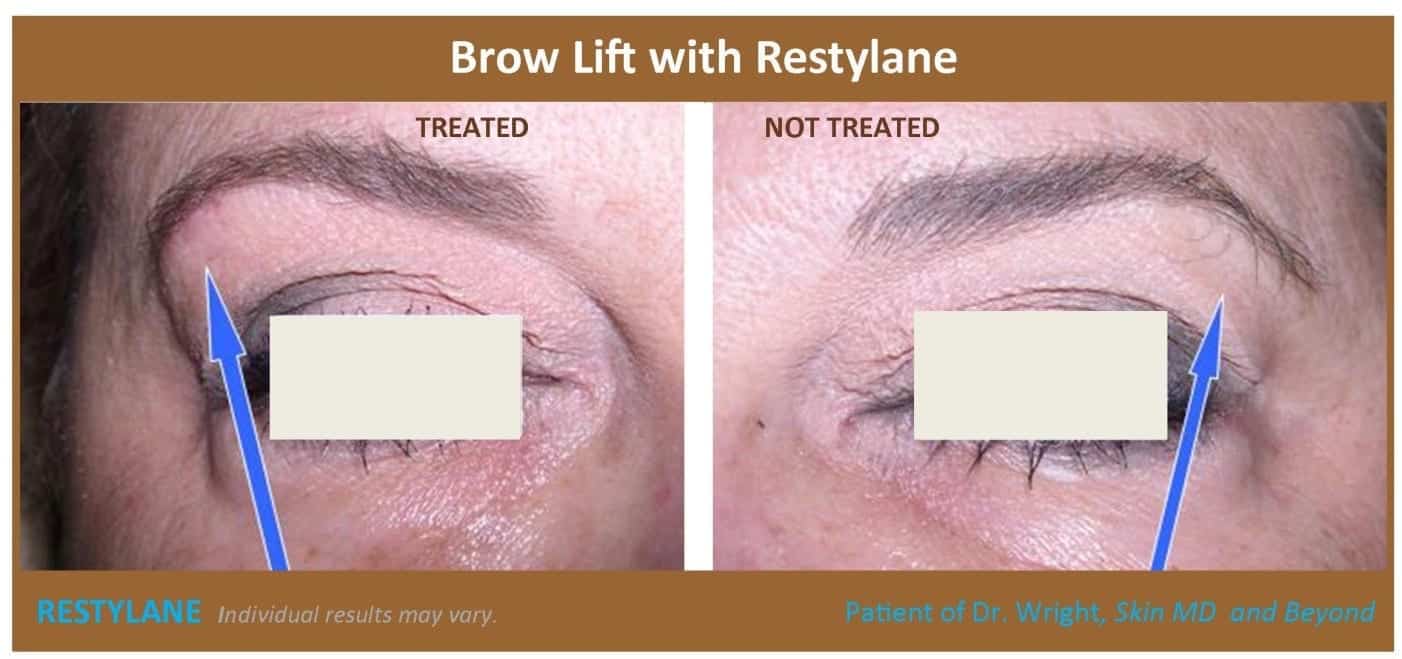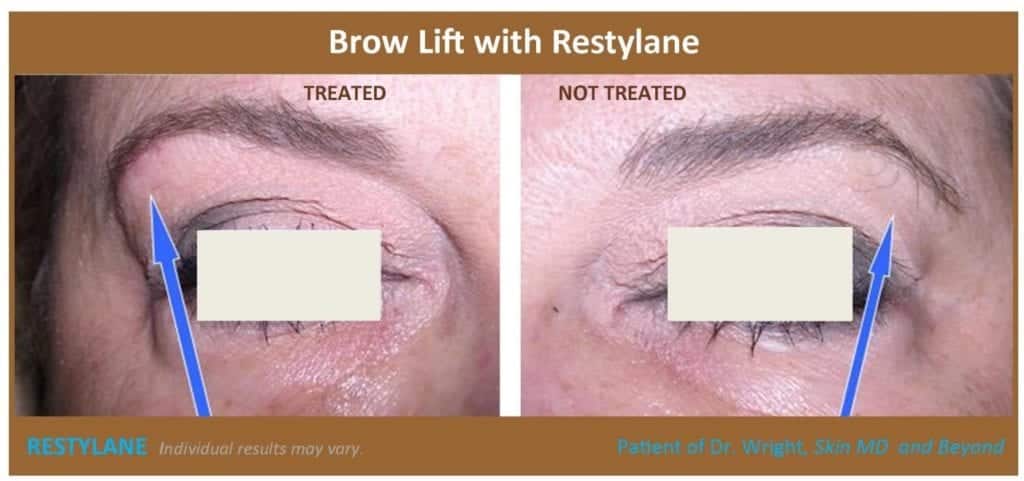 ThermiSMOOTH
Traditionally, the only sure way to tighten upper lid skin has been to go in for a time-consuming and invasive eye lift surgery. But happily, Skin MD and Beyond offers another popular procedure THERMISMOOTH – our Twenty Minute Eyelift! This procedure involves a series of non-invasive treatments where a radiofrequency wand is massaged over the redundant portion of the hooded area of each upper lid tostimulate the elastin and collagen to shrink and tighten. The treatment feel like a hot stone massage that does not require any surgery or needles. Once completed, the skin will be lifted and you will simply look refreshed, rested and naturally younger than your years! 


UPPER LID CRINKLES
=Recommended treatments – Skincare, ThermiSMOOTH, Bio-Ultimate Eye Lift
Though eyelid wrinkles do not cause any harm to the body, many people want to get rid of them due to the embarrassment and low self-esteem that it can cause. It usually is associated with advancing age, but the truth is, many different underlying conditions may affect the appearance of the eyes. Dr. Wright recommends that some common lifestyle choices can make an improvement- such as; getting plenty of sleep, staying well hydrated, avoiding salt, reduce UV sun exposure, quit smoking and keeping your seasonal allergies under control.
Skincare
Skincare products can also improve the skin texture. Dr. Wright recommends from her exclusive line INTENSIVE EYE TREATMENT, RENEWAL EYE CREAM and PEPTIDE EYE CREAM. Vitamin A creams (Retin-a) can also be helpful but are usually too harsh and not well tolerated. One product line, Avene offers RETRINAL which is a retinaldehyde base product and can provide similar wrinkle reduction effects as prescriptive products but without the irritation.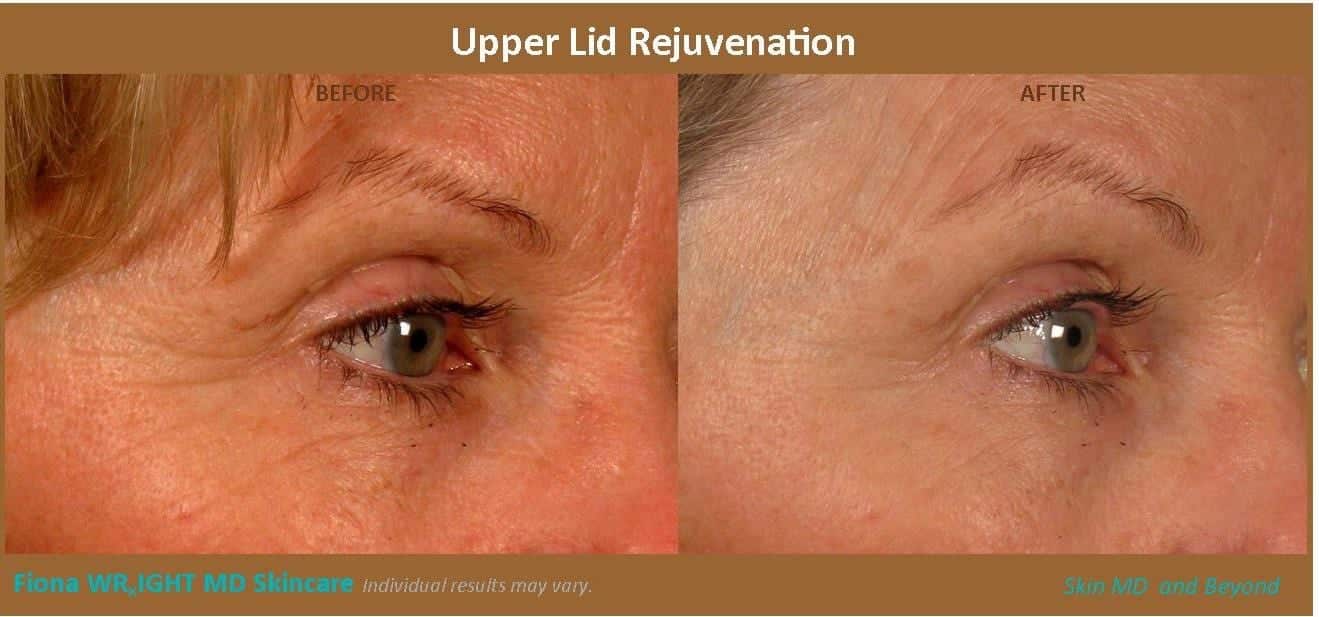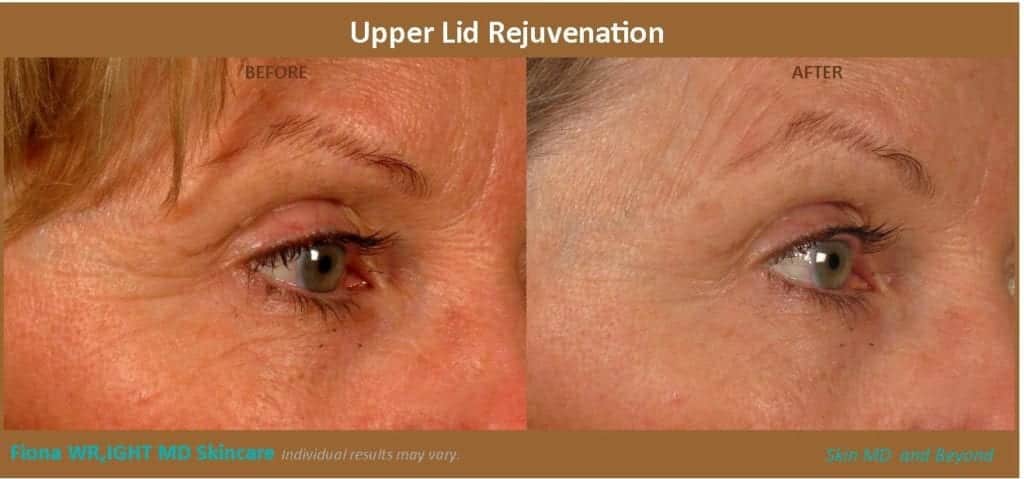 Bio-Ultimate Eye Lift
Blending the latest skin science with professional strength high-performance skincare actives, the WRxIGHT Beauty Bar provides a relaxing eye rejuvenation treatment mask that will reduce fine lines, tone, lift and smooth the delicate skin texture of your eyes. 
ThermiSMOOTH
In the same manner that THERMISMOOTH can be used to lift the upper eyelids (read above) – it also very effective for wrinkles too! This non-surgical and relaxing treatment is very effective to tighten, smooth and lift eyelid skin. It works best on these problems:
reduces fine wrinkles above and below the eye
reduces "hooding" – that loose skin on the upper eyelid if it's mild to moderate
makes the eye look more "open"
helps to maintain the results of eyelid surgery
UNDER EYE HOLLOWNESS
Recommended treatments– Skincare, Facial Fillers, ThermiSMOOTH
Many patients are concerned about their under eye area, even from a very early age, and this concern intensifies over time.  The aesthetic lower eyelid should blend seamlessly with the cheek. When the lower eyelid and cheek don't blend together, the lower eyelid becomes more aged and prominent. The first thing to do for sunken eyes is make sure you are getting enough sleep and enough fluids.  Being dehydrated and sleep-deprived will accentuate any hollowness under the eyes. 
The first cause of this aging process is when the sagging and drooping of loose skin creates a fall of the fat pad and descent of the cheek, and forms a deep tear trough (under eye hollowness). A second cause of this hollow groove is when there is a decrease of fat under the skin of the lower eyelid. This exposes not only the bone of the eyesocket, creating a "tear trough deformity", but in some cases may expose the normal fat of the lower eyelid, resulting in the appearance of lower lid "bags".
 In order to address prominent fat pads or excess skin, surgery is indicated. But for those who fear the "knife approach" there are several effective non-surgical procedures offered at Skin MD and Beyond.
Skincare
My NBC Health Report "BEST in EYE CREAM" REVIVAL-EYES is one of our #1 selling products and is considered one of the most important things for you to have, in order to look refreshed and young. It is no wonder that some call this product "Botox-in-a-Bottle"!
This eye serum (a firming treatment) uses a concentrated blend of natural ingredients and therapeutic  technology to combat the symptoms of puffiness, sagging skin, under-eye circles and wrinkles. The main ingredient in this product is Argereline, which clinical studies show that people who used this ingredient reduced their wrinkles by 30% after using 30 days of treatment.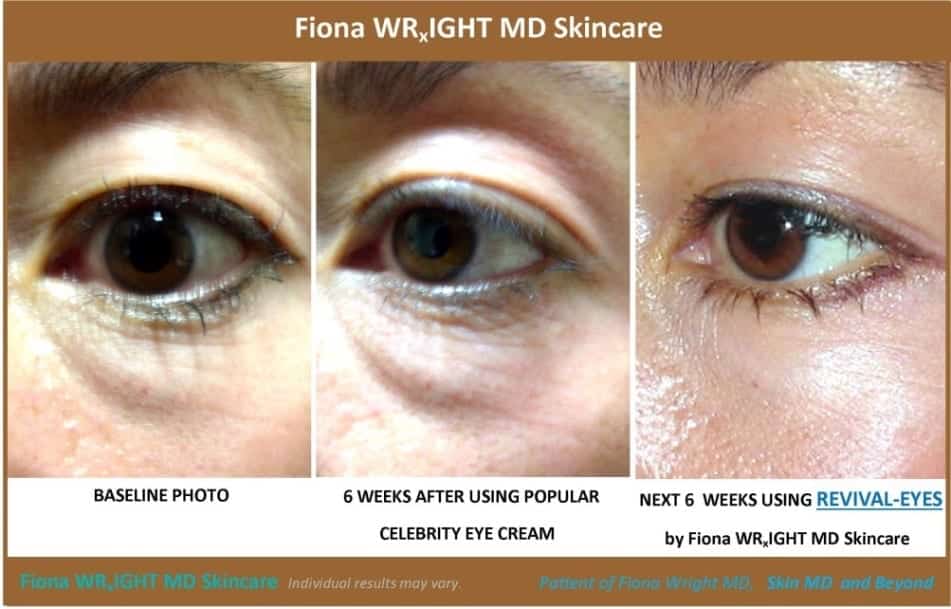 Facial Fillers
Tear Troughs under the eyes can be temporarily improved with placing facial fillers – RESTYLANE, PERLANE and BELOTERO into the groove. These are non-animal derived hyaluronic acid fillers, which give a soft, natural correction to facial hollows.  This is a treatment we call "BRIGHT EYES"  in our practice. Our new generation technique uses a well-known blunt medical instrument called a cannula instead of a needle.  The procedure provides the precision needed to optimize the natural contouring around the entire eye area and lid.  A needle can't do this.  The blunt cannula is virtual painless and has almost no bruising.  Many of our patients have had their results last up to one year with some requiring a small touch up. 
Only expert injectors should be working around your eye area if you decide that fillers are your best option! There is a moderate safety risk for treatments around the eye. The type of filler Drs. Wright choose for the tear troughs is based on their safety, good lifting capability and nature to attract the least amount of water.  Each has advantages and disadvantages. The amount required is variable, and depends on the patient's anatomy, and what type of cosmetic end-result the patient wants. Our doctors will assess the tear troughs and decide on the best treatment after taking a history and examining the patient. Treatment in this area can be very unforgiving and for this reason, the doctor administering the filler should be very experienced.   When injecting the tear trough and under eye area, it is necessary to inject multiple areas to obtain the best results, and our doctors will prefer to inject over several sessions if multiple syringes are required in order to avoid the negative results of tear trough treatments, which include lumps and blue appearance (Tyndall Effect).


ThermiSMOOTH
As mention previously (see above) the THERMISMOOTH is an innovative non-surgical eye lift treatment that takes a 20 minutes. Radio-frequency energy is transmitted on the surface of the skin through a small plate that heats the skin and results in a lifting, firming and tightening of both the skin of the upper and lower eyelids.   It is especially effective in the treatment of skin that is naturally thin or where eye-lift surgery is not practical as there is not enough skin around the eye to trim. It can prevent or delay the need for surgery, as long as it is not left too long. It's not effective if the patient has fatty deposits in their under-eye bags or where the eyelid muscle is very loose.
UNDER EYE DARK CIRCLES : 
Recommended treatments– Skincare, Facial Fillers, ResurFX, PhotoFacial
Dark eye circles are a common problem and are frequently described as "tired eyes." Although dark circles may be the result of facial aging, they can affect both men and women of all ages and have a variety of causes.  If you suffer from early morning dark eye circles and you don't know what sort of under eye dark circles you have, it will be challenging for you to find a way to get the dark circles to fade away.  Dark undereye circles are caused by a variety of different things from heredity to allergies to poor sleep and diet. Treatments can vary from eye creams, Photofacial-IPL, Skin Resurfacing and Injectable Fillers.
Skincare
The delicate eye area differs from person to person, and as a result Dr. Wright has designed a variety of eye creams available to offer unique protection for your under-eye skin. When looking for an eye cream for dark circles – you should look for products that address the three main causes.
Skin Dehydration: If your skin is too dry it tends to create unattractive dark circles. It is important to ensure you drink alot of water throughout the day to prevent dehydration and dryness of your skin and also decrease the amount of salty foods. Eye products that increase hydration will create firmness and diminish the dark circles and illuminate the eye area.
Congestion and Allergies:  The skin under your eyes is very fragile and thin, and blockage from allergies and congestion can cause fluid retention and dilated veins and blood vessels which will make the skin under your eyes turn in to a more bluish color, and create a dark appearance.  Eye Creams which contain ingredients to constrict blood vessels or increase circulation of blood flow, and ingredients to reduce allergy suffering will help to reduce the dark appearance of the eyes.
Pigmentation: This is the final type of under eye dark circles which is brown circles. These circles under the eyes are areas of hyper-pigmentation and have several causes; rubbing eyes too much, exposure to sun and genetics.  People that are mostly affected by these dark rings are mainly people from Africa, Eastern India and Latin or people with a darker tone of skin.  When increase pigment collects around the eyes it will look much darker than other parts of your face.  Many eye creams re very helpful and have pigment lifting ingredients – but eye care should also include the avoidance of aggravants and sun exposure.
Facial Fillers
Tear troughs, or dark circles under the eyes can be due to volume loss in the transition zone from the eyes to the cheek, making you look older and tired. Facial Fillers in this area helps refill this transition area, correcting the dark circles under the eyes associated with hollowness. When this area is filled, the light is reflected differently and the area appears less dark and less hollow. The individual then appears less tired and looks younger. Injectable fillers containing hyaluronic acid are often used to correct dark circles and Restylane is a commonly recommended for restoring volume to the tear trough or upper cheek area. 


ReSurFX Laser Resurfacing
ResurFX LASER RESURFACING can help to tighten loose skin and reduce tear troughs caused by skin laxity as it effectively increases collagen production and improves overall skin quality.  ResurFX is most similar to the laser platform called the Fraxel Re:store, a 1550 nm wavelength laser device that has become a standard of minimal downtime laser skin resurfacing.  ResurFX is completed with a single pass to the skin treatment area, unlike the 6 to 8 passes required with Fraxel Re:store, which can be painful. With ResurFX the level of patient comfort is much better when compared to earlier laser technologies and provides the most customizable treatments for each patients' individual concerns – creating and ensuring the results you want.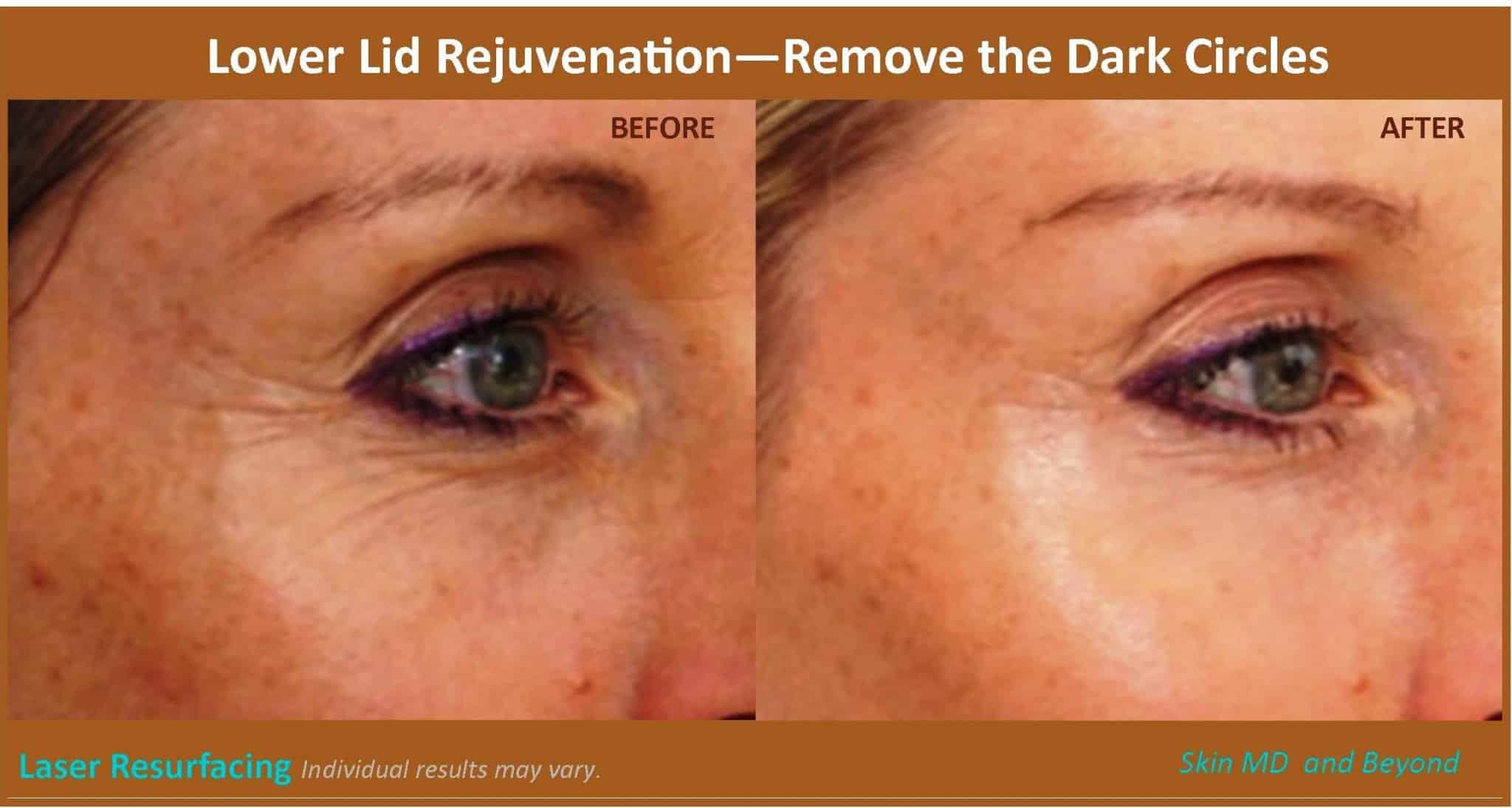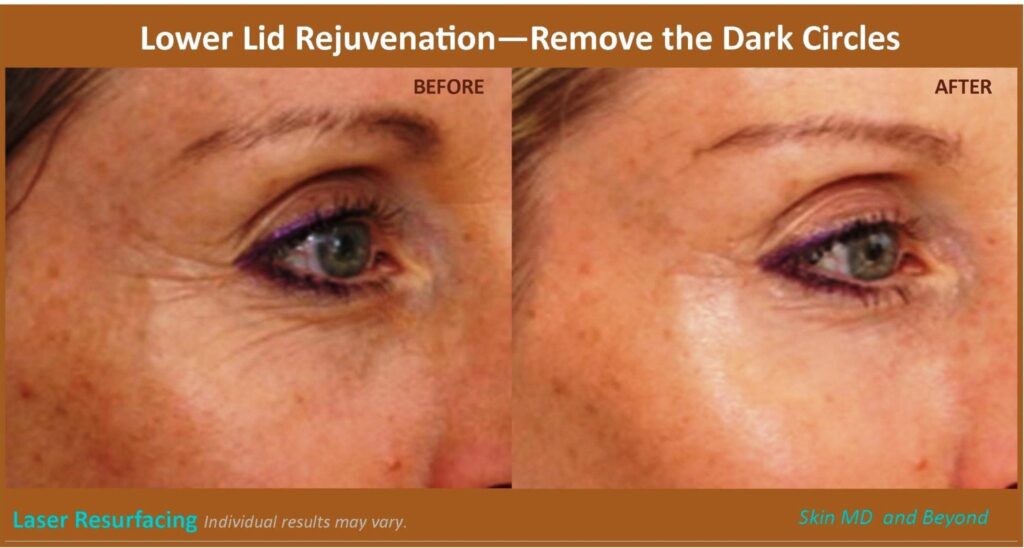 PhotoFacial – IPL
Another recommendation for dark eye circles would be Intense Pulsed Light (aka IPL – Photo Facial) Treatments.  When blood vessels are visible under the skin they will appear as dark purple or blue under eye circles, and Photofacial can reduce these dark circles.  As well,
Photofacials will target pigmentation and age spots.  These therapies are not lasers, but are a flash of light which specifically target the color of a pigment or blood vessels in the skin. The light is adjusted to be absorbed by the color red or brown – which both can cause dark under eye circles.  Our advanced Lumenis Photofacial offers a revolutionary long-pulse, high-energy technology which targets pigmented and vascular lesions with precision and power. As a result, patients see a noticeable improvement with fewer treatments and improved results right after the first treatment.  


LOWER EYE LID SAGGING/ CRINKLES/ EXCESS SKIN

Recommended treatments– Skincare, ThermiSMOOTH, ResurFX
Many people are bothered by tiny fine lines under their eyes and lower lids that make the skin look like crepe paper or give it a crinkly look. If the problem is mild or moderate, then lower lid ResurFX is a good option to reduce the fine lines. ResurFX is the only resurfacing laser that can be customized to every person's eye size and shape. Generally you'll need a series of treatments for best results. If there is mild sagging coupled with the crepiness, then the combination of ThermiSMOOTH to tighten the skin in combination with ResurFX skin treatments to reduce the crepiness will give you an even better result.
Skincare
Fiona WRxIGHT MD Skincare is a very popular line when it comes to eye rejuvenation – and even more so when you are needing a product to tighten and lift.   The reason?  Dr. Wright as incorporated DMAE and ALA care into her Renewal Eye Cream and her Intensive Eye Treatment!
Topical DMAE (dimethylaminoethanol) has often been called, by media, "the facelift in a jar" and it has been demonstrated that DMAE causes some degree of skin tightening. When applied topically in the form of a lotion, the effects are almost immediately visible. A multi-center, double-blind study designed to determine the efficacy of topical DMAE found that DMAE showed significant improvements in the appearance of the skin and the effects are also cumulative. Studies looking at weeks, months and even up to a year of use show that improvements and benefits continue to accrue.
ALA (Alpha Lipoic Acid) is a potent anti-aging Anti-Oxidant and helps prevent certain kinds of cell damage that can affect the appearance of skin and can improve skin texture and appearance. When put in an eye lotion, it will greatly decrease under eye circles, swelling and puffiness. 

ResurFX Laser Resurfacing
The advanced ResurFX® technology offers deeper dermal laser penetration and is delivered by laser pulses in a fractional pattern.  The goal of fractional laser resurfacing is boost collagen production in the dermis (the deeper layer of skin) without creating too much visible damage on the upper layer of the skin (the epidermis). The result is thickening of the dermis which manifests as plumper, more resilient, younger-looking skin. As well, the skin will be tighter with less wrinkles and dychromias (color abnormalities like brown and red spots).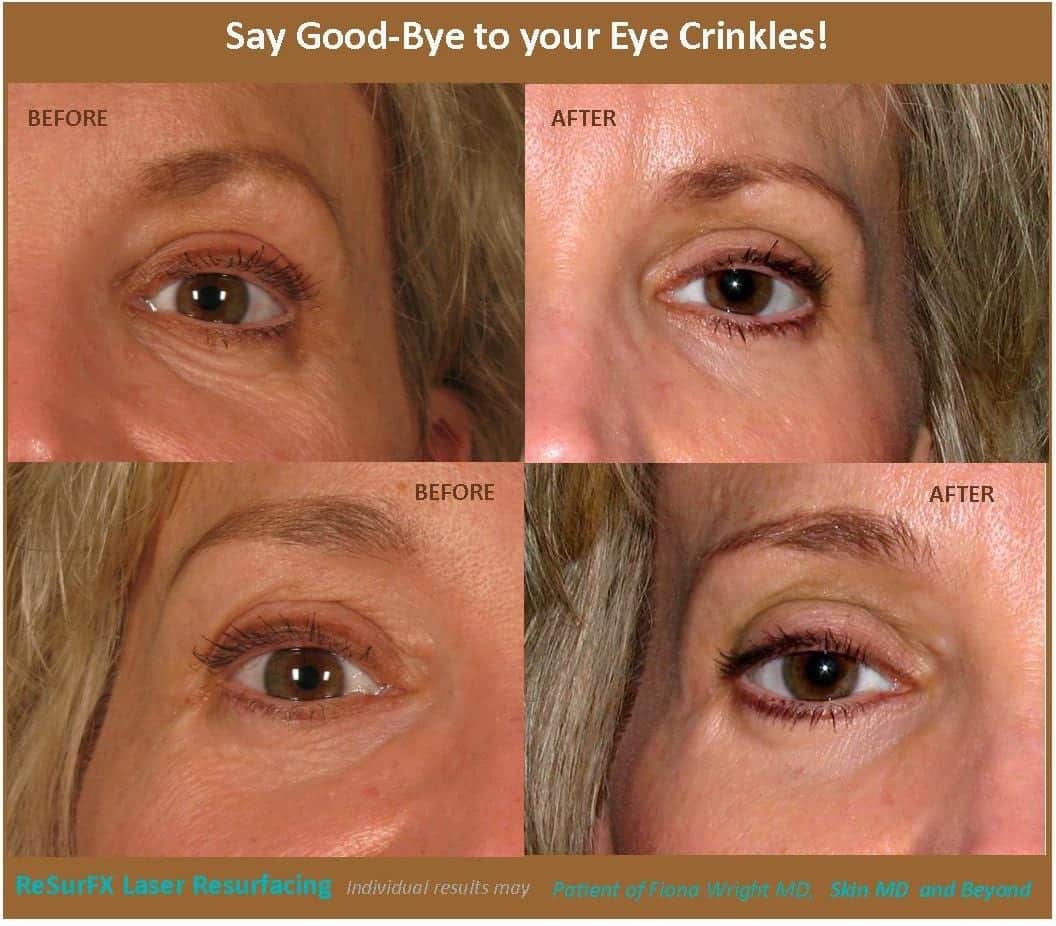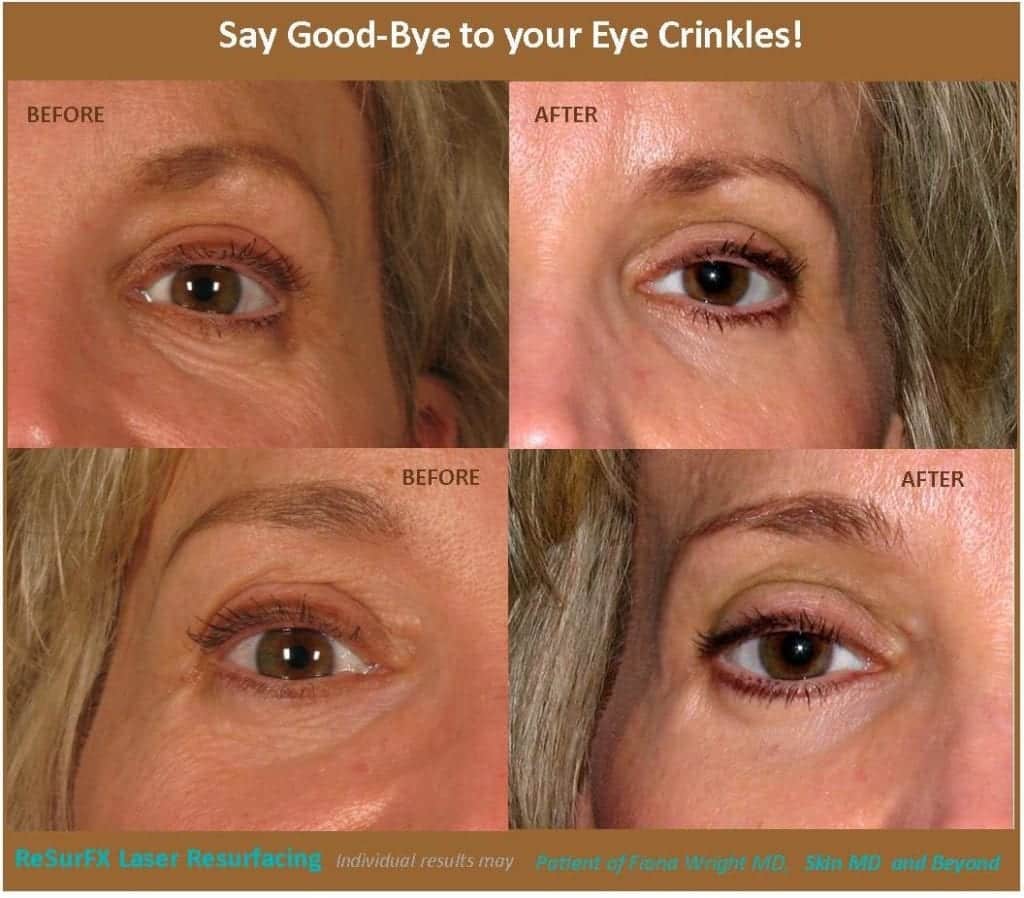 ThermiSMOOTH
If the skin under the eye has excess skin and sagging, surgery may be your best option. For those who want a non-surgical option then THERMISMOOTH for moderate laxity can provide noticeable tightening and may be the solution you are looking for. The procedure is a series of treatments and you will see the final results 3 to 4 months after your last treatment.  THERMISMOOTH is a safe and effective facial contouring and skin tightening device that uses the latest advances in radio frequency aesthetic treatment. Precisely delivered radiofrequency will help stimulate and strengthen collagen to reduce wrinkles and reduce laxity. See your skin tighten and those crow's feet and worry lines fade away.
LOWER EYE LID PUFFINESS / FAT PADS
Recommended Treatments – Fillers, ThermiSMOOTH
Puffiness under the eyes can be due to several different things. One culprit of puffy eyes is a fat pad that becomes more noticeable with age. Under eye bags that seem to hang down onto the cheek can be caused by excess skin, a loosening of the muscle under the skin, or fall of the fat pad. Sometimes it is caused by a combination of all three.  If your puffy or swollen eyes are due to a fat pad, then eyelid surgery is still your best option.
If the puffiness under the eye is due to excess skin or sagging, there are some lifestyle changes you can make; 1) reduce your salt intake, 2) increase your water intake to 6-8 glasses a day, 3) eat foods low on the glycemic scale (no white sugar, soft drinks, alcohol, white flour, etc.), and 4) if there are allergies that are making your eyes irritated or causing you to  tear up, or rub the tissue around your eye a lot – the first thing to do is to seek treatment for your allergies.
As with Drs. Wright, your consulting doctor should have extensive training and knowledge of eye care and anatomy. As many factors can create this concern, the key to success is to diagnose and treat the problem correctly. Sometimes genetics, weight loss, diet, and disease can give the appearance under the eyes of puffiness and aging.  The first step is to manage the underlying problem. For aesthetic correction, there are a number of very useful non-surgical approaches to improve some causes of lower lid puffiness.
Facial Fillers:

ThermiSMOOTH:
As the skin drops so does the fatty pockets under the eyes, which can cause the appearance of the dark circles and puffiness. Sometimes even create some of the bags. THERMISMOOTH uses a patented handpiece will heat the skin to the precise temperature, to stimulate fibroblasts to create more collagen and elastin over time. This results in a new "support structure" for the skin and can help in areas where fat pads have fallen minimally and skin is loose.  This procedure takes only fifteen minutes to treat both eyes! However, it is important to realize that THERMISMOOTH is not the best recourse for the under eye bags. Even though it can assist in the tightening of the skin it will not take away the bags under the eyes. Dr. Wright welcomes you to make a consultation with her, and she will be able to see your concerns, go over the causes as well as go over the best options for your areas of concern.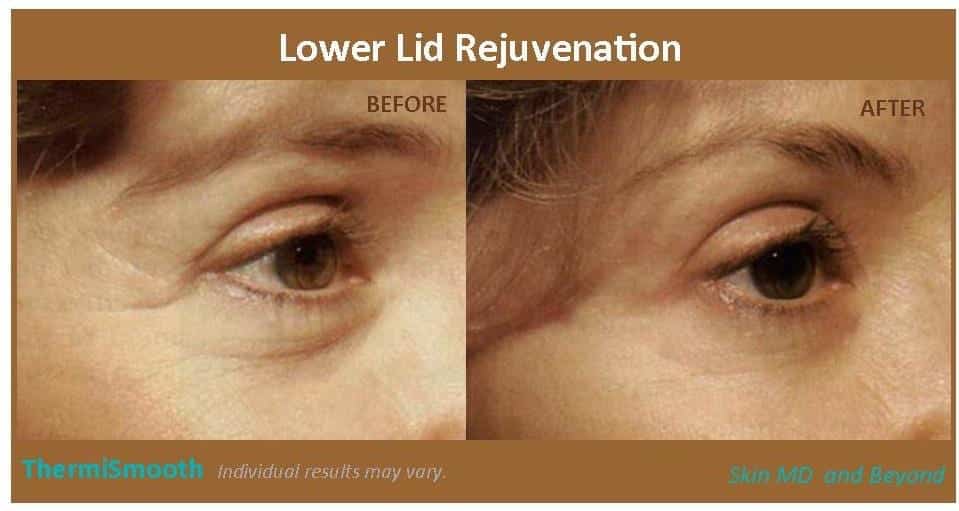 EYE LASH REJUVENATION
Recommended Treatments – Latisse, Eyelash Tinting
Latisse:
LATISSE is the first and only prescription treatment approved by the FDA for inadequate lash growth and an effective treatment to grow your lashes longer, fuller and darker!
While LATISSE is a treatment for inadequate or not enough eyelashes, it was developed through years of research by Allergan, a pharmaceutical leader with over 60 years of expertise in prescription eye care products.
Dr. Wright in the News
Dr. Wright was one of the first physicians to bring Latisse to the Metroplex. As well, SKIN MD and Beyond is ranked #1 in the Metroplex with www.Latisse.com, when looking for a physician to write your prescription. With her expertise in skin care, NBC News Health Report, interviewed Dr. Wright to tell us the latest on this exciting fashion craze.
Make-up artists and celebrities all know the secret that super-long eyelashes can distract from crow's feet and fine lines and wrinkles around the eyes. So why wait? – Dr. Wright and her team of professionals welcome you to make an appointment today and start seeing the transformation with your own eyes today!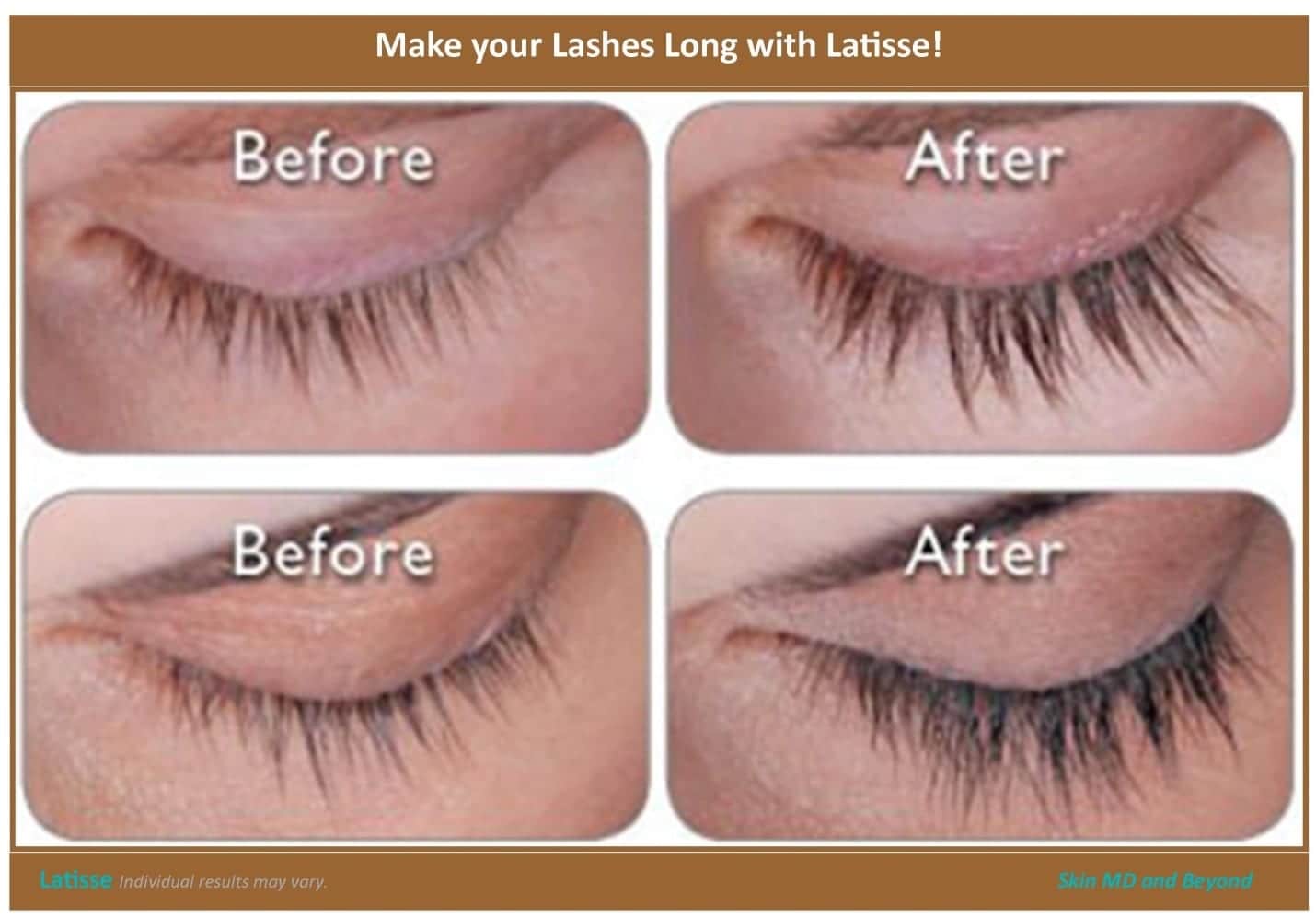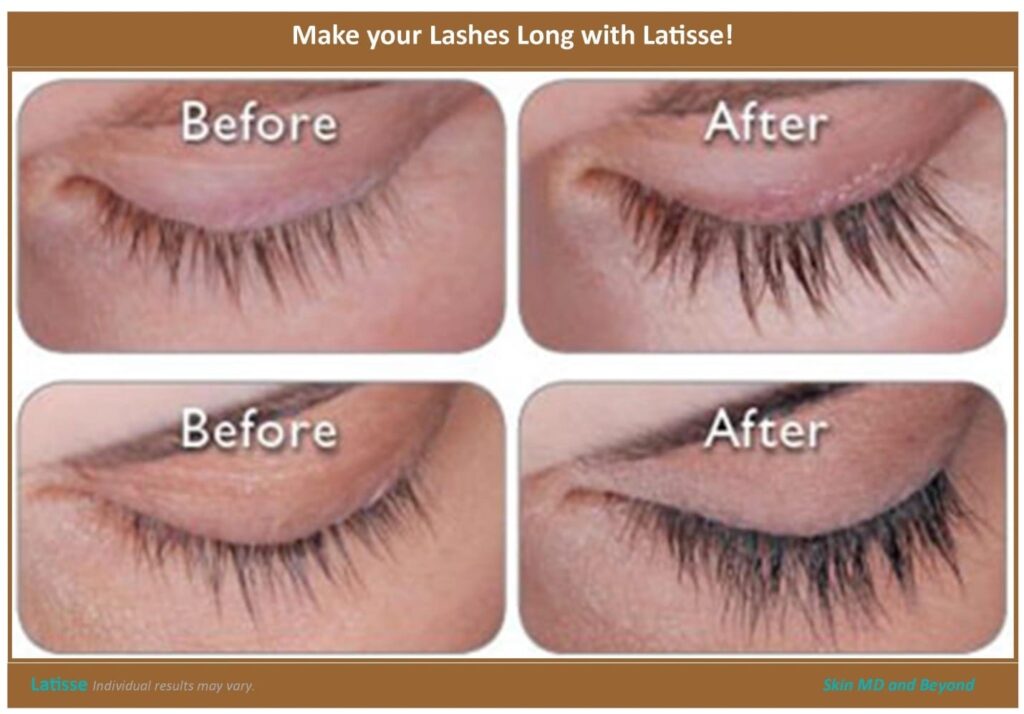 Eyelash Tinting:
This service is done using vegetable-based dye and is completely safe for the eyes. Eyelash tinting is a process where your eyelashes are dyed to make them look darker. Depending on your skin type and hair color, you can achieve eyelash colors, including black, blue, shades of brown or whatever color best fits your complexion. Eyelash tinting will benefit people that are sensitive to makeup, people who are active in sports (especially swimming) and people who have no time to apply make-up daily. Unlike mascara, the effect is very natural- and is great for those who are allergic to mascara or wear contacts. Results usually last from 4-6 weeks.
Eyebrow Tinting: This treatment will enhance the general appearance of your face and is particularly beneficial for people who have very light colored eyebrows. This is a straightforward, relaxing procedure using vegetable dye to tint your brows. It is also very helpful for people who have sensitivities to makeup. Defining the eyebrows can boost your confidence, you might not even be aware that it bothered you but when you get them tinted the first time, you will be amazed!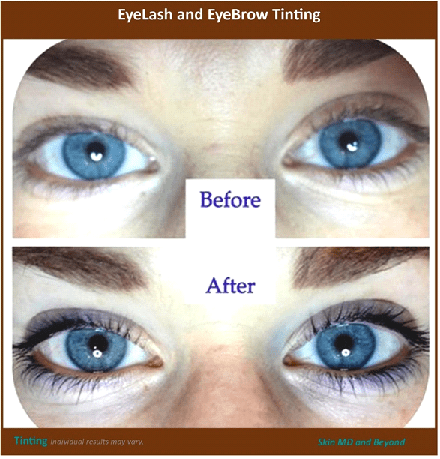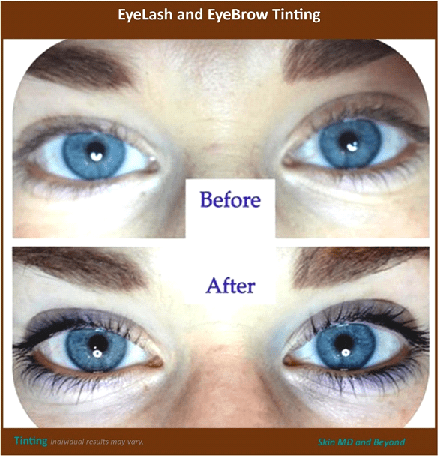 What People Say About Us!
Dr. Wright,
I just wanted you to know – that I valued you as my doctor and counted you as a very good friend. I appreciated all that you have done for me and hopefully will visit again when I am in Texas. Sara
Click here to read more reviews.