COSMETIC DERMATOLOGY AND SKIN CARE FOR Plano, Frisco, and the Dallas Fortworth metroplex in Texas
Prevention and Protection

Brown Spots, Age Spots

Redness, Flushing and Blood Vessels

Acne

Scars and Acne Scars

Lumps, Bumps, and Moles
SKIN PREVENTION and PROTECTION:
Recommended treatments
Age Defense:
Retinoids have many published studies which shown the skin-saving effects of topical vitamin A derivatives (retinoid family) and its ability to increase collagen production (plumping your skin), speed up cell turnover (smoothing your complexion) and unclog pores (reducing breakouts). A prescription strength of Vitamin A from your doctor can provide the best benefits. However it can be extremely irritating to your skin and a topical Retinol may be a better choice.
AntiOxidants disable free radicals, the molecules generated by sun, pollution and other sources, which damage the DNA of healthy skin cells, leading to wrinkles, discoloration and possibly cancer. Studies have shown that topical Coenzyme Q10, Vitamin C and E, and Green Tea offer great anti-aging benefits and a "mix of antioxidants" creates the best result!
Hyaluronic Acid is a terrific topical skin-plumping ingredient that draws a tremendous amount of water to the skin—about 1,000 times its weight! Rehydrating the skin counteracts the aging process as well as increases cell renewal. It is not irritating, won't aggravate acne and is light enough to blend seamlessly with makeup.
Alpha Hydroxy Acids are topical acids, often derived from fruit or milk sugars, which dissolve the "glue" between the complexion-dulling dead skin cells that accumulate with age, allowing them to be sloughed off, revealing fresh skin. Discoloration is minimized, skin feels smoother, and pores can look smaller. Overall, skin is more luminous and youthful!
Sun Protection:
More than 90 percent of these wrinkles, dark spots and crepiness attributed to aging, is caused by sun exposure. The UV filters in sunscreen absorb or scatter UV light before it can damage your skin; in effect, they stop aging.
What to look for on the label: Broad-spectrum (meaning the product blocks both UVA and UVB rays)is important for everyday use. For days spent outdoors, also look for water-resistant (either for 40 or 80 minutes). You may prefer the silky texture of a chemical sunscreen, but a physical sunscreen (zinc oxide and titanium dioxide) is less potentially irritating and now a good choice for every skin tone because micronized formulas don't look chalky. As well, physical sunscreens also absorb excess oil—helpful if you have shiny skin. Look for those high in zinc for the additional skin healing benefits for acne, rosacea and sensitive skin.
BROWN SPOTS, AGE SPOTS:
Recommended treatments
Skincare
PhotoFacial-IPL
Chemical Peels
Laser Resurfacing
MicroNeedling
Microdermabrasion/DermaSweep
Skin Care
Hyperpigmentation is also known as 'age spots' or brown patches and is caused by many factors. These factors include sun damage, ageing, hormonal fluctuations such as pregnancy, the contraceptive pill as well as acne. They are superficial marks on the surface of the skin that are brown or black in color and are sometimes also known as 'liver spots'. It is usually caused by exposure to the sun and generally appear on areas such as the hands, face, shoulders and arms.
To remove this concerning pigmentation, clinic procedures are usually required and at Skin MD and Beyond we offer a wide array of treatment options for many different conditions. Our skincare professionals provide a comprehensive consultation and will advise on the treatment[s] that are most suited to you.
But, for those who do not have the time, or want to first try an at-home skincare regime, Dr. Wright has formulated several products, designed for all skin types to help with the many causes of age spots and pigmentation. To get started today, log on to www.RxBeautyBar.com and find the Fiona WRxIGHT MD Skin Care products that will lead you back to a flawless complexion.
Dr. Wright's most popular products are Radiance (see write up under Cheek Rejuvenation: Age Spots and Brown Spots) and her Complexion Perfection Lotion and Pads.
Complexion Perfection Lotion is a powerful, yet gentle formulation designed to balance skin tone and fade discoloration. This lotion contains a blend of brightening botanical ingredients such as Kojic Acid, Arbutin and Bearberry Extract known to inhibit pigmentation formation. Additional ingredients include Sodium Hyaluronate, Indian Gooseberry Extract which soothes and calms the skin while Vitamin E and C protects the skin from damage caused by environmental pollutants. The Complexion Perfection Lotion is hydroquinone free, alcohol-free, acetone-free, and best suited for patients with hyperpigmentation, melasma or other pigmentation issues including acne scarring. For patients looking to receive the clinically-proven lightening benefits of Hydroquinone, a 2% concentration can be added to your lotion.
Complexion Perfection Pads are an ideal choice for people who suffer from dark spots caused by acne or have oily skin. These specially formulated treatment pads combine a potent blend of the purest 10% Glycolic, Witch Hazel, and Retinyl (Vitamin A) which will shrink your pores, reduce dullness and create an even skin tone and texture. The protective ingredients of Co Q10 with the calming benefits of Green Tea extract will also help reduce redness in the skin to leave it looking radiant and refreshed! Ideal for those with oily, aging, and acne-prone skin who want to reduce pores and renew dull, wrinkled skin.
Photofacial- IPL
Many of us do a lot of damage to our skin in the summer, so we need as much help as possible to remove the brown spots and age spots that plaque us. If you are exploring new ways to address your uneven skin tone cause by acne or pregnancy, then our Lumenis M22 PhotoFacial- IPL (Intense Pulse Light)Treatment is your solution!
Does the type of IPL treatment matter? Absolutely! Not all IPL results are the same because not all IPL systems are safe and effective. And, unlike many practices, where your complete care is delegated to a nurse or aesthetician, our practice philosophy has always been to have Dr. Wright personally consult all treatments prior to starting.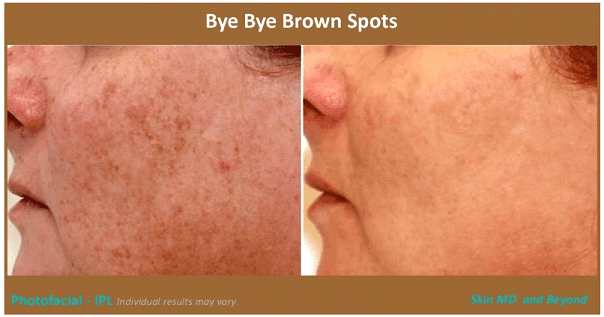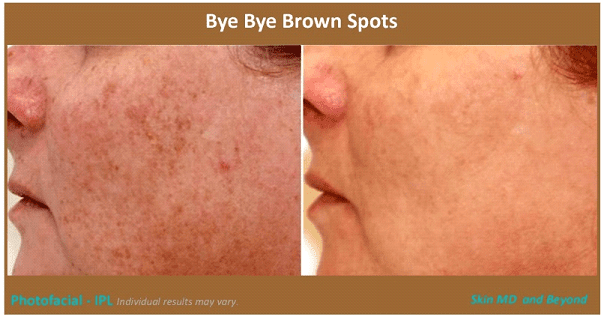 As commented by RealSelf.com, the M22 Photofacial was invented by the company that created and introduced the IPL technology to the aesthetic world. With over 22 different modular applications the M22 Photofacial enables Dr. Wright to treat more types of patients and conditions with better outcomes.
By helping to remove pigmentation and broken capillaries, the result is overall more even, luminous younger looking skin. The process is ideal for patients with active lifestyles because the procedure requires no downtime and has low risk of side effects.
With its exclusive OPT technology, it provides the optimum choices to deliver the appropriate pulse for any application. With its advanced technology, we are able to control the pulse shape of the light in order to allow the best results and reduce the chances of skin damage. The results speak for themselves – when two thirds of our clients are referrals from existing happy and satisfied clients!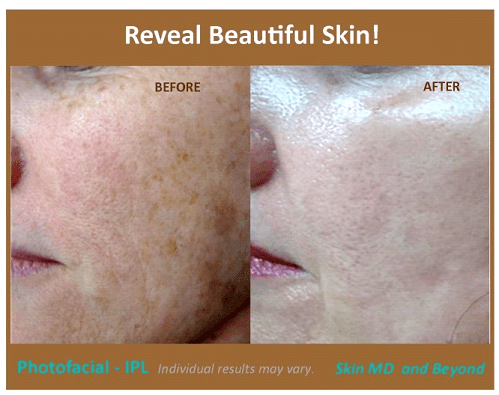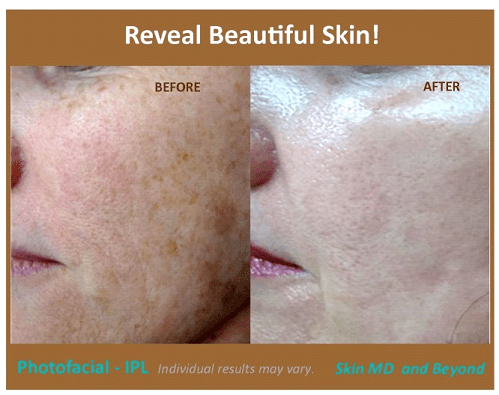 Chemical Peels
Chemical Peels are a highly effective treatment, specifically designed to lighten the discoloration caused by hyperpigmentation. A chemical peel use a medical grade chemical solution to improve and smooth the texture of the facial skin by removing its damaged outer layers. It is helpful for those individuals with facial blemishes, wrinkles and uneven skin pigmentation. This is a simple, non-surgical way to achieve a smooth, healthy glow.
There are a variety of peels, formulations, and strengths that can be tailored to your needs. If you require a short recovery period without a lot of visible peeling, you might choose to have a light glycolic or salicylic acid peel. A medium depth peel, is good to target pigmentation in the epidermis as well as the top layer of the epidermis with a few days of visible peeling. Or you may choose a deep chemical peel such as trichloroacetic acid peel which can have several days of downtime but long-lasting dramatic results!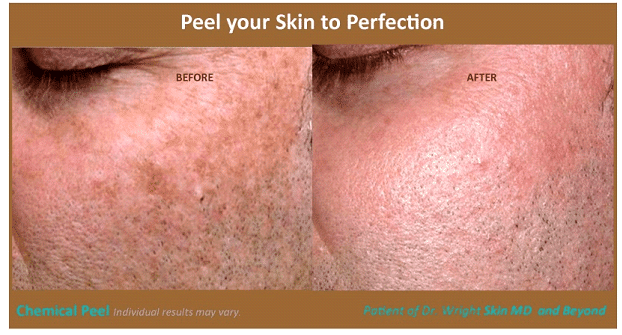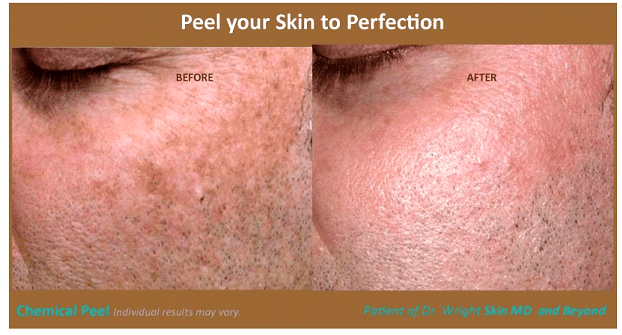 Our most commonly requested Chemical Peels incorporate naturally occurring "fruit acids" (alpha hydroxy acids), that are strengthening and brightening ingredients. These fruit acids will help exfoliate surface dead skin cells and improve over all skin health. At your consultation, our aesthetician will give you specific instructions for your chemical peel. Generally, we recommend that you start a regime of Retin-A and hydroquinone for a 6 week interval up to 2 weeks before your peel. The results will remove the top dull layer and allow healthier cells to come to the surface, improving your skin's health texture and appearance. These treatments stimulate collagen and elastin production in the skin, which helps to reduce sagging, wrinkling, and visible signs of aging making your appearance more youthful.
Laser Resurfacing
Laser Resurfacing is for people who want to look good – and want real results – but don't want the extended downtime that comes with a Surgical CO2 Laser Resurfacing. This non-invasive, clinically proven treatment can be easily managed into your weekly routine and can create real changes to your complexion that you just can't get from lotions and creams.
Our ReSurFX Laser Resurfacing device is a leading fractional laser that has revolutionized skin surface treatments for pigmentation and aging. The device places hundreds of thousands of microscopic columns in the skin, which will stimulate the production of new skin cells and collagen, leading to fresher and healthier skin. The ResurFX, designed to provide deep dermal treatments, can also be customized for a more superficial treatment to target surface pigmentation more specifically. It results in a very controlled and superficial peel of the skin, lifting pigmentation and improving skin texture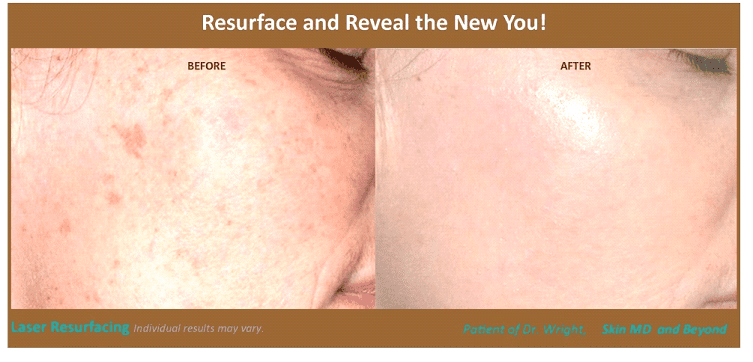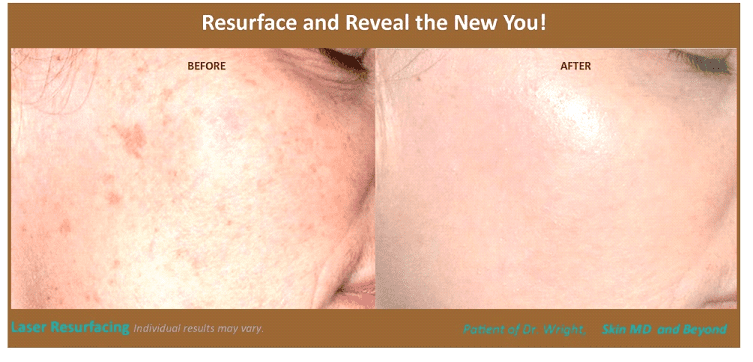 DermaPen -MicroNeedling
MicroNeedling is an excellent choice for people who are looking for an advanced treatment to address their textural skin issues and hyperpigmentation – but are not a good candidate for laser treatments. For those whose skin pigments easily when it is overheated, the energy/heat that is emitted from a laser treatment may be problematic. In the past there was not a reliable alternative treatment, but now MicroNeedling with DermaPen has changed that!
DermaPen is a state-of-the-art skin needling technology designed to create collagen remodeling and correct uneven skin texture and tone; fine lines and wrinkles; sun-damaged skin; scars and pigmentation. By stamping thousands of microscopic channels into the skin, quickly and comfortably, the dermis of the skin is stimulated to regenerate and repair itself naturally and safely. The fractional, automated stamp-like micro-needling motion of the Dermapen® minimizes pain and discomfort, while increasing the effectiveness of treatments. It does this by promoting an even absorption of special skincare ingredients into the skin that enhance your results!
Microdermabrasion/DermaSweep
Would you like to improve your texture, pores and pigmentation problems? Microdermabrasion and DermaSweeps can help with all these issues!
Microdermabrasion is the process of resurfacing away the top layer of the skin to a precise depth by the combination of an exfoliation and vacuum process. By removing dead skin cells, the deeper dermal skin is stimulated to produce collagen giving the skin a more supple rejuvenated and smooth appearance.
Virtually anyone can benefit from a microdermabrasion as this relaxing, safe, non-invasive technique can be used on all skin types!
DermaSweep is the next generation microdermabrasion, available only to licensed physicians, which combines precision brush tip exfoliation, infused customized skin solutions with variable vacuum pressure for the most precise, efficacious and comfortable skin treatments available. DermaSweep allows the skin to be gently drawn up by the innovative and efficient vacuum, while the customized bristles polish the skin to the desired level of exfoliation (depending on skin type) effectively and with less irritation.
Our innovative, efficient use of vacuum pressure and bristles are then customised for each treatment, depending on skin type, desired level of exfoliation and results. DermaSweep results in a clean, consistently effective treatment, and patients see a noticeable skin improvement, even after the first treatment. The result? – a very controlled superficial peel of the skin which will lift away pigmentation and improve skin texture.


RED FACE, FLUSHING and BLOOD VESSELS:
Recommended treatments
If you have sensitive skin that flushes way too easily, reacts to everything, a complexion that is "red-faced" or you have visible blood vessels scattered throughout your cheeks and chin – then read on to discover the best ways to rebalance and rejuvenate your skin back to its earlier days!
The causes of red skin can be a mystery for some. The most common causes for adults are
Rosacea
Sun-damage
Eczema and
Sensitive/Sensitized Skin.


Rosacea is a very common skin concern, particularly in women with lighter skin types. It is characterized by an excessive amount of redness in the skin, due to dilated blood vessels and traditionally it is a problem for those with sensitive skin and cannot tolerate regular anti-aging products or anything with harsh chemicals. (see section on Rosacea for a complete description).
Sun-Damage is a common problem in Texas and our faces show the most damage. With continuous sun exposure and lack of SPF sun protection, many people will notice unsightly telangiectasia (small threadlike blood vessels) that are harmless but can create a burning or stinging sensation and will make the skin quite sensitive. (see section on Sun Damaged Skin for a complete description)
Eczema has become two or three times more common in recent decades. It is more common in children and usually resolves before adolescence, but 2 to 10 percent of adults suffer with eczema lifelong. Eczema usually presents with dry skin that can become red, and will have scaly patches that can be quite itchy. The skin of people with eczema seems to be sensitive to many substances, including wool fabrics, laundry detergent residues, and certain cosmetic. (see section on Eczema for a complete description)
Sensitive/ Sensitized Skin is triggered by external factors (pollution in the air, chemicals in our water,
aggressive weather conditions, cosmetic ingredients and poor diet) that results in the breakdown of our skin's protective barrier. As a result, facial skin becomes dehydrated and red – and looks very similar to the three previous mentioned conditions. Is your skin sensitive or sensitized? Having truly sensitive skin is in your DNA and is a genetic predisposition where the skin is thin and blood vessels are close to the surface. A person with sensitive skin is prone to asthma and allergies, and eczema. Sensitized skin is not a type but a condition brought on by environmental triggers like pollutants and chemicals in the atmosphere, and from irritants found in many cosmetics and skin products, from harsh scrubs, and from improper cleansing habits at home. Sensitized Skin is in fact a growing concern and is becoming a common reason why patients are seeking help for their skin care concerns. It can affect any age or race, and any skin type, from dry skin to acne. (see section on Sensitive/Sensitized Skin for a complete description)
Skin Care
When treating sensitive and red skin it is important to avoid skin care products with chemical preservatives. Using more effective organic skincare products or products specifically formulated for sensitive and red skin can help greatly to calm and protect your skin against synthetic irritants. With our Fiona WRxIGHT MD Skincare we have created a specific skincare kit for rosacea and sensitive skin. To learn more about each product read on – or to purchase a trial sample or full skincare kit shop at www.RxBeautyBar.com to improve your complexion today!
Rosacea / Sensitive Skincare Kit; Designed to clarify, correct and protect your skin from the inflammation found in rosacea and sensitive skin, this system is ideal for skin rejuvenation and will aid in tissue repair. Includes:
Purifying Cleansing Mousse; A lightweight cleansing mousse ideal for all skin types. Featuring Mandelic Acid, it is designed to rid pores of debris, oil and bacteria without the irritation. Blended with Antioxidant Botanicals, this cleanser clarifies and makes an excellent choice for acne and rosacea skin concerns, as well as photo-aged and sensitive skin.
Purifying Citrus Cleanser; Fortified with Anti-oxidants, it will effectively help reduce aging, environmental damage and tissue breakdown, while Green Tea also provide a powerful combination of plant derived agents to support the hormonal stresses that women face on a daily basis. This light weight cleanser will leave your skin refreshed and radiant.
Zinc-Aid Toner; Clinical studies have shown that the healing properties of St. John's Wort extract is extremely effective in reducing and healing scar damage caused by acne and inflammation. Zinc-Aid Toner is ideal for skin rejuvenation as Niacinamide helps reduces pigmentation and Neroli stimulates new tissue growth.
Rehydration Complex with Vitamin C ; The powerful blend of Vitamin C, Hyaluronic Acid and Aloe Vera creates a gel-based formula which applies evenly, leaves no oily residue, and provides extra-healing capabilities and intense hydration. It works well under make-up and is ideal for those in humid climates, oily skin, or complexions that show afternoon shine.
Clear Skin Repair Cream; Niacinamide provides calming benefits to repair acne and pigmentation, while Aspen bark extract offers a natural infusion of salicylic acid (salyclin) which has analgesic, anti-inflammatory, calming, and healing properties. The perfect addition to your anti-acne and oily skin care routine, for revitalizing and visible results….clear skin.
As the sun is a strong trigger for Rosacea, an effective non-irritating sunscreen (minimum SPF 30) used daily is very important. Due to the sensitive nature of the skin, a chemical sunscreen should be avoided and instead use a physical sunblock (using zinc and titanium oxide). Two very popular sunscreens with our patients are Matte Finish Oil-Free SPF 30 and SPF 30 Sun Shield (100% certified organic).
PhotoFacial – IPL
Skin redness, tiny veins, red and brown blotches develop on the skin as a result of aging, sun exposure, and sun damage. Removal of these blotches and irregularities gives a more youthful appearance to the skin and can be achieved by PhotoFacial – IPL (Intense Pulsed Light) technology.
PhotoFacial is the "Go-To" treatment to correct the facial redness associated with rosacea, sun exposure and skin damage. PhotoFacial helps by two actions – first, the red facial veins absorb the light energy, which damages and dissolves the vessels away, improving your appearance. Secondly, the light energy warms the collagen fibers in the skin which stimulates new collagen and collagen remodelling, and this improves the support of the small blood vessels which helps to delay the development of new facial veins and redness.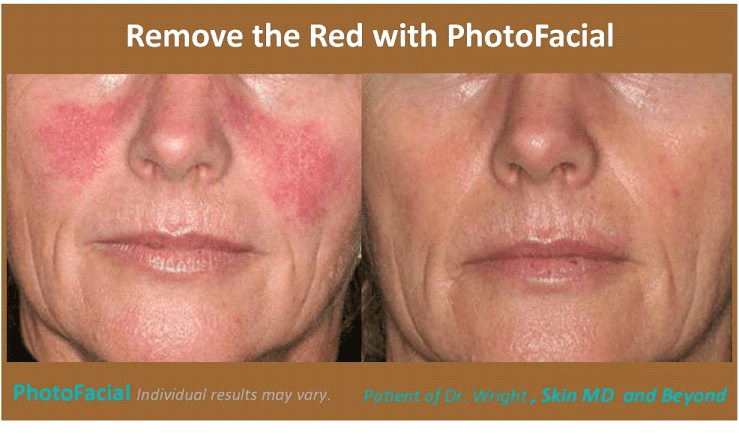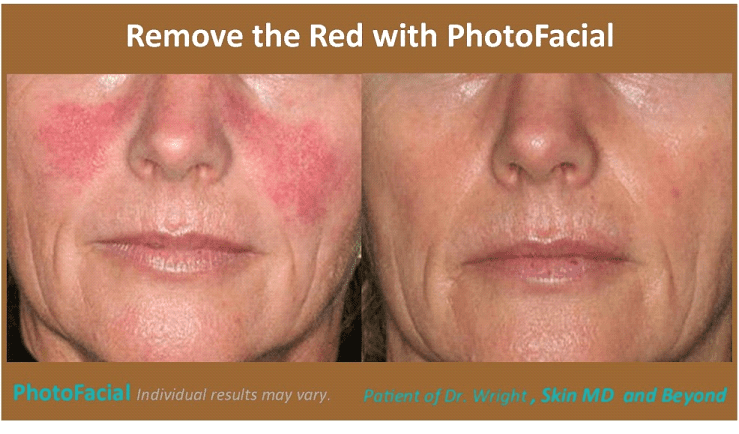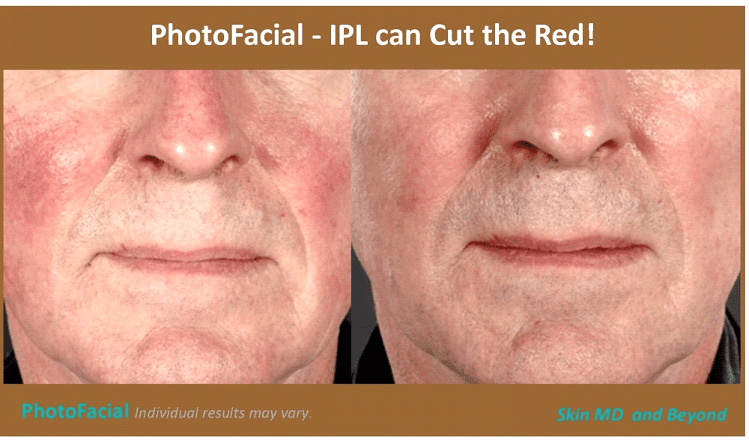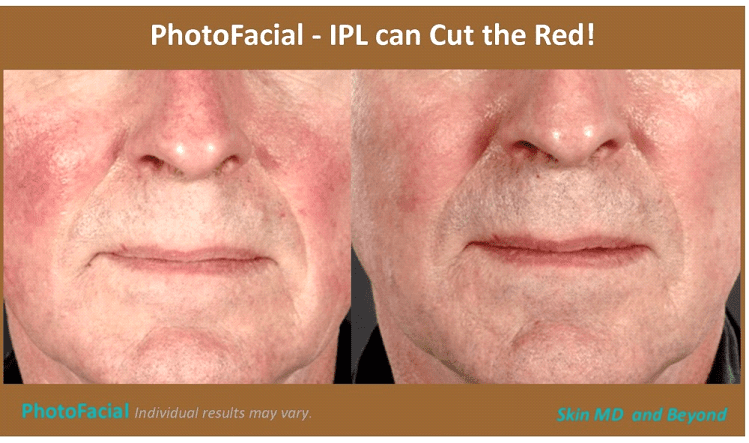 ACNE
Recommended treatments
 Skincare
Facials
Chemical Peels
Microdermabrasion/DermaSweep
Blu-U Light Therapy and Photodynamic Therapy
The Skin MD and Beyond Acne Treatment Program is the most comprehensive acne treatment program available to treat both active acne and acne scarring. We offer to you, the combination of the best traditional medical treatments and cutting edge technology with advanced aesthetic services which will provide you exceptionally effective acne treatments with fast results.
The goals of Skin MD and Beyond Acne Treatment Program are to target the causes of acne, clear up active acne, prevent further breakouts, eliminate any red or brown spots left from old acne papules, treat any residual scarring and to improve the overall appearance of the skin.
Dr. Wright will personally assess each patient's skin condition through a detailed skin and health history, review of previous treatments and skin examination.  After this comprehensive review she will design an individualized Skin Care Treatment Program for each patient. Our treatments include specialized face washes, gels and creams, systemic treatment (tablets) including antibiotics, hormonal treatment and as well as laser therapy and advanced aesthetic procedures as reviewed below.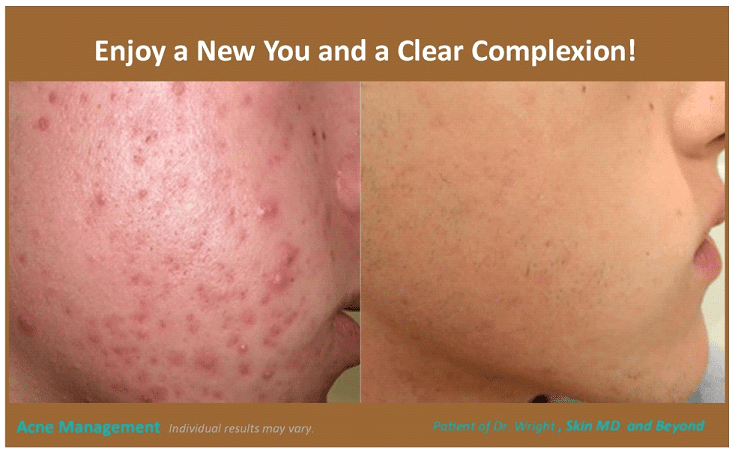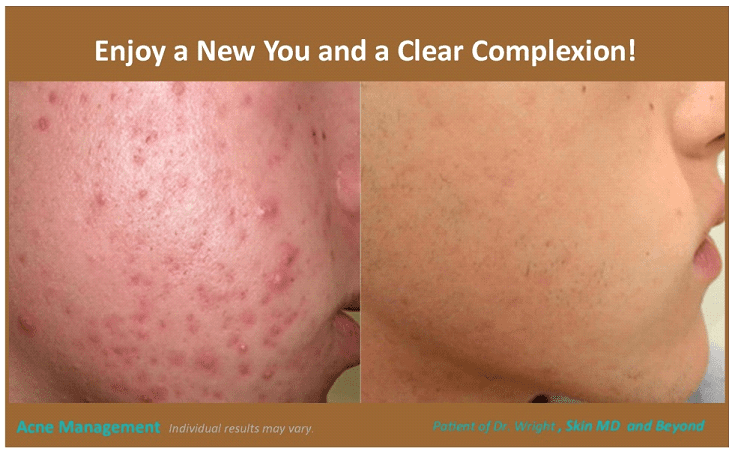 Skin Care
There is no "One-Type-Fits All" approach to acne. Acne management is a complex and challenging problem, and to help you reach Flawless Skin, Dr. Wright has formulated unique products for all degrees of acne and all skin types.
Fiona WRxIGHT MD Skin Care
Because we know acne is a serious matter, Dr. Wright not only offers several products that are non- allergic and non-acnegenic- but she also offers complete and specialized acne treatment system kits. Based on the most recent dermatology developments, she has formulated skin care systems that will attack the acne bacteria and significantly reduce acne breakouts. These simple and easy to use products will help you get rid of your acne for good. Clear skin is just a few steps away, and those steps are as easy as 1-2-3.
Helping clear existing acne
Preventing new acne from forming
Improving skin tone and the appearance of existing acne scar
Acne is notorious for affecting almost everyone – and not just teenagers! To help you put a stop to your acne with effective acne skin care products choose items below- from our highly effective cleanser to our popular Clear Skin Repair Cream, Fiona WRxIGHT MD Skincare can help people of all ages find relief from acne.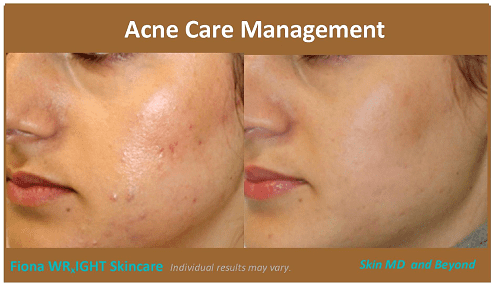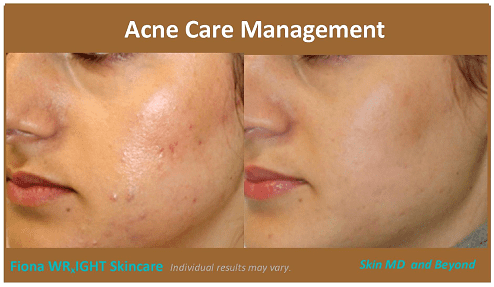 Prescription Medications
There are many prescriptive options for acne treatment, and it is important to realize that acne is an ongoing process that takes time. If one treatment does not work, you may need to switch to another. There is no cure for acne, but it can be controlled in most cases. Dr. Wright will work with you to find the right product, treatment, or combination of both to suit the severity of your skin condition. The various topical prescriptive treatments include:
 Benzoyl Peroxide
Salicylic Acid
Retinoids
Azelaic Acid
Topical Antibiotics
Topical Sulfa
Topical Dapsone
If your acne is not responding to topical treatments alone, Dr. Wright may prescribe an oral prescriptive medication. Oral medications such as antibiotics, hormone modulators, and Isotretinoin (Accutane) have been proven to be very effective in treating acne by improving current acne breakouts and preventing reoccurrences.
Facials
Medical Grade Acne Facial Treatments use products with the highest activity levels available to address multiple skin care concerns. Custom preparations combining a wide range of enzymes and polyhydroxy acids are used to treat each individual patient. During your treatment our licensed aestheticians will address the many concerns of acne – from hormonal changes, bacterial infections and imbalances in your body chemistry. Additional services can be customize by including extractions, enzyme peels and certified organic products.
Reparative Oxygen Treatment is a specialized procedure delivering medical grade oxygen to the skin to improve skin oxygenation, decrease bacterial growth and promote healing. When oxygen is introduced to the skin at this cellular level, it assists in cell regeneration, and has healing/ detoxifying qualities which will remove impurities and pollutants left on the skin from the outside environment. Oxygen will also adhere to the collagen and elastin molecules, thereby increasing the strength of the collagen and elastin fibers – and improve your skin's suppleness. This procedure can be done in conjunction with a Medical Grade Acne Facial Treatment.
Chemical Peels
Waiting for acne to clear on its own can be frustrating. Without treatment, acne can cause permanent scars, low self-esteem, depression, and anxiety. The American Academy of Dermatology promotes Chemical Peels (using natural acids) as a supplemental treatment with high patient satisfaction. However even though acneic skin might be oily, it can also be sensitive. Professionals working on patients with acne need to remember this, and consider using a more customized and controlled technique to remove oils and dead skin layers.
Chemical Peels are topical preparations including lactic acid, glycolic acid and salicylic acid which act to improve acne, skin surface texture, superficial scarring and help to eliminate oil plugs to decrease blackheads. Peels can be a simple, fast and highly effective way to achieve radiant skin for a special event and can also be used to dramatically lessen the effects of more serious skin conditions.
A series of peels are recommended to treat acne. We offer five different types of peels and during your consultation advice will be offered on choosing the correct peel for your concerns.
Microdermabrasion and DermaSweeps
These relaxing exfoliating superficial type of treatment using very fine crystals(microdermabrasion) or customized bristles(DermaSweep) to remove the dead outer layer of the skin resulting in a smoother skin surface. During your treatment customized masks, ampoules and dermal infusions can also be applied to treat the deeper skin levels where the acne begins and to address your specific concern.
Acne Serum – with Salicylic Acid for active acne and clogged pores.
Exfoliating Serum- with Glycolic Acid for oily skin
Lightening Serum- with Hydroquinone, Azelaic acid and Kojic acid to remove pigmentation
caused by acne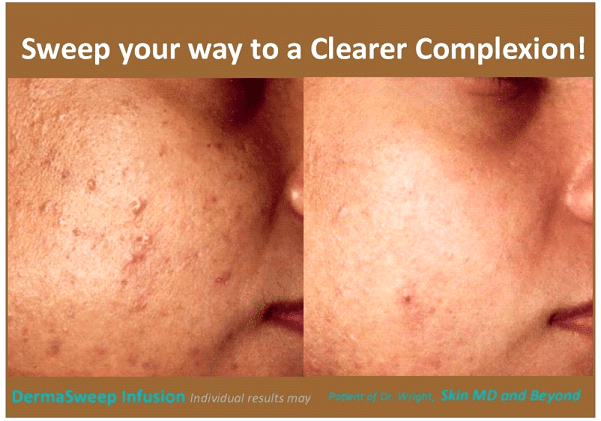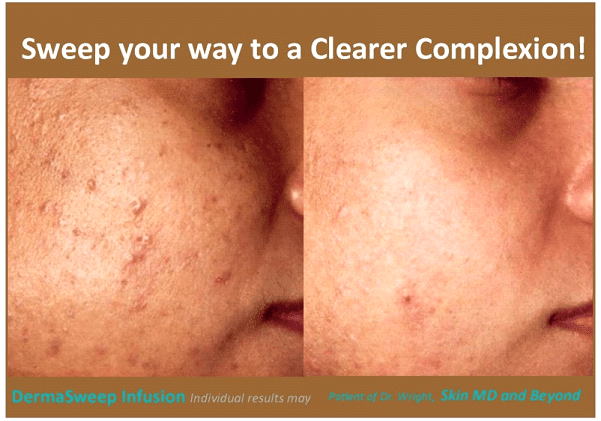 Blu-Light Acne Therapy
Blue Light Acne Treatment is a faster solution to clearing acne than traditional oral and topical medication alone. By using light to kill acne bacteria, results are apparent more quickly. This extremely safe treatment can control your acne or clear it up for a long period. Treatments are simple – you simply sit with your face close to the light for approximately 15 minutes. The procedure is noninvasive & pain-free. Once the treatment is done, patients can return to their daily routine. Typical schedules for patients are twice weekly for 8 weeks. The BLU-U system by Dusa effectively clears 50% of moderate, inflammatory acne in 4-8 weeks. Results are especially impressive when used with conventional treatments, such as topical creams and oral antibiotics. Dr. Wright may recommend exfoliation treatments such as Vitality Vitamin A Peel along with your BlueLight Treatment to clear the skin of the dead cell plugs and blackheads.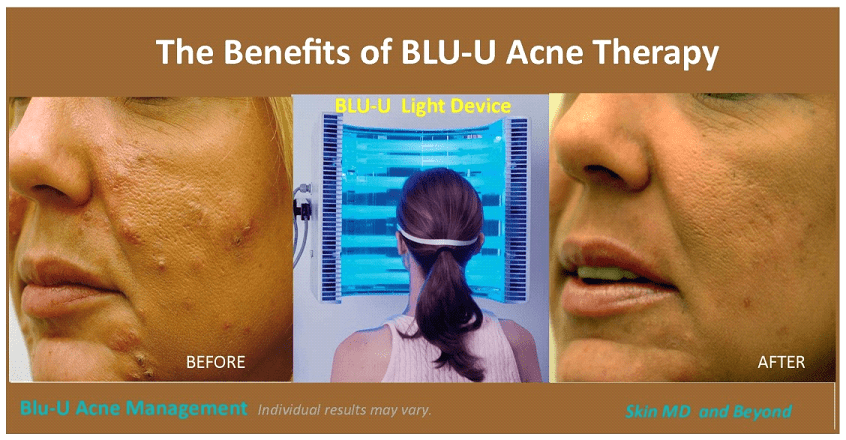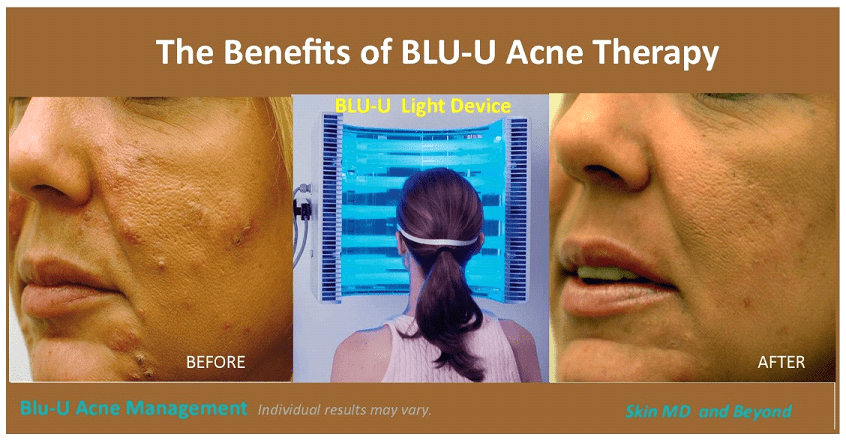 Photodynamic Therapy
Newer non-traditional therapies like Photodynamic Therapy with Blu-U Acne Light is a very popular treatment as it deliver excellent results without requiring the use of oral medications. The Blu-U Light therapy uses blue light to kill bacteria and quiet inflammation. There is no pain or downtime with this treatment. Photodynamic Therapy is used for moderate to severe acne, including cystic, and requires a prescription liquid called Levulan to be applied to the skin prior to the Blu-U treatment. Treatments are able to be customized by choosing the appropriate light therapy device to reduce acne as well as improve your facial tone, color and texture. Patients have experienced wonderful results after a series of 2 to 5 treatments. Results are long-lasting and can be permanent when continuing on a simple at home skin care routine.
SCARS and ACNE SCARS:
Recommended treatments
 Microdermabrasion/DermaSweeps
Chemical Peels
TCA Cross Treatment
Facial Fillers
Laser Resurfacing
MicroNeedling
PhotoFacial-IPL
While many people recover from acne without any permanent effects, some people are left with acne scars that have resulted from their acne. There is considerable variation in types and degrees of acne scars/acne scarring from one person to another but the emotional turmoil this condition causes is shared by all.
Why choose SKIN MD and Beyond for your Scar Correction Treatments?
SKIN MD and Beyond's longstanding experience in non-surgical cosmetic treatments means that we are the ideal choice if you're thinking about undergoing scar/ acne scar treatment. Scarring is a physical condition that can have a huge psychological impact. It affects all ages and can destroy self-confidence, affect relationships and even shape the way people live their lives. SKIN MD and Beyond has developed one of the most effective and comprehensive scar treatment programs currently available.
Dr. Wright personally assesses each patient's skin condition through a detailed skin and health history, review of previous treatments and skin examination. She will help assist you in your decision about which treatment will best suit your goals and lifestyle. Due to the large number of treatments available, a consultation will help you decide which best treatment suits you. Overall, there are a number of treatments that are effective in the treatment of scarring. As a rule, the more invasive the procedures will yield better results with fewer treatments, but will require more.
The most common types of Acne Scars are:
Ice Pick Scars – Ice pick scars are narrow, sharp scars that make the skin appear that it has been punctured with an ice pick. They are usually narrower than 2 mm and extend into the deep dermis or subcutaneous layer. They are the most common and a classic sign of acne scarring.
Boxcar Scars – Boxcar scars are round to oval depressions that have sharp vertical edges. Unlike ice pick scars they do not taper to a point at the base. Theses angular scars usually occur on the temple and cheeks, and can be either superficial or deep, these are similar to chickenpox scars.
Rolling Scars – Rolling scars occur as a result of tethering of otherwise normal-appearing skin to the subcutaneous tissue below. This process gives the skin a rolling or wave-like appearance.
Hypertrophic Scars – Hypertrohphic scars develop when the skin produces excess collagen as the injury heals, creating a raised mass of tissue.


Other Scarring Includes;
Keloid scars – where the size of the scar is significantly raised, red/purple, and disproportionate to the size of the initial trauma caused by the acne.
Deep divots – these are simply very deep scars that involve loss of subcutaneous tissue volume and result in a large divot.
Macular scars – After an acne lesion has healed, it can leave a red or hyper pigmented mark on the skin. This is actually not a scar, but rather a post-inflammatory change. The redness or hyper pigmentation is seen as the skin goes through its healing and remodeling process, which takes approximately 6-12 months. If no more acne lesions develop in that area, the skin can heal normally. Any color change or skin defect still present after 1 year is considered to be a permanent defect or scar. This type of acne scarring is characterized by flat areas of increased and decreased pigmentation or redness as a result of acne. Although there are not any indentations in the skin or raised scars, this is considered as a scar by many patients who have this problem.
Microdermabrasion/DermaSweeps
Microdermabrasion/DermaSweeps are a superficial type of treatment using very fine crystals (microdermabrasion) or Customized bristles ( DermaSweep) to remove the dead outer layer of the skin resulting in a smoother skin surface. The procedure takes 30 minutes and patients can immediately return to regular activity. Only the very surface cells of the skin are removed, so no additional wound is created. These techniques can be helpful with mild acne scarring. Generally, more than 12 treatments are required and the results are usually slight, and certainly a lot less dramatic than the other treatments mentioned above. To learn more click here.
Chemical Peels
Chemical Peels use a chemical solution to burn away the fine outer layers of the skin. These topical preparations including lactic acid, glycolic acid and salicylic acid which act to improve skin surface texture and pigmentation. The solutions are available in several strengths, depending on the degree of peeling desired. Healing can take from 3-7 days until a new, smoother layer of skin is then formed. . Generally, these medium to deep chemical peels are required to achieve a significant result, but a series of more superficial chemical peels could help achieve some improvement in milder acne scarring without significant downtime. To learn more click here.
TCA CROSS Technique
For ice-pick scars, there is a technique called TCA Cross. This involves careful placement of high concentrations chemical called TCA (trichloroacetic acid) into the ice-pick scar. This stimulates the production of new collagen and remodelling of existing collagen to fill in the acne scar. The advantage of this treatment is that it is localized to the problem only and not the unaffected skin.
TCA has been used for over 50 years to rejuvenate and repair the skin in a variety of conditions. The CROSS Technique, (Chemical Reconstruction of Skin Scars) using 80-100% TCA, has the advantage of reconstructing acne scars by focusing on the dermal thickening and collagen production that occurs with higher TCA concentrations. Due to the high concentrations of TCA used, this procedure is performed only by Dr. Wright. Local anesthetics or sedation are not needed for CROSS. Mild stinging is usually encountered, easily controlled with an electric fan. An antibiotic ointment is applied to the treated areas after the procedure, and used as needed until crust formation occurs. The skin will be cleansed daily with a non-drying cleanser and moisturized with a moisturizer-sunscreen. The application of mineral based makeup is allowed after CROSS. CROSS is repeated every 4-6 weeks until maximal change is achieved.
Repeated CROSS application can help normalize deep rolling and boxcar scars, and deep ice pick scars, but it is likely that other procedures may be included to obtain the most change. The degree of clinical improvement in the original study was proportional to the number of courses of CROSS treatment, with good improvement after three to six courses being recorded in more than 90% of cases. This technique can also treat chicken pox scars and dilated pores, as well as reconstructing depressed surgical scars.
The CROSS Technique is another color on the palette of therapies for acne scars and other depressed surgical scars. A consultation will be necessary to evaluate each patient's needs and develop a comprehensive and individualized approach to scar rejuvenation.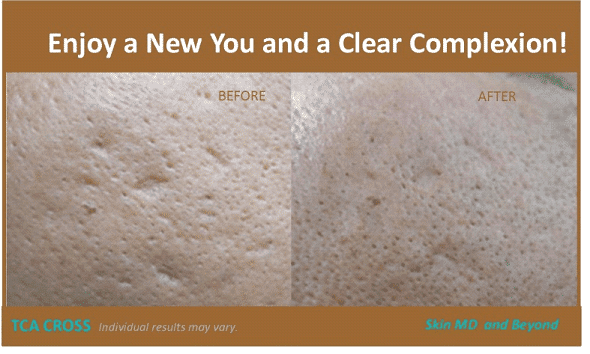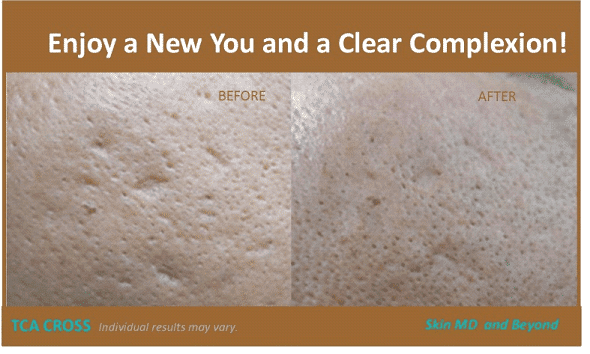 Dermal Fillers
About 80% of us have been affected by acne at some time in our lives and acne scarring can be an unsightly reminder of having to deal with that condition. Today, Facial Fillers offers a solution to reduce acne scars by placing filler under the scar to plump up the surface to the level of the skin around the scar. Though this treatment needs to be repeated to maintain the desired effect, the procedure is simple with little discomfort and the results are immediate.
Injections with Belotero and Restylane(hyaluronic acid) are good treatments for shallow and deep acne scars. These naturally-occurring fillers can be injected under the area of the scar to "stretch" and "fill out" certain types of superficial and deep soft scars. Dermal fillers usually does not work as well for ice-pick scars and keloids. Results are immediately apparent and patients usually require touch-up treatments every six months to two years. To learn more click here
Laser Resurfacing
Lasers have become the treatment of choice today for acne scars and Skin MD and Beyond is leading the way in offering patients a comprehensive program. To ensure that patients achieve the results they want, Dr. Wright offers multiple laser options to effectively treat these skin texture issues.
Lasers work by stimulating collagen production in the skin, thereby smoothing out scars. This can be accomplished in a non-ablative fashion (without removing tissue), ablative fashion (vaporizing or removing outer layers of skin) and in a microablative technique (microscopically removing tissue).
ResurFX Laser Resurfacing
The microablative or fractional method of resurfacing skin which the ResurFX Laser uses has revolutionized the treatment for acne scars has become the gold standard today. As well, the ResurFX Laser is not only the treatment of choice for acne scars but it is also able to treat a wide variety of skin conditions such as wrinkles, skin laxity, and photo damage.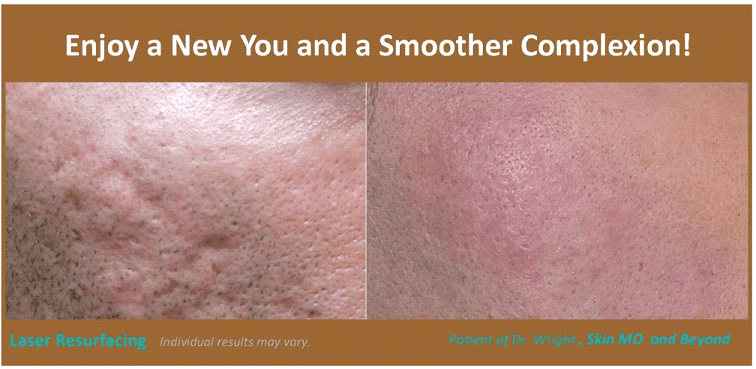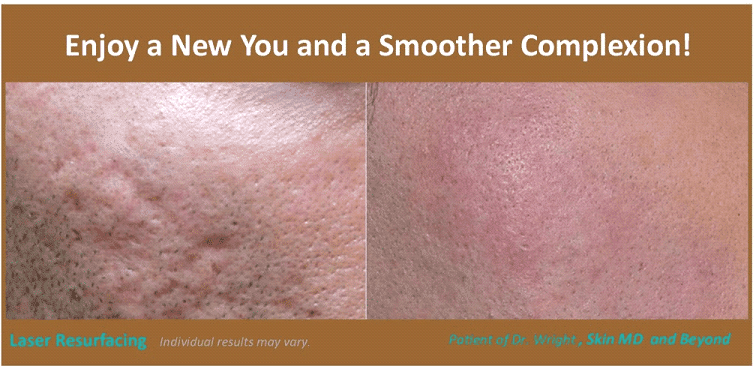 This laser works by smoothing the scar ridges and encouraging collagen growth beneath the scar. The ResurFX laser uses the latest technology in skin resurfacing by treating the skin with microbeams of laser light. Because these microbeams only target a pin-dot size of skin tissue at a time, the untouched skin surrounding the treated skin protects the integrity of the epidermis and healing occurs quite quickly.
Acne Scars are treated with a series of procedures. Five to six treatments may be required to show positive effects. Because the collagen response is seen over time, final treatment results are usually seen between 6 and 12 months after the last procedure. Patents may choose more aggressive treatments for faster results, but should expect several days of downtime with higher level treatments.
Micro Laser Peel
In the past, traditional full resurfacing (ablative) techniques would peel down to a 120 micron depth of skin. As a result, the skin would become red, swollen, and weepy and patients are off of work for a minimum of a week, and the redness frequently would persist for 1-2 months. In today's busy world, most people cannot stay away from work for the week and cannot tolerate one to two months of redness.
The new Micro Laser Peel treatment is another new addition to today's anti-aging arsenal as well as scar treatment. Micro laser resurfacing treatments, are microablative treatments specifically designed to peel the skin layer by layer, allowing Dr. Wright to control the depth of skin removed. Each level (20-50 microns) provides a different end result, adjustable to fit the lifestyle needs and end desires of the patient. In comparison, microdermabrasion and glycolic peels, typically performed by an esthetician, are an ideal "polishing" procedure which can reach a depth of 10-15 microns. Because Micro Laser Peels are a "weekend" skin peel which goes deeper into the epidermis, it is the perfect "next step-up" from Microdermabrasions and Chemical Peels.
To learn and find out why SKIN MD and Beyond is recognized as a national expert with the Whisper Micro Laser Peel, watch Dr. Wright in a live demonstration on the televised show ABC American Health Front. Click Here.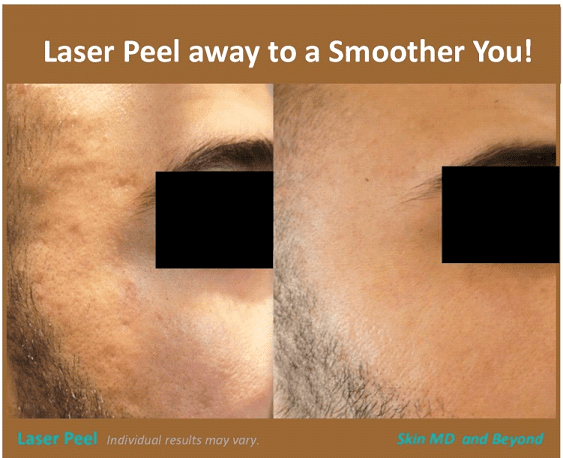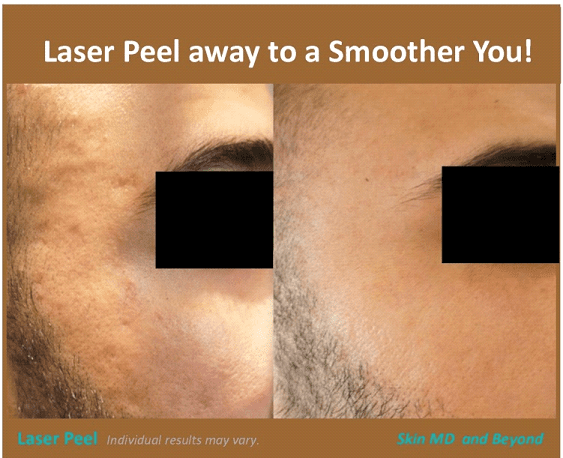 The healing process varies from patient to patient but will generally take from two to four days. The procedure can be performed on Thursday or Friday and you can return to work the following Monday. Immediately following the procedure you will feel as if you havea bad sunburn. You will have minor sloughing and itchiness the following day. By day two, redness will begin to fade and by day three any redness can be easily covered by makeup.
The Whisper Micro Laser Peel is used for the treatment of wrinkles, the improvement of scars, and in the general rejuvenation of skin. At the time of your consultation a medical questionnaire and assessment will be completed and Dr. Wright will set up a treatment plan including the depth of the peel and the number of peels required to achieve the desired results. Dr. Wright may recommend up to five treatments done monthly.
MicroNeedling – DermaPen
DermaPen therapy provides advanced micro-medical skin needling. It is a procedure that stimulates the skin to regenerate and repair itself naturally and safely creating smoother, brighter, healthier and younger looking skin. The fine needles on an oscillation platform and will penetrate into the skin tissue, below the outer stratum corneum layer of the epidermis. In this living tissue there is a target area of epithelial cells, blood supply, nerve cells, extra cellular matrix collagen, elastin and fibroblasts that all produce and repair certain parts of the body. By causing a trauma to the skin it creates a wound healing response within the dermis and this will encourage new collagen in the areas that are treated.
Most people are suitable for the DermaPen treatment, including all skin types. Dr. Wright recommends that patients have 3 procedures approximately 6-8 weeks of each other. For deep acne scarring it may be necessary that the client has up to 6 treatments. It can take up to 6 weeks before visible results can be seen.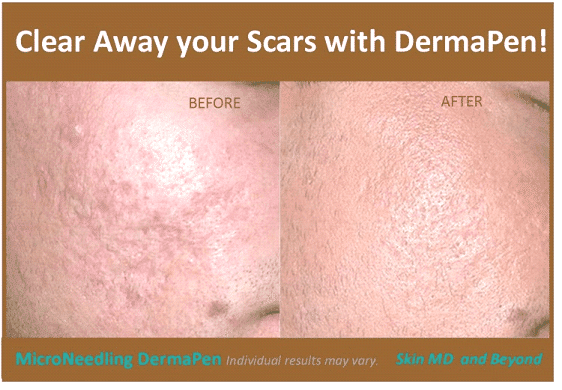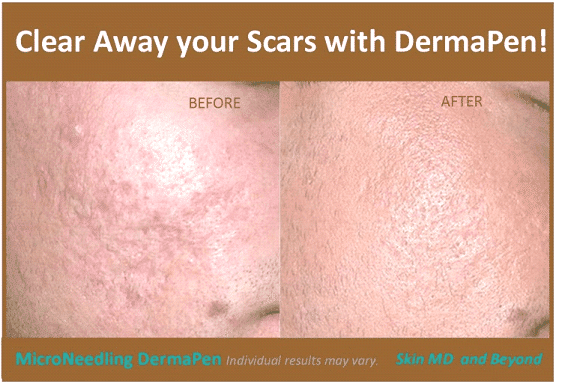 Photofacial-IPL
Pigmentation and vascular changes are a result of inflammation caused from acne and Photofacial is an ideal treatment to decrease these red and brown discolorations. PhotoFacial uses multiple wavelengths of light to gently remodel the collagen and is used to eliminate superficial skin color irregularities. This treatment is best suited for flat (macular) scars where the main problem is pigmentation changes rather than changes in the skin texture. In many cases, it is important to ensure that any active acne is under control prior to treating acne scarring, as the changes to the skin caused by acne can persist for a long time.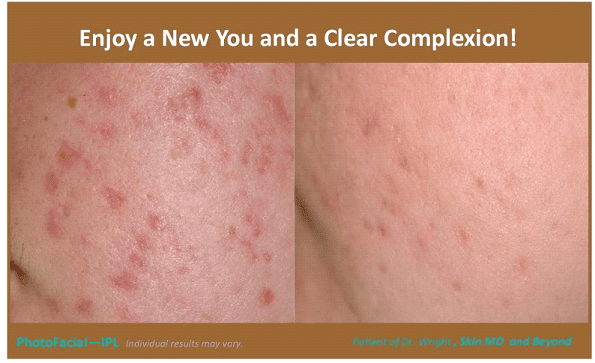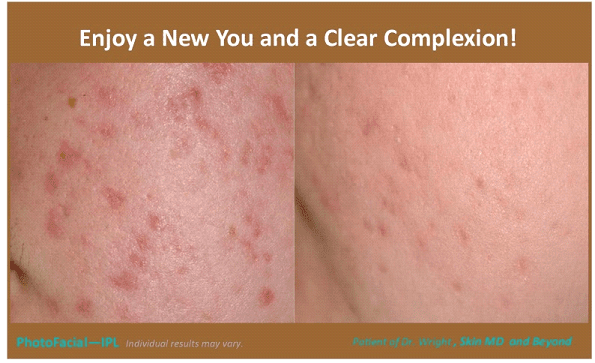 Trauma and Surgical Scars
Scars from accidents or surgical procedures can be painful visual reminders of what you went through as well as being disfiguring. A series of ResurFX fractional laser treatments can help soften and minimize the appearance of these scars. Unlike other lasers, the ResurFX can treat all skin types and tones and works on your entire face: forehead, eyes, nasolabial folds, lip lines, chin and even the neck, chest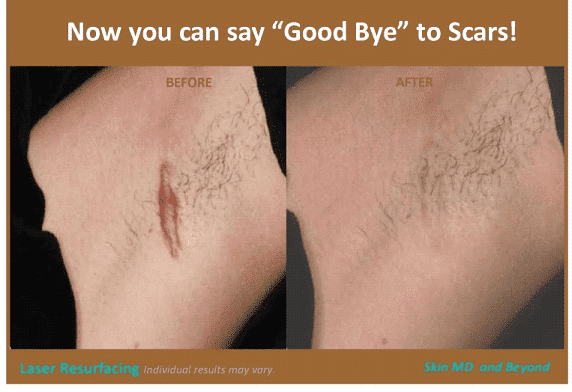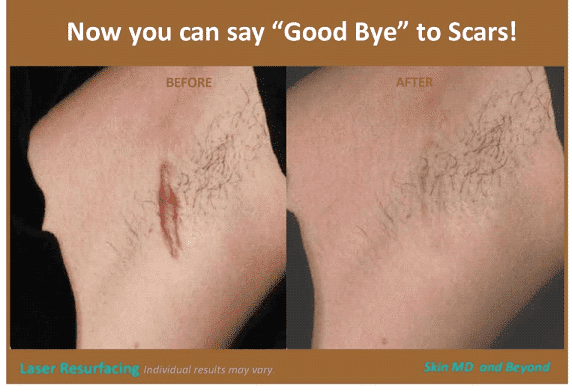 LUMPS, BUMPS, and MOLES
At some time in our life, we have all had a concerning spot show up on our skin, or may have had a multitude of marks that appear on the surface of the skin, particularly the face. Some concerns may be very innocent (skin tags, milia, seborrheic keratosis, warts) and can be removed for cosmetic reasons only. See information at Forehead: Lumps, Bumps and Moles.
Others spots, although not cancerous, may still need to be removed for medical reasons. See information Cheek: Lumps, Bumps and Moles.
But the most important spots that require close attention are moles. Most people have moles. They appear as brown 'spots' of varying sizes on the skin. They can be flat or raised, big or small. Usually they are quite round but can sometimes be irregular in shape. Medically moles are called 'naevi' (or nevi) with one mole being a 'naevus' (or nevus).
Moles can be present at birth and very often more develop as people age, normally as a result of exposure to the sun. Moles are a collection of pigment containing cells called melanocytes within the skin and their presence should not cause any concern or serious problems. However, some moles can go on to develop one of two conditions called 'non malignant melanoma' and 'malignant melanoma'. It is the signs that show that these moles might be changing that we all need to be aware of.
What are the Signs that a Mole is Changing?
The border may become irregular, uneven or blurred
There may be a change in colour
An increase or decrease in size and elevation
It could be itchy or painful
Bleeding
Everybody should examine their moles on a regular basis to look for any changes to moles that are already there or the appearance of new ones, particularly if there is a family history of skin cancer.
Non-melanoma skin malignancies are quite common, affecting up to 1 in 6 of the population, predominantly in those who have had sun exposure during their lives (sun-bathing, outdoors sport,
gardening, living in hot countries etc.)
Squamous Cell Carcinoma (SCC) is very common in people with fair skin and is often found on the face or areas of the body that are continually exposed to the sun. Most often SCC is curable provided it is diagnosed early and treated.
Basal Cell Carcinoma (BCC) is related to excess exposure to Ultra Violet light and is commonly found on the face or areas of the body that are continually exposed to the sun. It is slow growing and is usually
noticed and treated before it can cause a problem. Very rarely, if it is left untreated, it can grow big enough to cause structural damage and extremely rarely it can eventually be life threatening.
Both SCC and BCC are common and are related to sun exposure. They are both slow growing and so give plenty of time to be noticed and for treatment to be sought. Provided they are treated, the outcome is
usually excellent. They usually only cause a problem when they are ignored and are allowed to continue to grow for years.
Malignant melanoma is the most dangerous type of skin cancer. It can appear on normal skin or it may start out as a mole or an area that has changed in appearance. It can be found anywhere on the body and often spreads very rapidly. It is the less common type of skin cancer but it is the leading cause of death from skin disease. Melanoma is related to sun exposure, particularly among those with fair skin,
blue or green eyes and red or blonde hair. Latest figures suggest that the lifetime risk of getting a malignant melanoma in the USA it is about 1 in 60.
What is Mole Mapping/Mole Screening?
Mole mapping is an advanced method for early diagnosis of skin cancer. With a specialist medical camera, a Clinician will take microscopic pictures of a patient's moles. Each mole is analyzed and images are measured and digitally stored to refer back to. There are two methods of scanning that can be used.
Total body mapping is for people who have a large number of moles that need to be monitored. During the appointment, 16 images are taken that covers the whole of the body and any large or suspicious moles are highlighted. Patients are then asked to return back to the Clinic 3 – 6 months later for a follow-up appointment. During this follow-up appointment, a further 16 images are taken and then they are
digitally compared to the original images to identify any changes that have occurred. This is an excellent way of keeping a regular check on moles to identify any changes or increase in numbers. The outcome from malignant melanoma depends on its depth – NOT its size. Therefore, the earlier it is caught and treated, the more superficial it is likely to be and the better the prognosis. Skin cancers are often curable if diagnosed early so procedures such as mole screening and mole mapping play an important part in detecting such changes in time to successfully treat them.
Dr. Wright works very closely with several skin care experts that specialize in Mole Mapping and Surgical Excisions of moles, and will provide referrals upon request.