Recommended treatments
Skincare
PhotoFacial-IPL
Chemical Peels
Laser Resurfacing
MicroNeedling
Microdermabrasion/DermaSweep
Skin Care
Hyperpigmentation is also known as 'age spots' or brown patches and is caused by many factors. These factors include sun damage, ageing, hormonal fluctuations such as pregnancy, the contraceptive pill as well as acne. They are superficial marks on the surface of the skin that are brown or black in color and are sometimes also known as 'liver spots'. It is usually caused by exposure to the sun and generally appear on areas such as the hands, face, shoulders and arms.
To remove this concerning pigmentation, clinic procedures are usually required and at Skin MD and Beyond we offer a wide array of treatment options for many different conditions. Our skincare professionals provide a comprehensive consultation and will advise on the treatment[s] that are most suited to you.
But, for those who do not have the time, or want to first try an at-home skincare regime, Dr. Wright has formulated several products, designed for all skin types to help with the many causes of age spots and pigmentation. To get started today, log on to www.RxBeautyBar.com and find the Fiona WRxIGHT MD Skin Care products that will lead you back to a flawless complexion.
Dr. Wright's most popular products are Radiance (see write up under Cheek Rejuvenation: Age Spots and Brown Spots) and her Complexion Perfection Lotion and Pads.
Complexion Perfection Lotion is a powerful, yet gentle formulation designed to balance skin tone and fade discoloration. This lotion contains a blend of brightening botanical ingredients such as Kojic Acid, Arbutin and Bearberry Extract known to inhibit pigmentation formation. Additional ingredients include Sodium Hyaluronate, Indian Gooseberry Extract which soothes and calms the skin while Vitamin E and C protects the skin from damage caused by environmental pollutants. The Complexion Perfection Lotion is hydroquinone free, alcohol-free, acetone-free, and best suited for patients with hyperpigmentation, melasma or other pigmentation issues including acne scarring. For patients looking to receive the clinically-proven lightening benefits of Hydroquinone, a 2% concentration can be added to your lotion.
Complexion Perfection Pads are an ideal choice for people who suffer from dark spots caused by acne or have oily skin. These specially formulated treatment pads combine a potent blend of the purest 10% Glycolic, Witch Hazel, and Retinyl (Vitamin A) which will shrink your pores, reduce dullness and create an even skin tone and texture. The protective ingredients of Co Q10 with the calming benefits of Green Tea extract will also help reduce redness in the skin to leave it looking radiant and refreshed! Ideal for those with oily, aging, and acne-prone skin who want to reduce pores and renew dull, wrinkled skin.
Photofacial- IPL
Many of us do a lot of damage to our skin in the summer, so we need as much help as possible to remove the brown spots and age spots that plaque us. If you are exploring new ways to address your uneven skin tone cause by acne or pregnancy, then our Lumenis M22 PhotoFacial- IPL (Intense Pulse Light)Treatment is your solution!
Does the type of IPL treatment matter? Absolutely! Not all IPL results are the same because not all IPL systems are safe and effective. And, unlike many practices, where your complete care is delegated to a nurse or aesthetician, our practice philosophy has always been to have Dr. Wright personally consult all treatments prior to starting.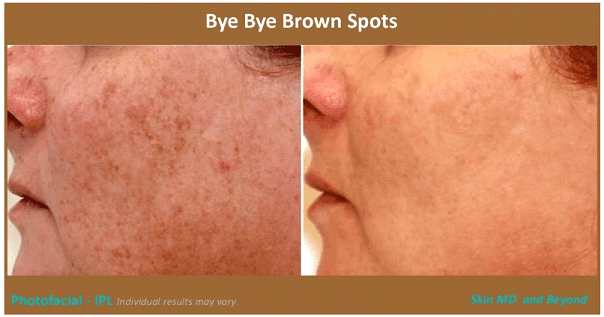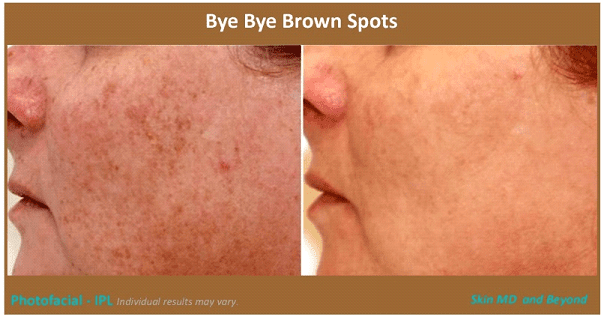 As commented by RealSelf.com, the M22 Photofacial was invented by the company that created and introduced the IPL technology to the aesthetic world. With over 22 different modular applications the M22 Photofacial enables Dr. Wright to treat more types of patients and conditions with better outcomes.
By helping to remove pigmentation and broken capillaries, the result is overall more even, luminous younger looking skin. The process is ideal for patients with active lifestyles because the procedure requires no downtime and has low risk of side effects.
With its exclusive OPT technology, it provides the optimum choices to deliver the appropriate pulse for any application. With its advanced technology, we are able to control the pulse shape of the light in order to allow the best results and reduce the chances of skin damage. The results speak for themselves – when two thirds of our clients are referrals from existing happy and satisfied clients!
Chemical Peels
Chemical Peels are a highly effective treatment, specifically designed to lighten the discoloration caused by hyperpigmentation. A chemical peel use a medical grade chemical solution to improve and smooth the texture of the facial skin by removing its damaged outer layers. It is helpful for those individuals with facial blemishes, wrinkles and uneven skin pigmentation. This is a simple, non-surgical way to achieve a smooth, healthy glow.
There are a variety of peels, formulations, and strengths that can be tailored to your needs. If you require a short recovery period without a lot of visible peeling, you might choose to have a light glycolic or salicylic acid peel. A medium depth peel, is good to target pigmentation in the epidermis as well as the top layer of the epidermis with a few days of visible peeling. Or you may choose a deep chemical peel such as trichloroacetic acid peel which can have several days of downtime but long-lasting dramatic results!
Our most commonly requested Chemical Peels incorporate naturally occurring "fruit acids" (alpha hydroxy acids), that are strengthening and brightening ingredients. These fruit acids will help exfoliate surface dead skin cells and improve over all skin health. At your consultation, our aesthetician will give you specific instructions for your chemical peel. Generally, we recommend that you start a regime of Retin-A and hydroquinone for a 6 week interval up to 2 weeks before your peel. The results will remove the top dull layer and allow healthier cells to come to the surface, improving your skin's health texture and appearance. These treatments stimulate collagen and elastin production in the skin, which helps to reduce sagging, wrinkling, and visible signs of aging making your appearance more youthful.
Laser Resurfacing
Laser Resurfacing is for people who want to look good – and want real results – but don't want the extended downtime that comes with a Surgical CO2 Laser Resurfacing. This non-invasive, clinically proven treatment can be easily managed into your weekly routine and can create real changes to your complexion that you just can't get from lotions and creams.
Our ReSurFX Laser Resurfacing device is a leading fractional laser that has revolutionized skin surface treatments for pigmentation and aging. The device places hundreds of thousands of microscopic columns in the skin, which will stimulate the production of new skin cells and collagen, leading to fresher and healthier skin. The ResurFX, designed to provide deep dermal treatments, can also be customized for a more superficial treatment to target surface pigmentation more specifically. It results in a very controlled and superficial peel of the skin, lifting pigmentation and improving skin texture
DermaPen -MicroNeedling
MicroNeedling is an excellent choice for people who are looking for an advanced treatment to address their textural skin issues and hyperpigmentation – but are not a good candidate for laser treatments. For those whose skin pigments easily when it is overheated, the energy/heat that is emitted from a laser treatment may be problematic. In the past there was not a reliable alternative treatment, but now MicroNeedling with DermaPen has changed that!
DermaPen is a state-of-the-art skin needling technology designed to create collagen remodeling and correct uneven skin texture and tone; fine lines and wrinkles; sun-damaged skin; scars and pigmentation. By stamping thousands of microscopic channels into the skin, quickly and comfortably, the dermis of the skin is stimulated to regenerate and repair itself naturally and safely. The fractional, automated stamp-like micro-needling motion of the Dermapen® minimizes pain and discomfort, while increasing the effectiveness of treatments. It does this by promoting an even absorption of special skincare ingredients into the skin that enhance your results!
Microdermabrasion/DermaSweep
Would you like to improve your texture, pores and pigmentation problems? Microdermabrasion and DermaSweeps can help with all these issues!
Microdermabrasion is the process of resurfacing away the top layer of the skin to a precise depth by the combination of an exfoliation and vacuum process. By removing dead skin cells, the deeper dermal skin is stimulated to produce collagen giving the skin a more supple rejuvenated and smooth appearance.
Virtually anyone can benefit from a microdermabrasion as this relaxing, safe, non-invasive technique can be used on all skin types!
DermaSweep is the next generation microdermabrasion, available only to licensed physicians, which combines precision brush tip exfoliation, infused customized skin solutions with variable vacuum pressure for the most precise, efficacious and comfortable skin treatments available. DermaSweep allows the skin to be gently drawn up by the innovative and efficient vacuum, while the customized bristles polish the skin to the desired level of exfoliation (depending on skin type) effectively and with less irritation.
Our innovative, efficient use of vacuum pressure and bristles are then customised for each treatment, depending on skin type, desired level of exfoliation and results. DermaSweep results in a clean, consistently effective treatment, and patients see a noticeable skin improvement, even after the first treatment. The result? – a very controlled superficial peel of the skin which will lift away pigmentation and improve skin texture.