COSMETIC DERMATOLOGY AND SKIN CARE FOR Plano, Frisco, and the Dallas Fortworth metroplex in Texas
For all the fabulously glamorous and girly women out there The Brow & Eye Lash Beauty Bar is here to beautify your eyes in super-quick time!
Eyes are the windows to the soul, and they are the first place people look at when talking to you so, to ensure you send out the right messages, beautify your eyes with the fabulously quick and effective treatments at The Brow & Eye Lash Beauty Bar, to attain glamorous yet natural looking results.
Our clients visit us because we respect and truly believe that your eyes are THE most important facial feature. We really listen and perform a personal service with the privacy, care and attention our clients deserve. From luscious lashes, to sexy brows, we'll make sure that you look and feel gorgeous in no time at all!
Come and visit with our experts for a consultation and advice on which of our services would be best for your eyes and learn the secrets of seduction…
Advanced EyeBrow Contouring
Shaping the Eyebrow isn't just about trimming, waxing or tweezing, it's about creating a look. A style. A feeling. It's about Creating Beauty. Through various techniques of tweezing, waxing, threading and brushing we can achieve eyebrows so they'll resemble those of Angelina Jolie, Beyoncè, Aniston and a number of other celebrities.
Shaping the eyebrows enables anyone to instantly improve and update their look. Dramatically Defined Brows frame the face and enhance your facial symmetry to bring out your youthful look. Our SIGNATURE BROW DESIGN creates a lift without surgery to accentuate the brow and highlight your eyes. It is used to also enhance the shape of your eyes and create a tidy, polished appearance. This treatment is quick, simple and less painful than doing it yourself. For those who are long-sighted it is the ideal solution. Depending on the rate of your hair growth you will need to repeat this treatment every 2-4 weeks. At The Brow & Eye Lash Beauty Bar we can provide a total re-shape or a brow clean up.
Eyelash & EyeBrow Tinting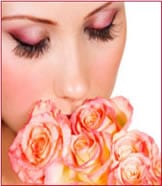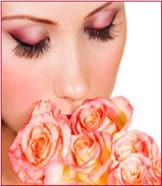 Lash & Brow Tinting: For dramatic looking eyes, try a long-lasting tint with incredible results. Say goodbye to raccoon eyes and hello to bright eyes with this safe and simple treatment. Give your gaze more impact and enjoy the long-lasting results.
Instead of using an eye pencil to color in your brows, try a temporary treatment that dyes the eyebrows
Eyelash Tinting: This service is done using vegetable-based dye and is completely safe for the eyes. A temporary dye to darken your eyelashes making mascara unnecessary. Great for those who are allergic to mascara or wear contacts.
No mascara should be worn prior to receiving a lash tint and results last 4 weeks.